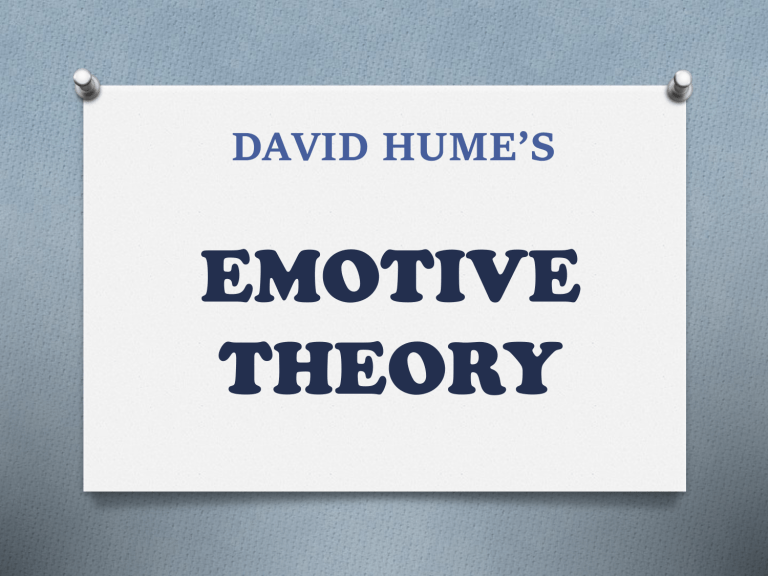 DAVID HUME'S
EMOTIVE
THEORY
BACKGROUND
• Born: May 7, 1711 at Lawnmarket, Edinburgh,
Scotland
• Son of Joseph Home and The Hon. Katherine
(ńee Falconer)
• Entered University of Edinburgh, considered
law as a career but did not graduate.
" There is nothing to be learnt from a
professor which is not to be met within books."
• Spent 10 years reading and writing, came to
the verge of mental breakdown, suffering
from what the doctor diagnose as "Disease of
the Learned".
• He became merchant's assistant at La Fleshe
in Anjou, France.
• Died: August 25, 1776 because of abdominal
cancer.
PHILOSOPHICAL WORKS
• A Treatrise of Human
• The History of England (6 volume, best seller)
• An Enquiry Concerning Human Understanding
Enquiry Concerning the Principal of Morals
- greatest literacy and Philosophical achievements
• Juvenilia: "A work which Author had projected
before he left College".
• Essays, Moral, Political and Literary
HUME'S INFLUENCES
O THOMAS HOBBES
O JOHN LOCKE
Hume's Influence when
it comes to Philosophy
•Moral Philosophy - science of human nature.
•Human Nature - experience and observation.
David Hume is known for his philosophical:
•Empiricism - "experience"
•Skepticism - doubting knowledge claims set forth in
various areas.
Hume's Influences led:
•Immanuel Kant - critical philosophy
•Auguste Comte - positivism
•Jeremy Bentham & John Stuart Mill - utilitarianism
HUME'S PHILOSOPHY:
" Sentiments or tastes, passion and emotions move
people to actions not reason."
Emotive Theory
• Refers to a theory about MORAL judgments,
sentences, words, and speech; it is sometimes also
extended to cover aesthetic and other non-moral
forms of evaluation. (Encyclopedia.com)
• A theory to which value judgments or normative
ethical statements are exhortatory rather than
cognitive. (Meriam-webster.com)
He believed that human beings'
"sentiments or taste, passion, and
emotions move people to actions not
reason."
REASON is the slave of
PASSION
REASONS only provides information.
- Ideas of pleasure or pain are the cause
of these MOTIVATING PASSION.
No matter what MORAL
judgments one makes, one
is only expressing their
PERSONAL FEELING.
HUME'S IDEA OF THE GOOD
• Good is an evaluation of things and actions
by human minds and emotions.
• Good produces pleasure.
• Hume's idea of the Good is influenced by his
theory of emotion.
• The only feature of the Good which is
justified is that it is the cause of pleasure.
• For Hume, any other characteristics of the
Good would be speculated in its character.
• Moral sentiments are pleasure or pains of a
special kind and causes are considered to
be moral good and evil respectively.
• Hume stance "a character" or act is morally
good if it is useful or pleasant for a given
person or any other person in questions.
EMOTIVE THEORY
REASON ALONE
CAN MOTIVATE
NOTHING
ACTION IS
REASONABLE IF
IT SERVES THE
AGENT GOALS
OR DESIRE.
EMOTIVE
THEORY
MORAL
DISTINCTIONS
ARE NOT
DERIVED FROM
REASON
REASON IS THE
SLAVE OF
PASSION
THANK YOU FOR
LISTENING!