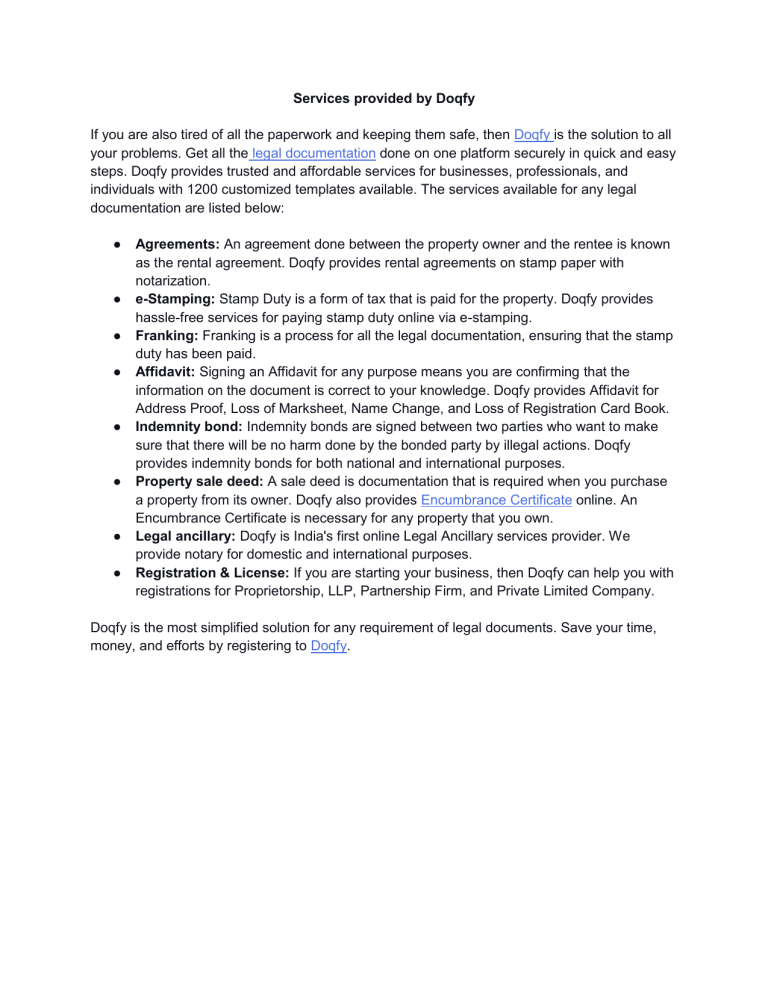 Services provided by Doqfy
If you are also tired of all the paperwork and keeping them safe, then Doqfy is the solution to all
your problems. Get all the legal documentation done on one platform securely in quick and easy
steps. Doqfy provides trusted and affordable services for businesses, professionals, and
individuals with 1200 customized templates available. The services available for any legal
documentation are listed below:
●
●
●
●
●
●
●
●
Agreements: An agreement done between the property owner and the rentee is known
as the rental agreement. Doqfy provides rental agreements on stamp paper with
notarization.
e-Stamping: Stamp Duty is a form of tax that is paid for the property. Doqfy provides
hassle-free services for paying stamp duty online via e-stamping.
Franking: Franking is a process for all the legal documentation, ensuring that the stamp
duty has been paid.
Affidavit: Signing an Affidavit for any purpose means you are confirming that the
information on the document is correct to your knowledge. Doqfy provides Affidavit for
Address Proof, Loss of Marksheet, Name Change, and Loss of Registration Card Book.
Indemnity bond: Indemnity bonds are signed between two parties who want to make
sure that there will be no harm done by the bonded party by illegal actions. Doqfy
provides indemnity bonds for both national and international purposes.
Property sale deed: A sale deed is documentation that is required when you purchase
a property from its owner. Doqfy also provides Encumbrance Certificate online. An
Encumbrance Certificate is necessary for any property that you own.
Legal ancillary: Doqfy is India's first online Legal Ancillary services provider. We
provide notary for domestic and international purposes.
Registration & License: If you are starting your business, then Doqfy can help you with
registrations for Proprietorship, LLP, Partnership Firm, and Private Limited Company.
Doqfy is the most simplified solution for any requirement of legal documents. Save your time,
money, and efforts by registering to Doqfy.