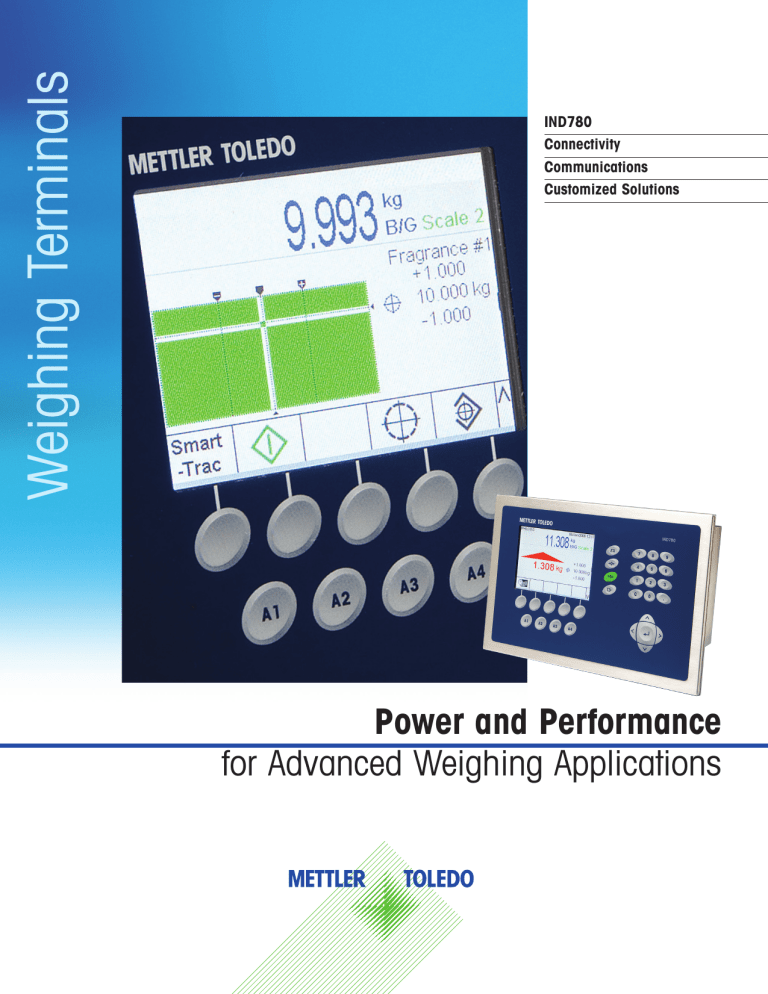 Weighing Terminals
IND780
Connectivity
Communications
Customized Solutions
Power and Performance
for Advanced Weighing Applications
IND780 Weighing Terminal
Powerful performance increases productivity
Flexible options reduce operating costs
"" Connectivity for multiple sensor technologies,
networking, PLCs, and much more
"" Communications from basic serial protocols up
to custom PLC data templates
"" Customized solutions using basic functionality,
optional applications, or the TaskExpert™
programming tool
Minimize Operating Costs
Maximize Productivity
• Scalable platform allows you to configure the
exact product for the application.
• Optimize the amount of visible information
with the QVGA graphical LCD display, available in monochrome or Active TFT Color, to
further enhance the visual display of information and status.
 Select combinations of METTLER TOLEDO
technologies: Analog, POWERCELL® MTX®,
POWERCELL® PDX®, IDNet, or X-Base
(SICS).
 Standard with Ethernet, two Serial ports,
and a USB Master for an external keyboard.
• Configure up to four concurrent scales and a
metrologically approved sum scale, then view
one or all on the display at the same time.
 Fieldbus connectivity using popular networking protocols: Allen-Bradley RIO®,
ControlNet™, DeviceNet™, EtherNet/IP™,
Modbus TCP, Profibus® and Profinet®.
• Improve the speed and accuracy of manual or
semi-automatic operations with SmartTrac™.
This feature offers three display modes to
graphically show weight status to target.
• Use TraxEMT™ Embedded Maintenance Technician as a preventative strategy to predict
and plan scale maintenance rather than react
after a scale is already down.
• Increase throughput with the IND780 multiprocessor design, providing the fastest A/D
performance at 366 Hz. Includes TraxDSP™
digital filtering for the roughest weighing environments.
• Configurable softkeys allow for single key
press operation of important features and
functions.
• Applications with strict cleaning requirements
will benefit from 304 Stainless Steel construction, sanitary finishes, and other food and
pharmaceutical industry supported features.
2
METTLER TOLEDO
IND780
Move beyond traditional transaction and process weighing applications
and develop true total control solutions with the IND780 system.
PLC
Weighing
Terminal
Operator
Display
111.5 kg
Traditional System
Data
Network
PC
To th
is
Cap
i
spe talize o
e
of th d and n the
I
you e IND7 /O cap
r pr
a
oce 80 to c bility
ss d
ontr
irec
o
tly. l
...
From
this.
..
Weighing Sensor
Operator
f the
wer o ate your
o
p
e
r
h
Use t 0 to integ rocess
p
8
IND7 t or other your
o
h
t
g
n
i
i
e
w
tly
ork.
direc
data ction netw
produ
IND780
Weighing Sensor
IND780 System
Operator
Data
Network
the
e of on
g
a
t
lor
an
adv and co lay to
e
k
Ta hics
disp for
grap IND780 rators y indie
the pt op visuall s.
m
o
o
t
r
atu
p
t or ss st
inpu proce
cate
METTLER TOLEDO
IND780
3
Use the TaskExpert™ graphical programming environment to build on
standard IND780 applications or develop your own custom applications
• The TaskExpert programming
tool is a flowchart-based system
that eliminates the need to learn
complex line-oriented programming languages

Just drag, drop, and configure
function blocks to build your
program

Read and interact with over
2,400 Shared Data variables
within the IND780
 Includes a built-in Ladder
Logic engine for easy I/O
handling scenarios
 Design your own user interface display within your
TaskExpert program using
text, softkeys, and graphics

Manage relational databases
with SQL Server 2000 Windows CE Edition functionality
Courtesy Altana
Courtesy Altana
Courtesy DQPC
IND780 is well equipped for both transactional and process weighing applications in
many industries.
Transaction
• Single or multiple platform weighing including tare data and metrological sum all on one display.
• Transmission of multiple fields
and formats of data to printers,
scoreboards, or data collection
devices using Serial and/or
Ethernet data protocols.
• Manual filling or adding of ingredients using one of three SmartTrac™ graphical displays.
• Validated precision weighing with
programmable MinWeigh® minimum weight threshold.
• Drive-780 vehicle application
offers user-defined tables, traffic
light/gate control and the ability to integrate target control and
vehicle weighing.
Process
• True multi-tasking capability
allows weigh-in or weigh-out
sequences utilizing 2-speed feed
on all 4 scales simultaneously.
• Integrated display of current
weight and rate data for each
scale.
• Powerful PLC communications
capability including custom templating of data strings.
• Control up to 40 inputs and 56
outputs using optional internal or
external modules.
• Two enclosure types withstand
a wide range of environments
and installation locations: IP69K
Harsh or Type 4/12 Panel Mount.
METTLER TOLEDO
IND780
5
Delivering Complete Service Efficiency
To Your Operations
IND780 includes a comprehensive suite of advanced tools to optimize performance, increase uptime and lower lifecycle costs.
IND780 Feature
Asset Management Benefit
 InSite™ PC-based
configuration
 Connected or off-line configuration saves
time and permits easy "cloning" of setup
 Document and archive setup for secure
backup and restoration
 Built-in testing and
diagnostics
 Test operation and I/O to confirm
functionality prior to use
 Minimize downtime when an operational
abnormality occurs
 Calibration tools and
management
 Calibration approaches that fit your
application and precision requirements
 Automate calibration test procedures to
ensure adherence to SOPs
 TraxEMT™ Embedded
Maintenance Technician
 Predictive alerts and automatic email
notification when service is required
 Maintenance/error logging tracks terminal
and user performance
METTER TOLEDO service technicians are factory trained to maximize return
on your equipment investment, each step of the way. METTLER TOLEDO
service tailors the right combination of services for your business success.
Service Event
METTLER TOLEDO Delivers
 Installation and configuration
 Equipment ready-to-run on schedule
 Setup optimized to your application
 Seamless integration with other systems
 Equipment Qualification
 Compliance with requirements
 Quality system documentation
 Calibration
 Calibration using factory procedures
 ISO17025 Accredited Certification
 Measurement uncertainty determination
 Proactive Maintenance
 Control of maintenance budgets
 Improved equipment performance
 Asset lifecycle management
Mettler-Toledo, LLC
1900 Polaris Parkway,
Columbus, OH 43240
Tel. (800) 786-0038 / (614) 438-4511
Fax (614) 438 4900
Mettler-Toledo AG
PO Box VI-400, CH-8606
Greifensee, Switzerland
Tel. +41-44-944 22 11
Fax +41-44-944 31 70
METTLER TOLEDO® is a registered
trademark of Mettler-Toledo Inc. All
other brand of product names are
trademarks of their respective companies.
Subject to technical changes
© 201 Mettler-Toledo, LLC
Printed in USA
MarCom MTWT
IN03456.5E
www.mt.com/IND7xx
Visit for more information
14001
Quality certification. Development, production, and auditing in accordance with
ISO9001. Environmental management system
in accordance with ISO14001.
Tailored Services. Our extensive service
network is among the best in the world and
ensures maximum availability and service life
of your product.
Conformité Européenne
This label is your guarantee that our products
conform to the latest guidelines.