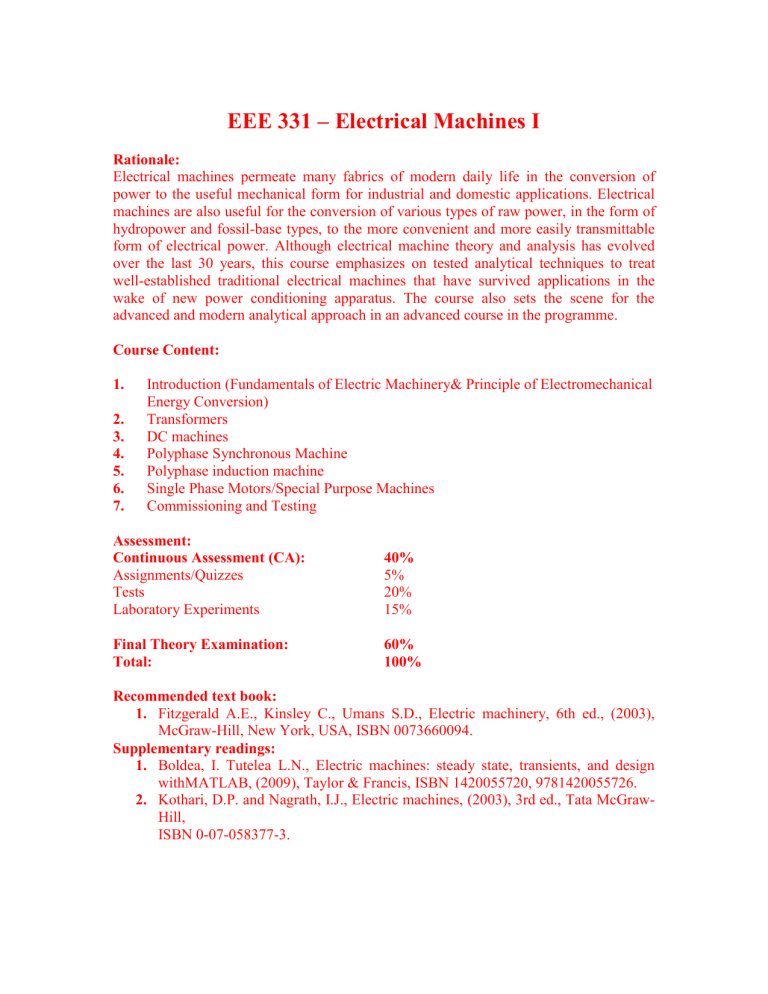 EEE 331 – Electrical Machines I
Rationale:
Electrical machines permeate many fabrics of modern daily life in the conversion of
power to the useful mechanical form for industrial and domestic applications. Electrical
machines are also useful for the conversion of various types of raw power, in the form of
hydropower and fossil-base types, to the more convenient and more easily transmittable
form of electrical power. Although electrical machine theory and analysis has evolved
over the last 30 years, this course emphasizes on tested analytical techniques to treat
well-established traditional electrical machines that have survived applications in the
wake of new power conditioning apparatus. The course also sets the scene for the
advanced and modern analytical approach in an advanced course in the programme.
Course Content:
1.
2.
3.
4.
5.
6.
7.
Introduction (Fundamentals of Electric Machinery& Principle of Electromechanical
Energy Conversion)
Transformers
DC machines
Polyphase Synchronous Machine
Polyphase induction machine
Single Phase Motors/Special Purpose Machines
Commissioning and Testing
Assessment:
Continuous Assessment (CA):
Assignments/Quizzes
Tests
Laboratory Experiments
40%
5%
20%
15%
Final Theory Examination:
Total:
60%
100%
Recommended text book:
1. Fitzgerald A.E., Kinsley C., Umans S.D., Electric machinery, 6th ed., (2003),
McGraw-Hill, New York, USA, ISBN 0073660094.
Supplementary readings:
1. Boldea, I. Tutelea L.N., Electric machines: steady state, transients, and design
withMATLAB, (2009), Taylor & Francis, ISBN 1420055720, 9781420055726.
2. Kothari, D.P. and Nagrath, I.J., Electric machines, (2003), 3rd ed., Tata McGrawHill,
ISBN 0-07-058377-3.