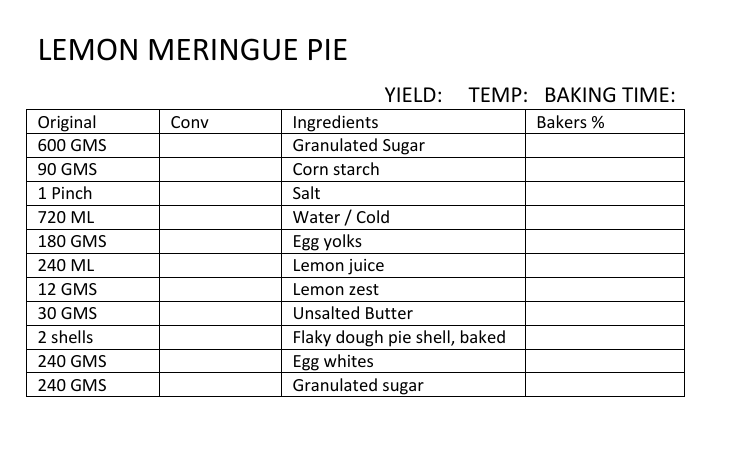 LEMON MERINGUE PIE
YIELD:
Original
600 GMS
90 GMS
1 Pinch
720 ML
180 GMS
240 ML
12 GMS
30 GMS
2 shells
240 GMS
240 GMS
Conv
TEMP: BAKING TIME:
Ingredients
Granulated Sugar
Corn starch
Salt
Water / Cold
Egg yolks
Lemon juice
Lemon zest
Unsalted Butter
Flaky dough pie shell, baked
Egg whites
Granulated sugar
Bakers %
PROCEDURE
1. To make the filling, combine the sugar with the cornstarch, salt and water in a heavy saucepan.
Cook over medium-high heat, stirring constantly, until the mixture becomes thick and almost
clear, approximately 3 to 5 minutes.
2. Remove from the heat and pour approximately 1 cup of the filling into a small bowl. Whisk in the
egg yolks to temper them. Whisk the egg yolk mixture back into the filling. Return to the heat and
cook, stirring constantly, until thick and smooth.
3. Stir in the lemon juice and zest. Remove the filling from the heat. Add the butter and stir until
melted.
4. Set the filling aside to cool briefly. Fill the pie shells with the lemon filling.
5. To prepare the meringue, whip the egg whites until soft peaks form. Slowly add 8 ounces (240
grams) sugar while whisking constantly. The meringue should be stiff and glossy, not dry or
spongy-looking.
6. Pour meringue, spread to edge.
7. Bake the pies at 400°F (200°C) until the meringue browns, approximately 5 to 8 minutes. Let cool,
then refrigerate. Serve the same day.