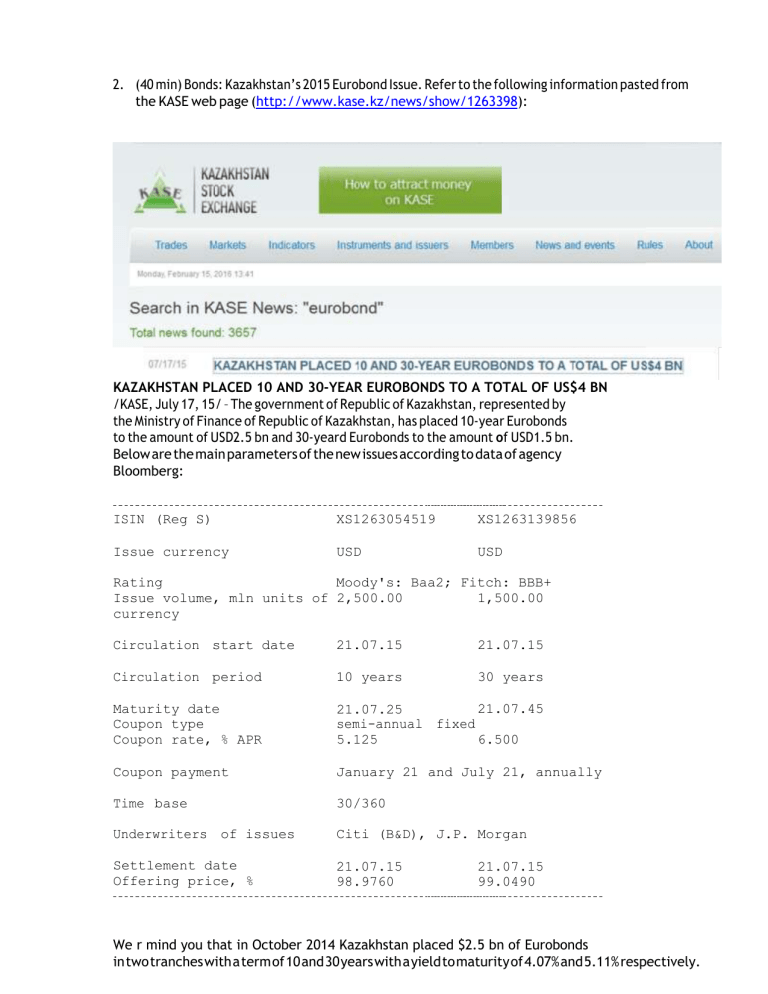 2. (40 min) Bonds: Kazakhstan's 2015 Eurobond Issue. Refer to the following information pasted from
the KASE web page (http://www.kase.kz/news/show/1263398):
KAZAKHSTAN PLACED 10 AND 30‐YEAR EUROBONDS TO A TOTAL OF US$4 BN
/KASE, July 17, 15/ – The government of Republic of Kazakhstan, represented by
the Ministry of Finance of Republic of Kazakhstan, has placed 10‐year Eurobonds
to the amount of USD2.5 bn and 30‐yeard Eurobonds to the amount of USD1.5 bn.
Below are the main parameters of the new issues according to data of agency
Bloomberg:
ISIN (Reg S)
XS1263054519
XS1263139856
Issue currency
USD
USD
Rating
Moody's: Baa2; Fitch: BBB+
Issue volume, mln units of 2,500.00
1,500.00
currency
Circulation start date
21.07.15
21.07.15
Circulation period
10 years
30 years
Maturity date
Coupon type
Coupon rate, % APR
21.07.45
21.07.25
semi-annual fixed
5.125
6.500
Coupon payment
January 21 and July 21, annually
Time base
30/360
Underwriters of issues
Citi (B&D), J.P. Morgan
Settlement date
Offering price, %
21.07.15
98.9760
21.07.15
99.0490
We r mind you that in October 2014 Kazakhstan placed $2.5 bn of Eurobonds
in two tranches with a term of 10 and 30 years with a yield to maturity of 4.07% and 5.11% respectively.
[2015‐07‐17
Questions:
a. (5 min) Where did KASE get this information from? Can we access this information as
a students at the University?