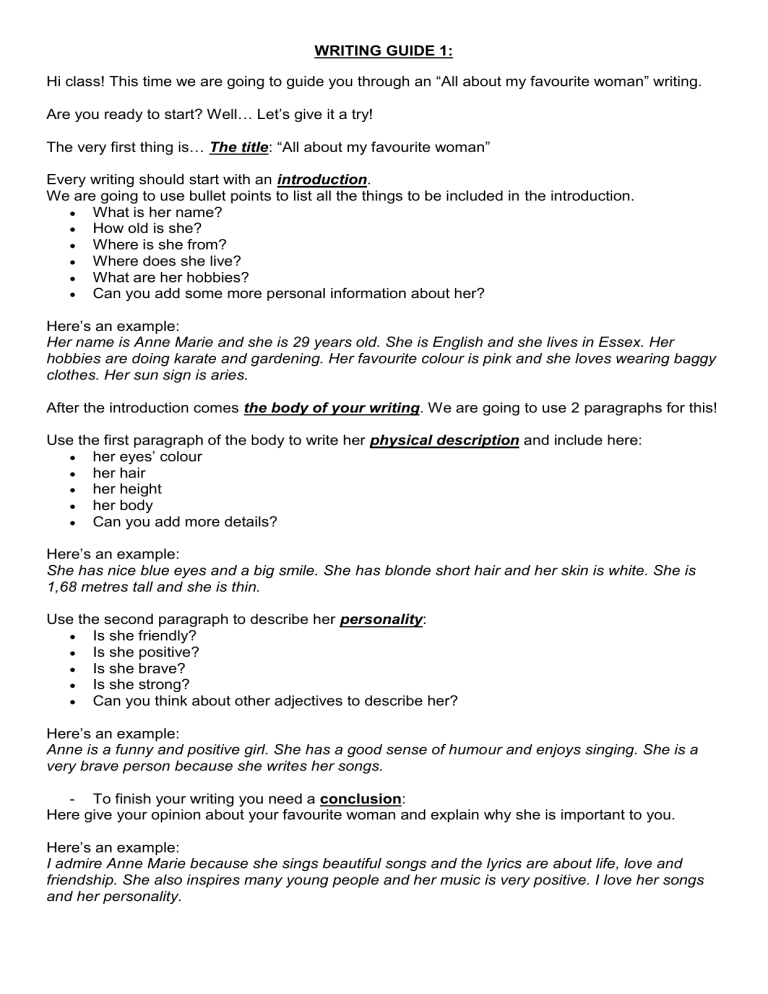 WRITING GUIDE 1:
Hi class! This time we are going to guide you through an "All about my favourite woman" writing.
Are you ready to start? Well… Let's give it a try!
The very first thing is… The title: "All about my favourite woman"
Every writing should start with an introduction.
We are going to use bullet points to list all the things to be included in the introduction.
 What is her name?
 How old is she?
 Where is she from?
 Where does she live?
 What are her hobbies?
 Can you add some more personal information about her?
Here's an example:
Her name is Anne Marie and she is 29 years old. She is English and she lives in Essex. Her
hobbies are doing karate and gardening. Her favourite colour is pink and she loves wearing baggy
clothes. Her sun sign is aries.
After the introduction comes the body of your writing. We are going to use 2 paragraphs for this!
Use the first paragraph of the body to write her physical description and include here:
 her eyes' colour
 her hair
 her height
 her body
 Can you add more details?
Here's an example:
She has nice blue eyes and a big smile. She has blonde short hair and her skin is white. She is
1,68 metres tall and she is thin.
Use the second paragraph to describe her personality:
 Is she friendly?
 Is she positive?
 Is she brave?
 Is she strong?
 Can you think about other adjectives to describe her?
Here's an example:
Anne is a funny and positive girl. She has a good sense of humour and enjoys singing. She is a
very brave person because she writes her songs.
- To finish your writing you need a conclusion:
Here give your opinion about your favourite woman and explain why she is important to you.
Here's an example:
I admire Anne Marie because she sings beautiful songs and the lyrics are about life, love and
friendship. She also inspires many young people and her music is very positive. I love her songs
and her personality.