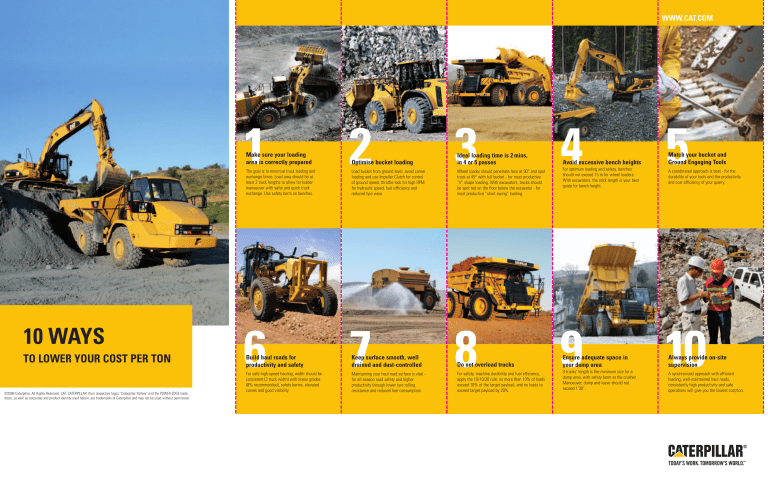 WWW.CAT.COM
1
2
3
4
5
6
7
8
9
10
Make sure your loading
area is correctly prepared
The goal is to minimize truck loading and
exchange times. Load area should be at
least 2 truck lengths to allow for loader
manoeuver with safer and quick truck
exchange. Use safety berm on benches.
10 WAYS
TO LOWER YOUR COST PER TON
©2008 Caterpillar, All Rights Reserved. CAT, CATERPILLAR, their respective logos,"Caterpillar Yellow" and the POWER EDGE trade
dress, as well as corporate and product identity used herein, are trademarks of Caterpillar and may not be used without permission.
Build haul roads for
productivity and safety
For safe high-speed hauling, width should be
consistent (3 truck width) with linear grades
(8% recommended), safety berms, elevated
curves and good visibility.
Optimise bucket loading
Load bucket from ground level, avoid corner
loading and use Impeller Clutch for control
of ground speed, throttle lock for high RPM
for hydraulic speed, fuel efficiency and
reduced tyre wear.
Keep surface smooth, well
drained and dust-controlled
Maintaining your haul road surface is vital for all-season road safety and higher
productivity through lower tyre rolling
resistance and reduced fuel consumption.
Ideal loading time is 2 mins,
in 4 or 5 passes
Wheel loader should penetrate face at 90° and spot
truck at 45° with full bucket - for most productive
"V" shape loading. With excavators, trucks should
be spot ted on the floor below the excavator - for
most productive "short swing" loading.
Do not overload trucks
For safety, machine durability and fuel efficiency,
apply the 10/10/20 rule: no more than 10% of loads
exceed 10% of the target payload, and no loads to
exceed target payload by 20%.
Avoid excessive bench heights
For optimum loading and safety, benches
should not exceed 15 m for wheel loaders.
With excavators, the stick length is your best
guide for bench height.
Ensure adequate space in
your dump area
3-trucks' length is the minimum size for a
dump area, with safety berm at the crusher.
Manoeuver, dump and leave should not
exceed 1'30".
Match your bucket and
Ground Engaging Tools
A coordinated approach is best - for the
durability of your tools and the productivity
and cost efficiency of your quarry.
Always provide on-site
supervision
A synchronized approach with efficient
loading, well-maintained haul roads,
consistently high productivity and safe
operations will give you the lowest cost/ton.