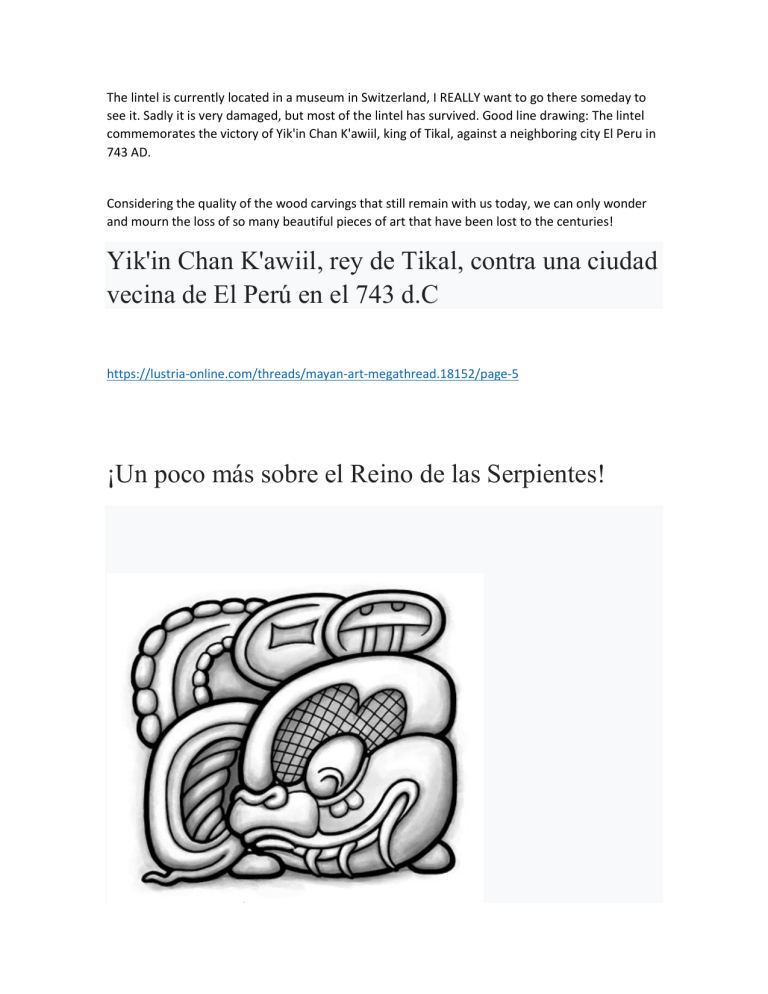 The lintel is currently located in a museum in Switzerland, I REALLY want to go there someday to
see it. Sadly it is very damaged, but most of the lintel has survived. Good line drawing: The lintel
commemorates the victory of Yik'in Chan K'awiil, king of Tikal, against a neighboring city El Peru in
743 AD.
Considering the quality of the wood carvings that still remain with us today, we can only wonder
and mourn the loss of so many beautiful pieces of art that have been lost to the centuries!
Yik'in Chan K'awiil, rey de Tikal, contra una ciudad
vecina de El Perú en el 743 d.C
https://lustria-online.com/threads/mayan-art-megathread.18152/page-5
¡Un poco más sobre el Reino de las Serpientes!
El glifo de arriba los representa, por supuesto. La
dinastía del reino de las serpientes (Kaan en algunas
ortografías) gobernó desde Calakmul y tuvo una
rivalidad desde hace mucho tiempo con la dinastía
de Tikal. Las raíces del reino de las serpientes
estaban ubicadas en la cercana ciudad de
Dzibanche, y posiblemente incluso antes de la
antigua ciudad de El Mirador, una de las primeras
ciudades del área maya.
La rivalidad entre la Dinastía Serpiente y Tikal ha
sido comparada con las intrigas del libro / serie de
televisión Juego de Tronos, pero en mi opinión es
mucho más similar al conflicto épico entre Atenas y
Esparta durante la Guerra del Peloponeso (para
aquellos de ustedes que Tuve que leer Tucídides en
la escuela, ya sabes de lo que estoy hablando).
Para algo de contenido adicional, aquí hay dos
imágenes de The Maya (Coe) y Maya Kings and
Queens (Martin y Grube) que representan la
estructura política entre Calakmul, Tikal y las
diversas ciudades-estado mayas independientes y en
lucha de la época.
Lista de relaciones de Calakmul: entre las dinastías
de serpientes y algunas de las principales ciudades
estado para incluir rivales principales en Tikal:
Mapa más detallado y complicado de la Política
Maya también durante esta época, mostrando todos
los grandes jugadores. Muchos más estados quedan
fuera de este mapa, para incluir La Corona, que fue
redescubierta después de que se hizo este mapa, ¡y
sin duda muchos más sitios que aún no se han
redescubierto!
Maya blanco
Talla de guerrero maya. Noté la pequeña
"máscara de calavera" en la mano de este tipo,
realmente me gusta la idea de que estos tipos
usen máscaras aterradoras en la batalla.
Teniendo en cuenta lo enormes que ya son
sus cascos emplumados, agregar algunas
máscaras espeluznantes solo haría que sus
mejores guerreros fueran mucho más
aterradores para encontrarse en persona en el
campo de batalla.