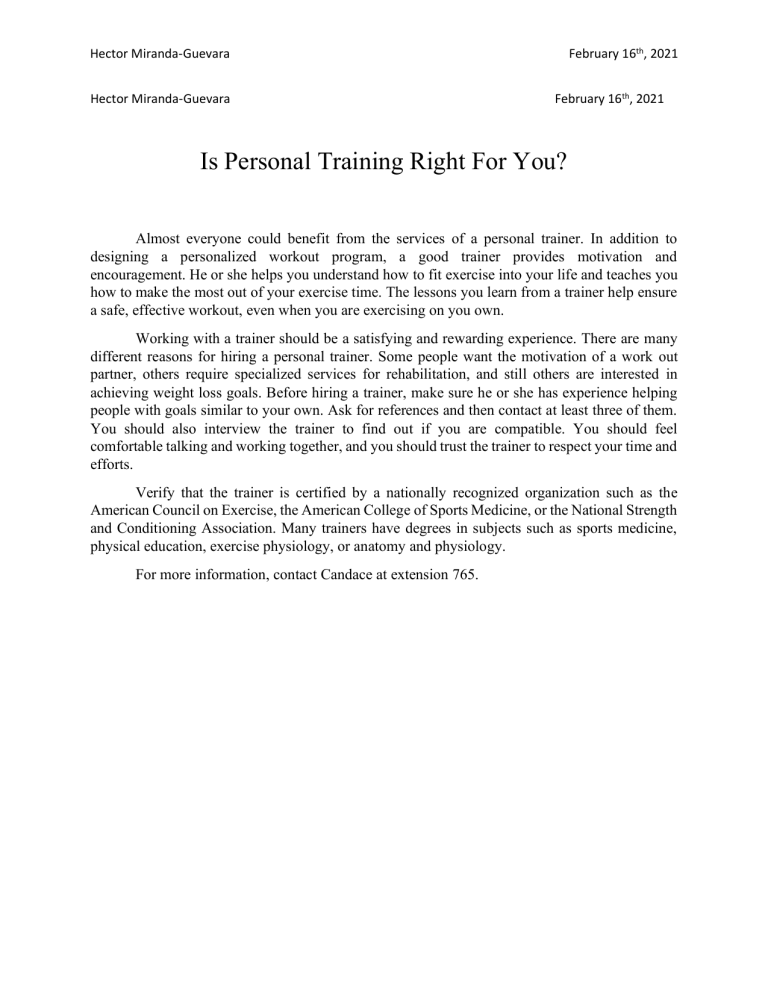 Hector Miranda-Guevara
Hector Miranda-Guevara
February 16th, 2021
February 16th, 2021
Is Personal Training Right For You?
Almost everyone could benefit from the services of a personal trainer. In addition to
designing a personalized workout program, a good trainer provides motivation and
encouragement. He or she helps you understand how to fit exercise into your life and teaches you
how to make the most out of your exercise time. The lessons you learn from a trainer help ensure
a safe, effective workout, even when you are exercising on you own.
Working with a trainer should be a satisfying and rewarding experience. There are many
different reasons for hiring a personal trainer. Some people want the motivation of a work out
partner, others require specialized services for rehabilitation, and still others are interested in
achieving weight loss goals. Before hiring a trainer, make sure he or she has experience helping
people with goals similar to your own. Ask for references and then contact at least three of them.
You should also interview the trainer to find out if you are compatible. You should feel
comfortable talking and working together, and you should trust the trainer to respect your time and
efforts.
Verify that the trainer is certified by a nationally recognized organization such as the
American Council on Exercise, the American College of Sports Medicine, or the National Strength
and Conditioning Association. Many trainers have degrees in subjects such as sports medicine,
physical education, exercise physiology, or anatomy and physiology.
For more information, contact Candace at extension 765.