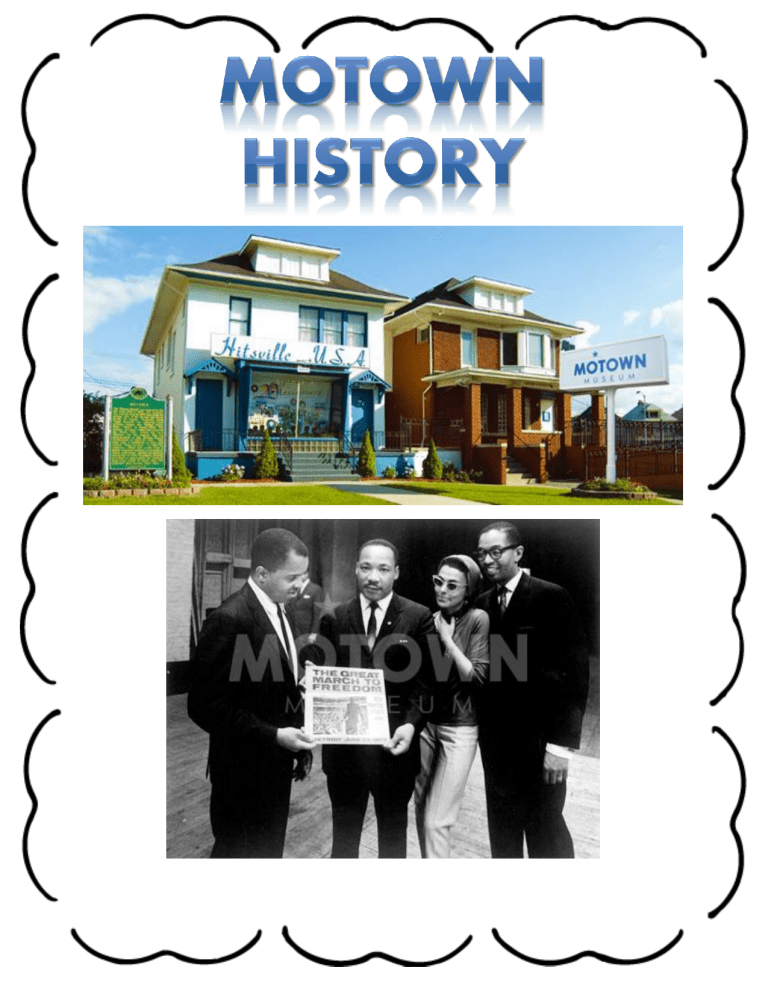 Berry Gordy, Jr., borrows $800
from his family saving club, BerBerry Co-op, begins Tamla Record
Company in Detroit.
Jobete Music Co. purchases house
at 2648 W. Grand Blvd., Detroit,
Michigan
Motown record label established.
Motown releases its
first hit, "Money
(That's What I
Want)", sung by
Barrett Strong,
written by Berry
Gordy, Jr. and Janie
Bradford.
The Temptations audition for Motown with
the name The Elgins, but are signed as The
Temptations.
Stevie Wonder (Steveland Morris) signed
with Motown.
Primettes sign with Motown and become
the Supremes.
Smokey Robinson becomes the Vice
President of Motown Records.
The Motor town Revue leaves Detroit to
tour the East coast and South. Groups
include the Miracles, Martha and the
Vandellas, the Supremes, Mary Wells, Little
Stevie Wonder, Marvin Gaye, the Contours,
the Marvelettes, and the Choker Campbell
Band.
Led by Dr. Martin Luther King, Jr.,
more than 125,000 people march
for civil rights down Woodward Ave.
in Detroit. King first delivers "I Have
a Dream" speech, which is recorded
on the Berry Gordy's label.
Motown Records employs an astonishing
125 People!
Temptations have #1 hit with "My Girl"
Motown releases its first eight-track tapes.
Five Motown releases reach #1 on the top
ten pop charts including "I Can't Help
Myself" by the Four Tops and "Stop In The
Name of Love" by the Supremes.
Motown Gross 20 million dollars.
Gladys Knight and the Pips, Tammi Terrell,
and the Isley Brothers sign with Motown.
Motown reportedly projects
$30 million in gross sales.
Motown has five major labels
– Tamla, Motown, Gordy, Soul and V.I.P.
Motown moves its headquarters from
West Grand Blvd. to a new downtown
office location at 2457 Woodward Ave. at
the Fisher Freeway.
Marvin Gaye's version of "I Heard It
Through The Grapevine" hits #1 on pop
chart.
The Jackson 5 sign with Motown.
Yes, Michael Jackson worked with
Motown Records in Detroit.
The Temptations' "I Can't Get Next To You"
reaches #1 on pop chart.
Michael Jackson appears on cover
of Rolling Stone.
Motown is a highly successful music
company and an important element
of the City of Detroit.