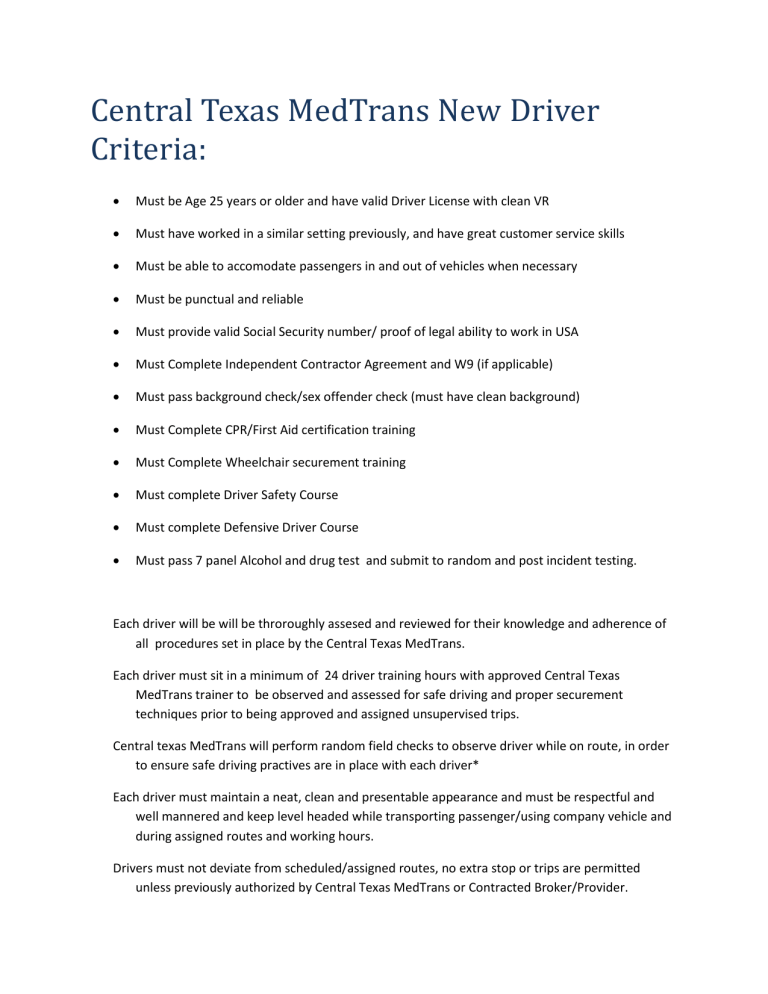 Central Texas MedTrans New Driver
Criteria:

Must be Age 25 years or older and have valid Driver License with clean VR

Must have worked in a similar setting previously, and have great customer service skills

Must be able to accomodate passengers in and out of vehicles when necessary

Must be punctual and reliable

Must provide valid Social Security number/ proof of legal ability to work in USA

Must Complete Independent Contractor Agreement and W9 (if applicable)

Must pass background check/sex offender check (must have clean background)

Must Complete CPR/First Aid certification training

Must Complete Wheelchair securement training

Must complete Driver Safety Course

Must complete Defensive Driver Course

Must pass 7 panel Alcohol and drug test and submit to random and post incident testing.
Each driver will be will be throroughly assesed and reviewed for their knowledge and adherence of
all procedures set in place by the Central Texas MedTrans.
Each driver must sit in a minimum of 24 driver training hours with approved Central Texas
MedTrans trainer to be observed and assessed for safe driving and proper securement
techniques prior to being approved and assigned unsupervised trips.
Central texas MedTrans will perform random field checks to observe driver while on route, in order
to ensure safe driving practives are in place with each driver*
Each driver must maintain a neat, clean and presentable appearance and must be respectful and
well mannered and keep level headed while transporting passenger/using company vehicle and
during assigned routes and working hours.
Drivers must not deviate from scheduled/assigned routes, no extra stop or trips are permitted
unless previously authorized by Central Texas MedTrans or Contracted Broker/Provider.