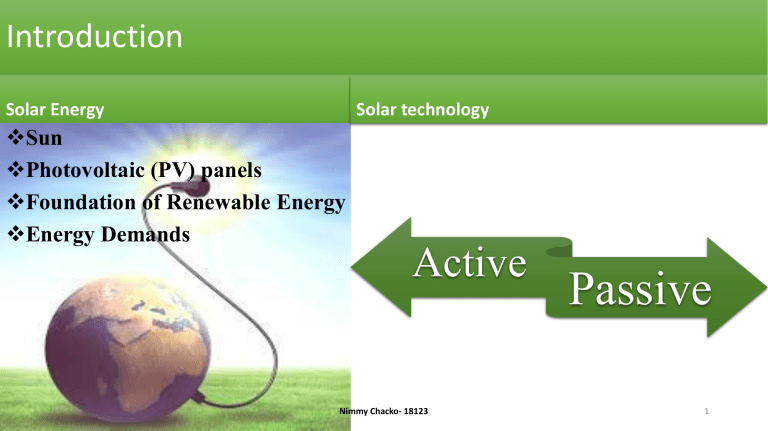 Introduction
Solar Energy
Solar technology
Sun
Photovoltaic (PV) panels
Foundation of Renewable Energy
Energy Demands
Active
Nimmy Chacko- 18123
Passive
1
Nimmy Chacko - 18123
Nimmy Chacko - 18123
HOW DOES SOLAR ENERGY WORK?
18054-Denver
Types of Solar Panels
 1st Generation-
 Monocrystalline solar panels ( Mono-SI)
 Polycrystalline solar panels(poly-SI)
 2nd Generation-
 Thin-film solar cells (TFSC)
 Amorphous silicon solar cell (A-Si)
 3rd Generation
 Biohybrid solar cell
 Cadmium telluride solar cell (CdTe)
 Concentrated PV cell (CVP & HCVP)
18054-Denver
Components of Solar Power System
• Solar cells in a solar panel made from pure silicon derived from quartzite gravel
• Solar Array Disconnect
• Battery Charge Controller
• Deep Cycle Batteries
• System Power Meter
• Solar Power Converter
• Back up Power
18054-Denver
SOLAR ENERGY 2018
1. The global solar market grew by 29.3% in 2018
2. Growth rate slowed in the previous year compared to
2016
3. China remains the world leader in solar
power with 52.8GW
4. US ranks second in new solar power installation with
10.6 GW followed by India at 9.6 GW.
Janaki Rajagopal_ 18068
GROWTH OF SOLAR ENERGY CAPACITY WORLDWIDE
Janaki Rajagopal_ 18068
RECENT DEVELOPMENTS IN SOLAR ENERGY
LATEST EMERGING PANEL OF TECHNOLOGIES INCLUDE:
1. Solar skin design:
Makes it possible for solar panels to match the appearance of a roof.
2. Solar powered roads
It has ability to generate clean energy and includes LED as well as thermal heating capacity
3. Solar Water Purifiers
This solar devise can purify water when exposed to sunlight.
4. Solar thermal fuel
It is a chemical that can absorb solar radiation, store and release it again as heat.
5. Wearable solar
Tiny solar panels can now be stitched into fabrics of clothing used to power portable
devices.
Janaki Rajagopal_ 18068
What is the FUTURE of solar energy in the next 5–10 years?
Will solar energy's costs decrease? If so, by how much? Will
its efficiency increase? If so, by how much?
• Climate change is a real and present
threat to the future of human life
and all other life on Earth.
• Solar is by far the largest energy
resource available on Earth—
renewable or otherwise
• Solar photovoltaics is growing fast—
faster than any other energy
technology. Cumulative installed PV
capacity worldwide has doubled.
So now we know a few things: Climate change is happening, we need
lots of low-carbon energy to stop it, solar is one of our only practical
options, and solar PV is growing faster than anyone ever imagined.
• Solar photovoltaics are by far the leading solar technology in terms of
total deployment, it operates silently and at low temperatures, and it
doesn't require much maintenance over its 25+ year lifetime.
• Aside from solar heaters, which are used widely in China for heating
domestic water and in the U.S. for keeping swimming pools warm.
Solar heating can't be compared directly with PV since its output is
heat rather than electricity
• Today's commercial thin-film (TF) PV technologies, they use much
less material and can be made at relatively low cost with high
efficiency
• The future of solar energy is very bright until
unless we will find some other means of
generating energy which is cheaper than solar.
• Free:- Yes, solar energy is free. The sun will
rise everyday and you can utilize solar energy
• No pollution:- If we ignore the pollution of
manufacturing the solar panel, there is no
pollution while generation.
• Less Maintenance: There are a lot solar
technology which require very minimum
maintenance.
CHALLENGES
• High initial installation cost
• Efficiency
• Short battery lifetime
Wilson Pinto-18186
• Shortage of skilled power
• Lack of technical knowhow on behalf of user
• Unsustainable weather condition
Wilson Pinto-18186
• Solar intensity
• Reliability
• Effect on environment
Wilson Pinto-18186
conclusion
• solar electric generation has the highest power density among
renewable energies, and with thermal storage can generate electricity
in a predictable manner even when the sun is not shining.
• Solar energy is a clean, pollution free and renewable source of energy.