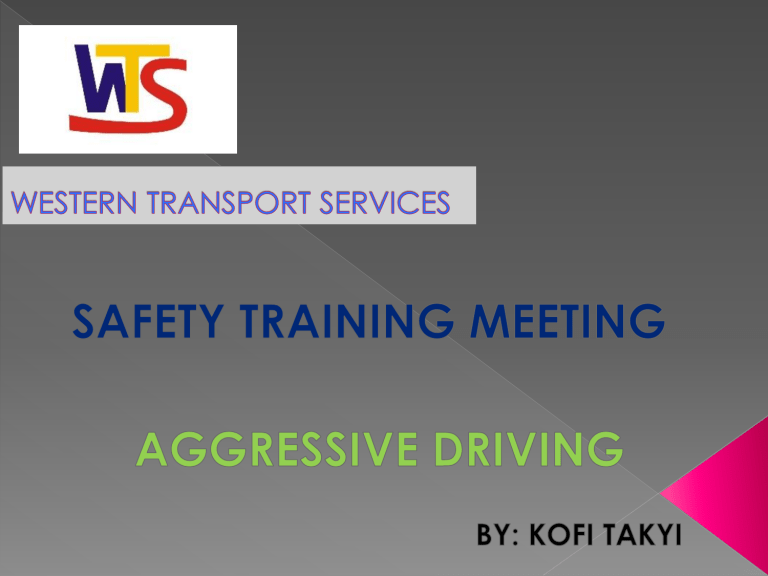 
No national definition for the term "Aggressive Driving (road rage)"
› It is commonly defined as a societal condition where motorist
lose their temper in reaction to a traffic disturbance.
› In most cases, the traffic situations encountered are typical of
today's normal driving conditions in higher traffic volumes.


More drivers have started acting out their anger when they get
behind the wheel
› Cut off
› Tailgated
› Slowed down by a vehicle in front of them
› Set off by road congestion and even driver's own mood
Angry drivers can commit incredible acts of violence.
› Assault and murder
› Aggressive drivers react negatively and use their vehicles to
retaliate by making sudden, threatening maneuvers

The Unfriendly Zone - Closing ranks to deny someone
entering your lane because you're frustrated or upset

Hostile Zone - Tailgating to pressure another driver to go
faster or get out of the way

Violent Zone - Making visible obscene gestures at another
driver

Minor Mayhem Zone - Pursuing other cars in a chase
because of provocation or insult

Major Mayhem Zone - Getting out of the car and beating or
battering someone as a result of a road exchange.

Arguments over parking spaces

Cutting another motorist off or refusing to allow passing

Minor traffic crashes

Obscene gestures

Slow driving

Overuse of the horn

Failure to use turn signals
Driving with high beams on
behind another vehicle or toward
on coming traffic


Do not make obscene gestures

Use your horn sparingly

Don't block passing lane

Don't switch lanes without signaling

Avoid blocking the right-hand turn lane

Do not take more than one parking space

If you are not disabled, don't park in a disabled space

Do not allow your door to hit the car parked next to you

Do not tailgate

If you travel slowly, pull over & allow traffic to pass

Avoid unnecessary use of high beams headlights

Don't let the car (cellular) phone distract you

Don't stop in the road to talk with a pedestrian or other driver

Don't inflict loud music on neighboring cars
Other Useful Attitudes

Assume other driver's mistakes are not personal

Be polite and courteous, even if the other driver isn't

Avoid all conflict if possible. If another driver challenges you, take
a deep breath and get out of the way
A 29-year-old man was shot to death, an apparent victim of road rage.
According to newspaper accounts, he had a reputation for never
backing down from a fight.
The man and his half brother were heading home from a plumbing job
when the trouble began. Apparently, three men in another car zoomed
in front of their car. These men started hurling profanities and flashing
obscene gestures at the brothers, who returned the insults.
Things escalated until a gun was pulled. The man got out of his car
and began walking toward the gunman. Two shots rang out, missing
the man, who continued to walk toward the gunman until he was shot
and killed.

What comments do you have about this incident?

What could have been done?

Have you ever felt this way while driving?
CONCLUSION
NEVER UNDERESTIMATE the other driver's CAPACITY for MAYHAM

If you are tempted to participate in a driving duel, ask yourself:
› Is it worth being paralyzed or killed?
› Is it worth a jail sentence?
An impulsive action could ruin the rest of your life.