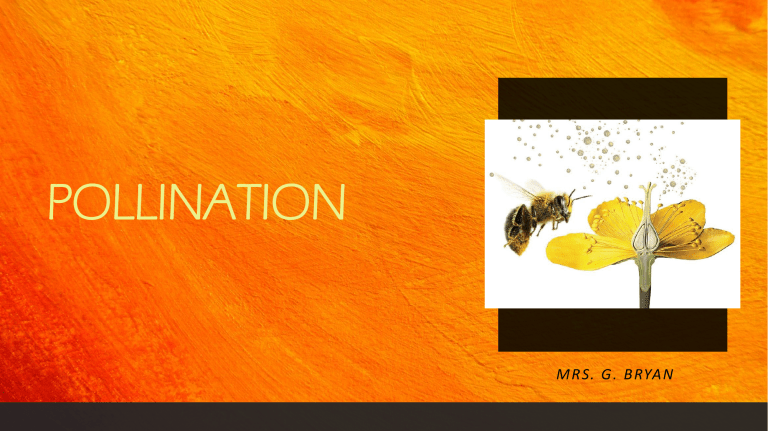 POLLINATION
M RS. G. BRYAN
OBJECTIVES
Define pollination.
Distinguish between self-pollination and cross-pollination.
Describe the agents of pollination.
Describe fertilization and seed production in plants.
POLLINATION
POLLINATION
For reproduction in plants to occur the male sex cells in
the pollen must meet the female sex cells inside the ovule.
The transfer of pollen from anther to stigma is called
pollination.
SELF POLLINATION
Self pollination is he ability of a plant to pollinate itself
without the help of any agent.
Pollen is transferred from the anther of a flower to the
stigma of the same flower or to another flower on the
same plant.
CROSS POLLINATION
Cross-Pollination occurs when pollen is transferred from
the anther of a flower on one plant to the stigma of a
flower on another plant.
Pollination will only occur if the two plants are from the
same species.
 Self pollination – A and B
Cross pollination – C
AGENTS OF POLLINATION
Pollen is transferred in various ways by:
• Animals
• Wind
• Water
ANIMAL
POLLINATION
Pollination with the help of
animals.
Brightly coloured petals
attract insects for pollination.
• Bees
• Birds
• Bats
ANIMAL POLLINATION
How it works
As animals feed on the nectar inside the flower, the pollen sticks
to their legs and body. When the insect moves to a neighbouring
flower to feed on more nectar, the pollen is transferred to the
stigma.
ANIMAL
POLLINATION
WIND POLLINATION
Some plants do not need insects for pollination.
Some plants grow long, feathery stamen with lots of light
pollen grains.
The wind blows the pollen grains to the stigma on the
same plant or other plants.
WIND POLLINATION
WATER POLLINATION
The transfer of pollen with the help of water.
Aquatic flowering plants release pollen into the water
and the water currents move the pollen to other plants.
WATER POLLINATION
FERTILIZATION
Fertilization
The fusion of the male and female
cells.
The fertilized cell produces a seed
and the ovary matures into a fruit.
The Process of Fertilization
The pollen grain lands on the stigma.
The pollen grain then grows a pollen
tube down the style into the ovary.
The male gamete (sperm cells) passes
down the tube and into the ovule.
Fertilization in a
tomato
The fertilized ovules
become the seeds and
the ovary grows to
form the fleshy part.