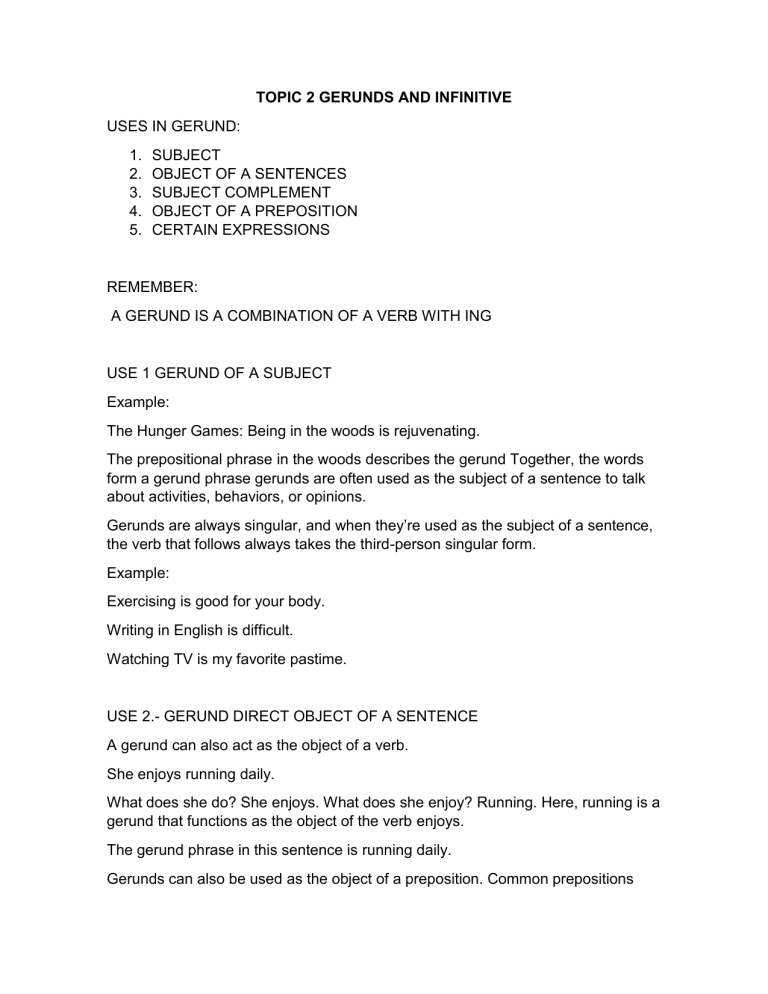 TOPIC 2 GERUNDS AND INFINITIVE
USES IN GERUND:
1.
2.
3.
4.
5.
SUBJECT
OBJECT OF A SENTENCES
SUBJECT COMPLEMENT
OBJECT OF A PREPOSITION
CERTAIN EXPRESSIONS
REMEMBER:
A GERUND IS A COMBINATION OF A VERB WITH ING
USE 1 GERUND OF A SUBJECT
Example:
The Hunger Games: Being in the woods is rejuvenating.
The prepositional phrase in the woods describes the gerund Together, the words
form a gerund phrase gerunds are often used as the subject of a sentence to talk
about activities, behaviors, or opinions.
Gerunds are always singular, and when they're used as the subject of a sentence,
the verb that follows always takes the third-person singular form.
Example:
Exercising is good for your body.
Writing in English is difficult.
Watching TV is my favorite pastime.
USE 2.- GERUND DIRECT OBJECT OF A SENTENCE
A gerund can also act as the object of a verb.
She enjoys running daily.
What does she do? She enjoys. What does she enjoy? Running. Here, running is a
gerund that functions as the object of the verb enjoys.
The gerund phrase in this sentence is running daily.
Gerunds can also be used as the object of a preposition. Common prepositions
EXAMPLES IN DIRECT OBJECT IN GERUNDS:
I like writing in English.
I love going out to restaurants.
I enjoy playing.
She stops working.
My girl resist buying shoes.
My brother hates waking up early.
USE 3.- GERUND SUBJECT COMPLEMENT
Subject complement: it is a word or a group of words that renames or describes the
subject of a sentence. His interest is blogging about traveling.
EXAMPLES:
My love is writing poems.
His biggest mistake was trusting that liar.
What I'm looking forward is eating cakes.
EXAMPLES Subject complement:
The best idea today is traveling.
Rule: Subject, Verb to be, Gerund phrase (subject complement)
Example: My hobby Is Reading books.
One of his duties Is Doing homework.
My favorite pastime Is Listening to music.
The temperature Is Freezing.
USE 4.- GERUND DIRECT OBJECT OF A PREPOSITION
A preposition is a Word that shows a relation between a noun or pronoun to
another Word in the sentence.
The object of the preposition is the noun or pronoun that comes after the
preposition
Example:
I am thinking of running.
I am interested in improving myself.
My brother is thinking of changing his job.
I was interested in painting.
USE 5. - GERUND AFTER A CERTAIN EXPRESSION
The gerund is necessary after the expressions such as can't help, can't stand, to
be worth, & it's no use.
Examples
She couldn't help falling in love with him.
I can't stand being stuck in traffic jams.
It's no use trying to escape.
It might be worth phoning the station to check the time of the train.
TOPIC 2 INFINITIVES USES ARE:
An infinitive is a verbal consisting of to + a verb, and it acts like
USES:
1.
2.
3.
4.
5.
SUBJECT
DIRECT OBJECT
SUBJECT COMPLEMENT
ADJECTIVE
ADVERB
USE 1 INFINITIVE SUBJECT
Usually, when a noun infinitive is at the beginning of a clause, it is a Subject.
Examples:
To make mistakes is human.
To pack for vacation can take a long time.
It is rarely used because is informal, instead of gerunds are used.
USE 2 Infinitive direct object
When an infinitive comes after an action verb, it is a direct object.
I like to write in English.
Everyone wanted to go.
People may choose to buy a larger house.
You can expect to have one
Some verbs are followed by infinitives or gerunds no change in meaning
When an Infinitive comes AFTER an action verb (certain verb), it is a direct
object.
USE 3 Infinitive as subject complement
The infinitive can also act as a subject complement.
A subject complement is a word or phrase that says something about the
subject. Subject complements are common after the linking word 'be'.
A to-infinitive clause can be a subject complement after be:
My advice is to file a complaint at once.
What is essential is to maintain a healthy diet.
The decision was to extend the deadline by three months.
It describes or explains the subject of a sentence.
Your goal is to make the best investment possible:
- Their dream was to have a big kitchen.
- His job is to motivate people
- A teacher's job is to create a desire to learn.
USE 4.- infinitive adjective
As an ADJECTIVE, an infinitive phrase will modify a noun in the sentence.
An infinitive used as an adjective always describes a noun.
Examples:
This is the best time to start.
The firts attempt to build the Pnama Canal ended up.
It's important to choose a major.
A good idea to consider
The clothes to iron are on my bed.
An adjectival infinitive always follows the noun it describes.
USE 5.- infinitive adverb
An infinitive used as an ADVERB always describes a verb. It's modifying a verb
and tell how or why.
Adverbial infinitives usually occur near the beginning or end of the sentence
Examples adverbs too/enough:
He's too Young to go there.
They aren't clean enough to wear.
It's warm enough to work.
Examples at the end/beginning:
My grandmother has come to stay.
The officer returned to help.
She's got a ticket to ride.