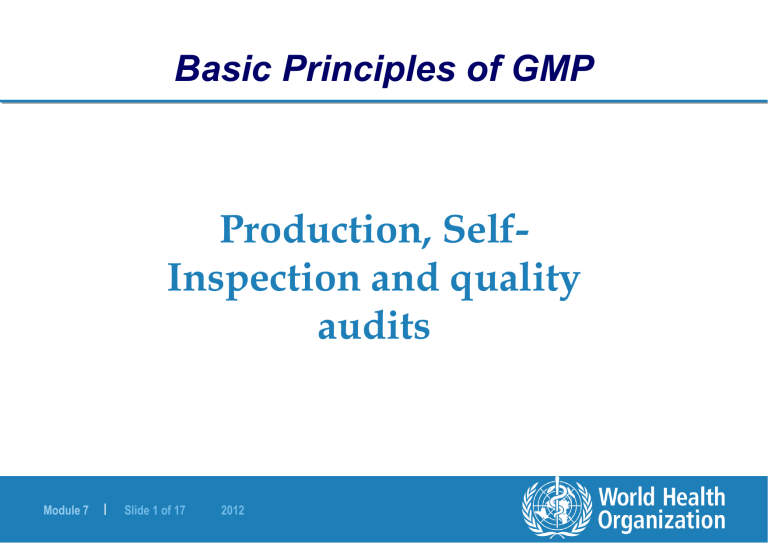 Basic Principles of GMP
Production, SelfInspection and quality
audits
Module 7
|
Slide 1 of 17
2012
Self-Inspection
Objectives
 To identify the role of self-inspection in the quality management
system
 To review the way in which a self-inspection programme should
be carried out
 To discuss what to inspect and verify in a company's selfinspection system
Module 7
|
Slide 2 of 17
2012
PRODUCTION
PROCEDURES
Module 7
|
Slide 3 of 17
2012
BASIC PRODUCTION
PRINCIPLES
 Starting materials - tested and approved according its specification
 Production equipment - cleaned, safe, appropriate in size, and appropriate for product
type to be manufactured
 Operation on different products should not be carried out simultaneously in the same
room, unless there is no potential risk of mix-up and contamination
 All materials should bear clear labels and batch numbers
 Limited access in production area, only authorized personnel
 Handling of materials and products should be based on written instruction/procedure,
and where necessary, recorded
 All work instructions/procedures should be written and approved
 Batch manufacturing records (BMR) should be well recorded by qualified and responsible
personnel.
Module 7
|
Slide 4 of 17
2012
PROCESSING GUIDANCE
(1)
There are several guidelines that should be followed prior, during and after each
production activities. These are:
Area clearance or lines clearance should be done, to avoid mix up of starting
materials or finished products
In-process and environmental controls should be carried out and recorded.
Indication of failure of equipment or services should be monitored and only
equipments in good condition should be available in the production area.
Cleaning procedures should be written and approved
Containers should be cleaned prior to use
Any deviation from requirements and expected result should be recorded and
investigated prior to start of production and prior to release of the finished product
Module 7
|
Slide 5 of 17
2012
PROCESSING GUIDANCE
(2)
 Any significant deviation from the expected yield should be recorded and
investigated.
 Checks should be carried out to ensure that pipelines and other pieces of
equipment used for the transportation of products from one area to another are
connected in a correct manner.
 Measuring, weighing, recording, and control equipment should be serviced
and calibrated at pre-specified intervals and records are maintained.
 Repair and maintenance operations should not present any hazard to the
quality of the products.
Module 7
|
Slide 6 of 17
2012
BULK QUARANTINE
LABEL
( Company name )
QUARANTINE LABEL
Formula Number
Product Name
Manufacturing No
Batch Size
Processing Date
Transfer date & Time
Bulk transferred to
Bulk Valid until
Chemical
Approval
:
:
:
:
:
:
:
:
Microbioogical
Approval
Sample Finished Product
Micro
(
(
HOLD
Module 7
|
Slide 7 of 17
2012
) Yes
) No
EQUIPMENT
LABEL
Cleaning Status of Equipment
Company Name
EQUIPMENT
STATUS
:
:
Cleaning Status of Equipment
Company Name
:
EQUIPMENT
STATUS
:
:
SANITIZE
D
CLEANED
Checked and Verified by
:
Valid until
:
Date
:
Checked and Verified by:
Valid until
Date
:
Both labels should be attached to the BMR
Module 7
|
Slide 8 of 17
2012
:
WEIGHING &
MEASUREMENT
 Weighing should be carried out :
-in
defined areas
-using calibrated equipment.
 All weighing and measurement carried
out should be:
-recorded
-counter checked
Module 7
|
Slide 9 of 17
2012
IN-PROCESS
CONTROL
 Done within the production area and by production people and/or Quality Control
 Should be recorded and done as per approved/written SOP
 Sampling done to verify:
 physical aspects (weight, volume, amount, etc)
 text on labels
 other performance requirements
 Sampling maybe conducted based on need:
:
 during processing activity
 during packaging (filling & packing) activities
• random,
• sequential, or
• statistical
 Samples
takenaway
from the packaging line should not be returned
if containers were opened
 Record of in-process control should be part of the BMR
Module 7
|
Slide 10 of 17
2012
RECONCILIATION
 Any deviation from the procedures should be avoided as much as possible. If
deviations occur, they should be approved in writing by a designated person,
with the involvement of the quality control department.
 Checks on yields and reconciliation of quantities should be carried out as
necessary to ensure that there are no discrepancies outside acceptable
limits.
 These are some points to be considered in the reconciliation of the batch:
quantity of starting materials, output of finished products, machine efficiency
 All activities concerning reconciliation should be conducted based on written
standard operating procedures.
Module 7
|
Slide 11 of 17
2012
BATCH NUMBERING SYSTEM
(1)
 A product identification number/batch number should be assigned
to:
 every finished product
 every bulk and semi finished product
which enables the history of the product to be traced.
 A batch numbering system should be
 specific for the product
 non repetitive for the same product
unique
 Creation of batch number should be based on written guideline
(SOP)
Module 7
|
Slide 12 of 17
2012
BATCH NUMBERING SYSTEM
(2)
 The batch number should be printed on:
primary packaging
secondary packaging (as necessary)
 A batch number may give information on :
date and year of production
country, manufacturer or subcontractor
sequence of production
 Records of batch number should be kept and maintained
for every finished product
until at least 1 year after the expiry date
for traceability factor
Module 7
|
Slide 13 of 17
2012
Example of batch number: M001S09A
 The 1st prefix - M represent for MALAYSIA Products
 The 2nd - 4th digit – Batch Number
 The 5th alphabet - Product format code: S (Sachet), C (Capsule), T
(Tablet), P (Powder) and L (Liquid).
 The 6th – 7th digit - Year of product manufactured: 08 (Year 2008),
09 (Year 2009), 10 (Year 2010), etc
 The last alphabet - Month of production manufactured: A
(JANUARY), B (FEBRUARY), C (MARCH), etc.
Module 7
|
Slide 14 of 17
2012
REPROCESSING
 Reprocessing is a delicate/tedious activity for a rejected product.
 There should be a written policy which clearly states that such action is allowed to
be done.
 Reprocessing of rejected product should only be done in exceptional cases.
It should only be allowed if the quality of the product is not negatively affected
and the product quality still complies with the specifications.
It should consider additional testing of reprocessed product, e.g. stability testing
of the batch.
 Complete records should be maintained for reprocessed product
 A reprocessed product should be given a new batch number.
Module 7
|
Slide 15 of 17
2012
WET PRODUCT
HANDLING
 Liquids and creams should be produced in such a
way as to protect the product from microbial and
other contamination.
 The use of closed systems of production and transfer
is recommended.
 Where pipe-lines are used for delivery of ingredients
or bulk products, care should be taken to ensure
that the systems are easy to clean.
Module 7
|
Slide 16 of 17
2012
FINISHED GOOD
PRINCIPLES
 While awaiting approval, finished products should
be placed & kept under quarantine area at
the finished product warehouse.
 Quarantine label indicates :
 Date
 Product name
 Batch No
 Quantity
 Number of pallets
Module 7
|
Slide 17 of 17
2012
FINISHED PRODUCT
STATUS
 All label concerning with the status of finished
products should be shown clearly
 Quarantine status can be in the form of:
• physical (rope, racks layers, pallet)
• computer system
 Rejected products :
• identified and physically separated
• taken out from the stock
• further process (destruction, reworked, etc)
Module 7
|
Slide 18 of 17
2012
Type of Audits
1st Party
Audit
• Self-Inspection
(Internal) Audit
2nd Party
Audit
• External provider audit
• Other interested party
audit
• Certification and/or
accreditation audit
• Statutory, regulatory and similar
audit
3rd
Party
Audit
Module 7
|
Slide 19 of 17
2012
Self-Inspection
Principle (1)
 Purpose of self-inspection is to evaluate whether a company's
operations remain compliant with GMP
 Assists in ensuring quality improvement
 The programme should
 cover all aspects of production and quality control
 be designed to detect shortcomings in the implementation of
GMP
8.1
 recommend corrective actions
 set a timetable for corrective action to be completed
Module 7
|
Slide 20 of 17
2012
Self-Inspection
Principle (2)
 Performed routinely
 Also on special occasions such as
 Recalls
 Repeated rejections
 When a GMP inspection is announced by the
national drug regulatory authority
8.1
Module 7
|
Slide 21 of 17
2012
Self-Inspection
Principle (3)
 Self-inspection team should consist of personnel who:
 Are objective and have no revenge in mind
 Have no conflict of interest (That is, normally not from the
same department as the one being inspected)
 should have experience as observers of a self-inspection
team before becoming a team member
 The team should be led by an experienced person
 Procedure should be documented
8.1
 Effective follow-up programme (CAPA implemented)
Module 7
|
Slide 22 of 17
2012
Self Inspections/ Internal Audits
• Performed in-house most often by a
team and involve people with
different expertise
• Could be carried out within a single
facility or organised by Head Office to
be done over a range of facilities
Module 7
|
Slide 23 of 17
2012
Inspector attributes
• Knowledgeable
• Being able to identify and focus on areas
of high risk
• Being well trained in inspecting
• Having appropriate personal skills
Module 7
|
Slide 24 of 17
2012
Self Inspections/ Internal Audits
Self Inspections done by external experts
Could be full self audit of a facility or
system specific audit
External expertise, a fresh set of eyes
No
politics
Module 7
|
Slide 25 of 17
2012
Self-Inspection
1. Self-inspection - informal
(daily)
2. Self-inspection - formal
(quarterly)
|
Slide 26 of 17
Improve systems
Confirm compliance
3. QC - Internal
(half-yearly)
Module 7
Immediate correction
2012
Self-Inspection
Items for Self-Inspection (1)
 Written instructions provide minimum and uniform standard
 Covering all aspects of GMP:
 personnel
 premises including personnel facilities
 maintenance of buildings and equipment
 storage of starting materials and finished products
 equipment
 production and in-process controls
 quality control
8.2
Module 7
|
Slide 27 of 17
2012
Self-Inspection
Items for Self-Inspection (2)
 documentation
 sanitation and hygiene
 validation and revalidation programmes
 calibration of instruments or measurement systems
 recall procedures
 complaints management
 labels control
 results of previous self-inspections and
any corrective steps taken
Module 7
|
Slide 28 of 17
2012
8.2
Self-Inspection
The Self-Inspection Team
 Team appointed by management, with:
 authority
 sufficient experience
 may be from inside or outside the company
 experts in their own field
 familiar with GMP
8.3, 8.4
 Frequency should be at least once a year
 Depends on company size, requirements, actrivities
 Often, departments are inspected according to a calender –
one department per month over a one year cycle
Module 7
|
Slide 29 of 17
2012
Self-Inspection
Self-Inspection
 Report prepared at completion of inspection, including:
 results
 evaluation
 conclusions
 recommended corrective measures
 Follow-up action
 Effective follow-up programme
 Company management to evaluate both
the report and corrective actions
Module 7
|
Slide 30 of 17
2012
8.5, 8.6
Quality Audit
 This is an examination of all or part of quality system
 The aim is to improve it
 Usually conducted by outside experts or team
appointed by management
 Useful to supplement self-inspection programme with
quality audits
 May be extended to suppliers and contractors
Module 7
|
Slide 31 of 17
2012
8.7
External Audits – Regulatory Audits
• Carried out by national auditing/
inspecting authorities
• Verify compliance with the ISO
Standards and other national legal
requirements
• Could be product specific or system
audits
• Could be triggered by a product recall
or other undesired events
(unannounced?)
• Detailed in scope
Module 7
|
Slide 32 of 17
2012
External Audits – Contractor Audits
• Carried out to determine manufacturer's
technical capability
• Carried out by a group of experts from
contract giver
• Establish line of communications and
priorities between involved parties
Module 7
|
Slide 33 of 17
2012
External Audits – Supplier Audits
• Carried out on suppliers of
critical raw materials and
packaging materials
• Verify materials specifications
• Could be used to justify reduced
raw materials testing
Module 7
|
Slide 34 of 17
2012
Quality Audit
Suppliers' audits and approvals
 Quality Unit (e.g. QA or QC) responsible together with other
relevant departments for approving suppliers
 Ensure that suppliers can reliably supply materials that meet
established specifications
 Suppliers should be evaluated and approved before they are
included in approved supplier's lists
 Should take into account the supplier's history and nature of
8.8, 8.9
materials to be supplied
 Evaluation may also lead to an audit to assess compliance, e.g.
with GMP
Module 7
|
Slide 35 of 17
2012
Quality Audit
Inspecting the Self-Inspection Programme (1)
 GMP inspectors should preferably check self-inspection
programme at end of an inspection
 Evaluate:
 SOP, team composition
 Annual program / schedule
 Checklists used by the company (are these up to date?)
 Check that inspections are done as schedules
 Reports are available
 CAPAs are taken, implementation is verified, management
involvement
Module 7
|
Slide 36 of 17
2012
Quality Audit
Auditing the Self-Inspection Programme (2)
 The SOP should describe teams, process, items covered, and
the frequency of self-inspection
 Company policy may not permit GMP inspector to see actual
deficiency reports and corrective actions
 GMP Inspectors should be looking for compliance with the selfinspection SOP - not necessarily at actual deficiencies
recorded
 Seek objective evidence of reports and action
Module 7
|
Slide 37 of 17
2012
Quality Audit
Auditing the Self-Inspection Programme (3)
 Ensure company is not just doing housekeeping or safety
audits
 Check there are "Vertical" as well as normal "Horizontal"
audits; both play valuable role in self-inspection
Module 7
|
Slide 38 of 17
2012
Audit Report
Introductio
n:
Change
s:
Module 7
|
Slide 39 of 17
2012
• Brief description of the
company and its activities.
• Ensure that you briefly
document major changes
since the last audit.
Audit Report
Audit findings:
Key for classification of observations / report are :

Critical : A deficiency which has produced or leads to a significant risk of producing
products that harmful to consumers or manufacturer is involved with fraud or false
advertising.

Major : A deficiency which has produced which does not comply to specifications or
which indicates a major deviation from EU Good Manufacturing Practice or which
indicates a failure to carry out satisfactory procedures for release of batches.

Other : A deficiency that is not classified as major or critical but deviates from GMP.

Recommendation: No GMP violation.
Module 7
|
Slide 40 of 17
2012
Audit Report
●The name of the organization,
department, process or function
being audited.
●Audit programme or
agenda.
●Obstacles
encountered.
●The address of the site
audited.
●Statement of
confidentiality.
●An overview of all
areas observed during
the audit.
●Date and duration of audit.
●People at opening and
closing meeting.
●Any nonconformities or
observations that
were raised.
●Reason for performing the
audit.
●Names of auditors.
●Any unobserved
areas.
●Standard used for
assessment during audit.
●Name of the audit host
and their contact details.
●A description of any
grading of any nonconformities.
Module 7
|
Slide 41 of 17
2012
●Instructions for the
department or
organization to
comply upon receipt
of the report in
order to respond to
any nonconformities raised.
●Conclusion.