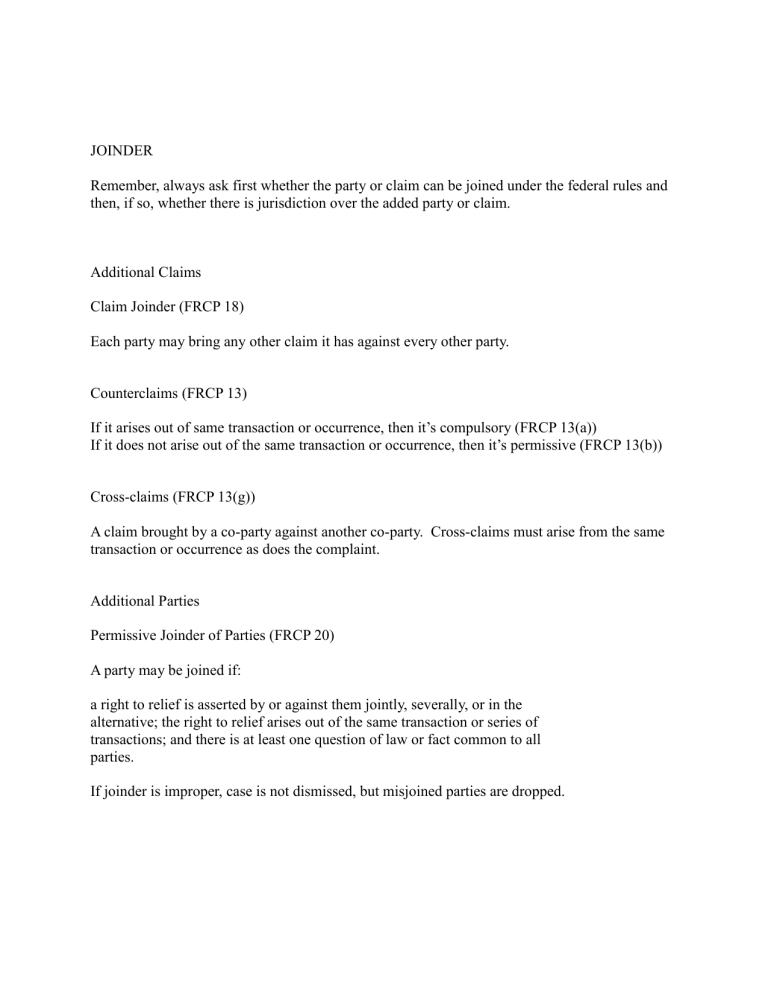 JOINDER
Remember, always ask first whether the party or claim can be joined under the federal rules and
then, if so, whether there is jurisdiction over the added party or claim.
Additional Claims
Claim Joinder (FRCP 18)
Each party may bring any other claim it has against every other party.
Counterclaims (FRCP 13)
If it arises out of same transaction or occurrence, then it's compulsory (FRCP 13(a))
If it does not arise out of the same transaction or occurrence, then it's permissive (FRCP 13(b))
Cross-claims (FRCP 13(g))
A claim brought by a co-party against another co-party. Cross-claims must arise from the same
transaction or occurrence as does the complaint.
Additional Parties
Permissive Joinder of Parties (FRCP 20)
A party may be joined if:
a right to relief is asserted by or against them jointly, severally, or in the
alternative; the right to relief arises out of the same transaction or series of
transactions; and there is at least one question of law or fact common to all
parties.
If joinder is improper, case is not dismissed, but misjoined parties are dropped.
Impleader (FRCP 14)
A party in a defensive posture may bring into the case new parties who may be liable to the
original party for some or all of the judgment obtained in the initial claim. The party impleading
is then additionally referred to as the third-party plaintiff, and the impleaded party is identified as
a third-party defendant. In determining whether to permit impleader, the court will balance the
desire for complete resolution of all related issues with any possible prejudice to the party who
first raised the claim. If it denies impleader the third party claim can be brought as a separate
action.
Class Actions (FRCP 23)
Rule 23(a): Four requirements must be met before an action may proceed as a class action:
(1)the class must be so numerous that joinder of all members is impracticable;
(2)there are questions of law or fact common to the class;
(3) the claims or defenses of the representative parties are typical of the claims or
defenses of the class; and
(4)the class representatives must fairly and adequately protect the interests of the
class.
Rule 23(b): Class must be certified as:
Rule 23(b)(1)(A) incompatible standards class;
Rule 23(b)(1)(B) limited fund class;
Rule 23(b)(2) injunction class; or
Rule 23(b)(3) damages class
Because 23(b)(3) classes pose the greatest potential due process problems, Rule 23(c) adds extra
notice requirements and ability to opt out.
Compulsory Joinder of Parties (FRCP 19)
A party should be joined if that party‵s presence
(1) is required to grant complete relief to existing parties or protect its interests or
those of another party and
(2)the joinder is feasible (party is subject to service of process and joinder does not
destroy diversity
If both requirements are met, the party will be deemed "necessary‶, and the court will order
joinder.
If joinder is not feasible, court must assess whether it should "in equity and good conscience‶
proceed with the litigation without the absentee or, in the alternative, dismiss
—four factors in making this determination
—to what extent will judgment be prejudicial to absent party
—to what extent can prejudice be tempered by protective provisions in the
judgment or by shaping the relief granted
—whether a judgment rendered in the party‵s absence will be adequate
—whether the plaintiff has somewhere else to go if case is dismissed for
nonjoinder
Intervention (FRCP 24)
Intervention is the procedure by which a nonparty protects its interest in a suit by becoming a
party and presenting a claim or defense.
Intervention of Right (FRCP 24(a))
Intervention shall be permitted when:
(1)a federal statute confers the unconditional right to intervene in the action; or
(2)the applicant claims that an interest may, as a practical matter, be impaired or
impeded by disposition of the pending action, and that interest is not adequately
represented by existing parties.
Permissive Intervention (FRCP 24(b))
Intervention may be permitted when:
(1)a federal statute confers a conditional right to intervene in the action; or
(2)the applicant‵s claim or defense and the action involve a common question of law
or fact, and allowing intervention will not prejudice the existing parties.
Interpleader (FRCP 22 and 28 U.S.C. §1335)
Interpleader allows a party to ask the court to determine which of multiple competing parties
owns a disputed property. The common interpleader case is one in which multiple parties claim
insurance policy proceeds.