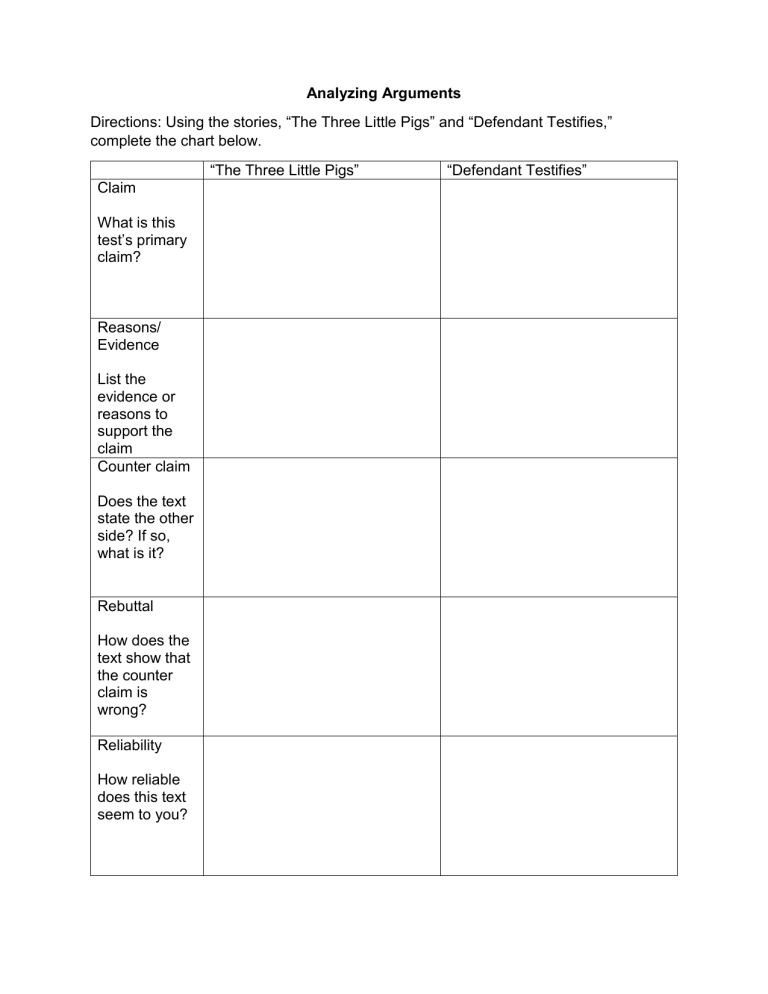 Analyzing Arguments
Directions: Using the stories, "The Three Little Pigs" and "Defendant Testifies,"
complete the chart below.
"The Three Little Pigs"
Claim
What is this
test's primary
claim?
Reasons/
Evidence
List the
evidence or
reasons to
support the
claim
Counter claim
Does the text
state the other
side? If so,
what is it?
Rebuttal
How does the
text show that
the counter
claim is
wrong?
Reliability
How reliable
does this text
seem to you?
"Defendant Testifies"
Based on your
analysis, write
a Claim,
Evidence,
Reasoning
(CER) short
answer for
whether the
wolf should be
charged for
his crime.
(prompt)
Be sure to:
Write a clear
claim.
Include
embedded
text evidence.
Give your
reasons why
your evidence
proves your
claim.
Example: From Pharrell's "Happy"
Why is the singer happy?
The singer is happy because he knows that happiness is important in
his life. He invites listeners to join him in clapping if they too know
that "happiness is the truth." These lines show that happiness is
important because everyone can agree that truth is important.