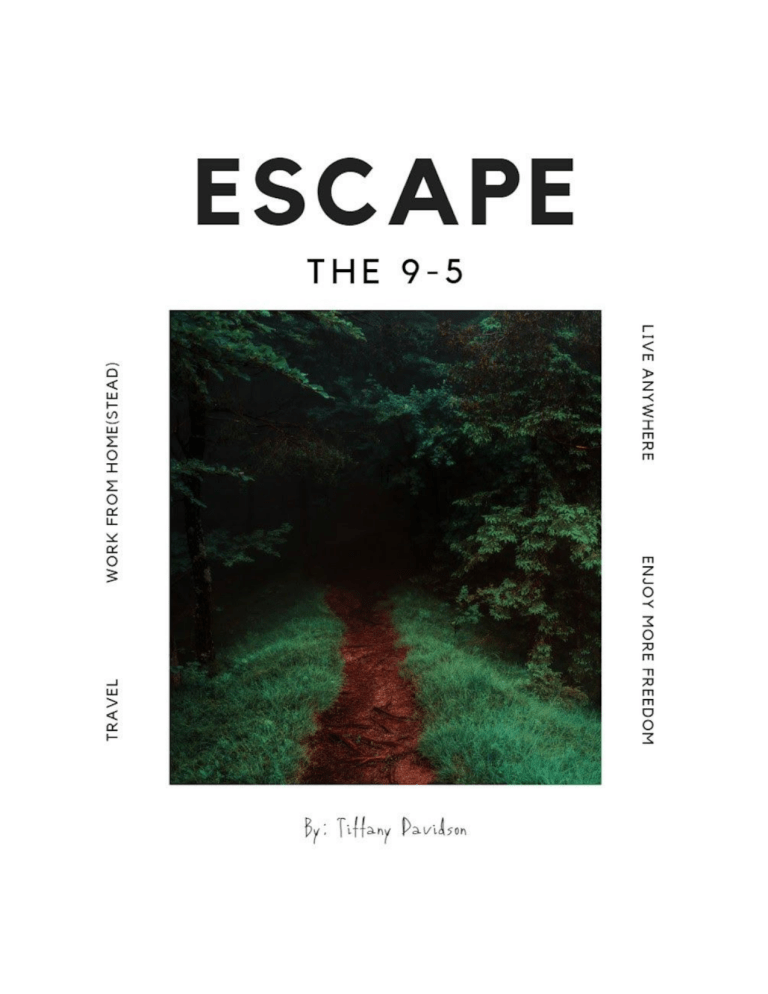 COPYRIGHT
Copyright © 2020, Tiffany Davidson; Washington's Last Frontier. All rights reserved.
AFFILIATE DISCLOSURE
There could be affiliate links in this ebook, meaning: at no additional cost to you, I earn a
small commission if you click-through and make a purchase. As an Amazon Associate I
earn from qualifying purchases. Rest assured, I only feature products that I believe in
and use myself, or links that are useful for making a point or helping you in your
research.
NOW TO MORE INTERESTING THINGS!
Like getting started transitioning to a whole new online career and completely
redesigning your lifestyle! (No big deal). Let's do this.
ABOUT THE AUTHOR
Tiffany Davidson is a lover of rural life and old ways. She is also a self-taught web
designer and blogger who runs her own business online.
While these two might seem to contradict, they actually fit together q
​ uite well​…
MY STORY
I'd rather talk about more interesting things than myself and my own subjective
experiences BUT telling you my story right now applies to this whole topic of escaping
the 9 to 5.
You need to understand where I'm coming from and why all of the things I'm going to
talk about are possible for you, too.
Despite owning my own lucrative and profitable online business, I don't have a tech
background. My past jobs include things like selling HarleyDavidson motorcycles,
working as a rural postmaster in northern Kentucky, being a fulltime housewife and
homesteader, operating commercial greenhouses in Bellingham WA, and everything in
between. I tell you this to assure you that you, too, can self-educate to start earning a
lucrative income working online.
Just before my web design business took off, I was working at an arts and crafts shop. I
had only dabbled in things throughout life, I hadn't taken the time to develop any
specific skill sets. But what I had done is create my own websites over the years,
nothing fancy, but websites nonetheless.
So one dreary afternoon, sitting at a little coffee shop on a day off from my craft store
job, I came across a website called Upwork, which is a freelancing platform-essentially a job board where people who need work done reach out to hire freelancers
to complete the task(s) for them.
I started browsing the tasks people were needing completed, and I kept coming across
"web design on the Squarespace platform". I was kind of familiar with Squarespace.
People were paying thousands of dollars to have a website built for them on
Squarespace?! Well dang, I could do that! (After enough YouTube tutorials and Google
searches, that is!)
On a whim, I created a profile, pretty much void of any worthy portfolio, but I did it
anyway, and just two weeks later I had signed on a $10,000 project that would take
me a month and a half to complete. * Mind blown *
The rest, dear reader, is history.
And guess what? This is no miracle, you can do it too, and you're going to. I'm going to
help you!
WHY DID I WANT TO WORK
ONLINE?
Why not just stay with a company and climb the ladder? Or get specialized training and
commit to a conventional career path?
The simple answer is that my mind, my spirit, even my body, crave something different.
I need freedom and creativity like I need water. The morning alarm clock and commute
lifestyle, every single day, year after year, is a recipe for an existential crisis in my mind.
And I think it's this way for a lot of people without them even noticing it. Of course, we
have to do what we have to do to support our lifestyles, but working online allows us to
be creative, to reach a whole new level of freedom, and to keep increasing our income if
we so desire.
When you work online, your mindset switches from getting paid by each hour, instead
your earnings directly correlate to how productive you are with the time spent working.
This is a whole new paradigm from the standard employee model most people have
gotten used to. And it can be very exciting! You'll see.
Now that I work from my laptop, I can create my days to a large extent. Of course
certain tasks and deadlines have to be met, both in my personal and professional life,
but I can decide if I would like to take the day off and go over to the coast for a hike, or
maybe I want to work from a cozy cafe that day, or actually.. maybe I'll just go spend
some time in the desert Southwest. So long as I have internet access, nothing changes
from an income perspective.
As someone who wants to have a rural homestead, this is a big deal. Because with this
lifestyle I won't have to commute away every day. Heck, I can even turn my
homesteading experiences into additional income via a blog if I want! (More on that
later).
DIFFERENT TYPES OF ONLINE
INCOME
Many of you reading this might be completely unfamiliar with the wide array of work
that can be done online. So let's talk about that...
SERVICE JOBS:​ T
​ hese are jobs in which you usually exchange your time for money,
just like a normal job except that you have freedom over where you work and your
work schedule to a large degree. Service jobs include: web design, graphic design,
consulting, writing, video production and editing, voice talent, and more.
RESELLING:​ Simply put, you buy products at a low cost and then resell them at a
higher cost. There are websites that specialize in selling goods at a very low cost,
which you can then private label and sell on a platform such as Amazon. Fulfillment by
Amazon (FBA) routinely earns sellers $10,000/month all the way up to $500,000
month. I'm not even kidding.
DROPSHIPPING:​ T
​ his is a business model that's easy to get into with very little upfront
investment. In a nutshell, you have an online store but no inventory. The inventory is in
the warehouses of the manufacturers. When an order gets placed on your website, you
notify the manufacturer (there is software that makes this process all very simple, don't
worry), the manufacturer ships the order to the customer, you get charged the
wholesale price and keep the residual amount as profit.
ONLINE STORE:​ Sell products online that you make. This can include digital products
such as photo prints or digital templates, graphics, eBooks, etc. You can use a
marketplace platform such as Etsy, or have your own website altogether.
YOUTUBE:​ Create videos on YouTube, gain subscribers, and make money from the ad
revenue each month! The amount of money you can make is dependent upon the
quality of the content you create, how consistently you upload new videos, and how
many people watch those videos. Many popular YouTubers earn six-figure incomes.
A great aspect of this income model is that once the videos are created and a lucrative
income is being earned, you don't really have to work much unless you just ​want t​ o.
You've already created content in the p
​ ast ​that is earning you money in the present,
and f​ uture. If you're a creative type who enjoys sharing, this is a great route. (​And one
that I just started myself​!)
NICHE WEBSITE / BLOG:​ Pretty much every website you have ever visited is a niche
website- meaning, a website that focuses on a specific niche and therefore targets a
specific audience. The idea is that you create content over time so that your website
traffic increases and eventually your website/blog can sustain your livelihood via ads,
affiliate links, and digital products. This is a good route if you enjoy writing, or at least
don't mind it, because consistent articles/blog posts are foundational.
PUBLISH EBOOKS:​ You can create ebooks and sell on​ A
​ mazon Kindle​ (or your niche
website!). The possibilities are really endless, just like with any book. You can write
how-to guides about topics you know a lot about or you can write short stories,
folklore, natural history of an area… anything!
CREATE DESIGNS FOR REDBUBBLE OR MERCH BY AMAZON:​ You don't have to be
a talented graphic designer, many of the best-selling shirts are phrases using simple
font. You upload designs to the platform, such as Redbubble or Merch By Amazon, and
then choose which products you want to offer those designs on (sweatshirts, mugs,
prints, etc.), and that's all there is to it! The platform will do the rest for you. People who
have thousands of designs uploaded can bring in $60,000+ each year.
I'm going to stop here because ways to make online income are as vast as your
creativity. And they're only growing. This list could go on and on for quite a while. For
now, we'll focus on these 8 ideas.
I think the next important step is to discuss the above in more detail, so you can start
understanding the processes involved and begin honing in on the route you might want
to take.
I'm going to let you know how I would go about getting started on all of the above
mentioned ideas.
Let's do it!
↡
A CLOSER LOOK AT ONLINE
INCOME IDEAS
+ TIPS & RECOMMENDATIONS FOR GETTING STARTED
IDEA #1: ONLINE SERVICE JOB
To get started transitioning to an online service job such as web design, graphic design,
or content development, I would suggest first heading over to Upwork.com.
Upwork is a freelancing platform, and it's where I started.
First, create a profile as a Freelancer. At this point, you probably don't know the service
you're planning to offer. That's ok - just make your profile as general as possible
because you're going to go back and edit and optimize it later on after you've decided
what you're going to specialize in.
After you've done this, you want to start browsing jobs. There are thousands of pages
of jobs, so get ready to dedicate a substantial amount of time to this.
Browse ALL jobs, pay special attention to the client's budget (which is how much you,
the freelancer, would get paid for the job) and pay attention to the job description
which is the work you would need to be able to do.
If you come across unfamiliar terminology, now is the time to go research that too.
During this research phase, as you try to hone in on what you could do, the service you
could learn and then offer, you'll also want to investigate how long it might take to learn
the skill.
When you come across a title that intrigues you, you want to go look for classes and
tutorials and Google articles on that particular route.
For example, if logo design appeals to you, you'll want to research the following:
●
●
●
●
classes on Udemy (which are usually $12)
Google articles about people who taught themselves logo design
Websites of logo designers who seem to operate a lucrative business
YouTube tutorials
These are all of the methods I used to teach myself web design and to grow a thriving
business over just two years.​ (And enough to support myself even in the first year!).
Now I'm going to give you very specific instructions for a few of the most popular
routes you might choose to take:
If you decide to go the WEB DESIGN route, I recommend doing the following:
● Decide on the platform you want to pursue using-- Squarespace, Wordpress,
Wix, etc.
● Start researching designers in that field and see how they seem to be doing.
Research their portfolios, their blogs, check out how much they're charging for
services so you can know what to expect. So if you decide to go the
Squarespace route, go to Google and type in: "squarespace web designer" and
peruse the websites of the designers who surface on Page 1 and 2. (One of
those should be yours truly if my SEO is still up to par!). Then check out
"wordpress web designer" and other search terms like "how to become a
______________ web designer" and just start researching away!
● Then, once you've decided on a platform, design a couple of sites! Diving in like
this is the best way to learn. Then, you can use these sites in your portfolio on
Upwork! I would start on YouTube with search terms such as "squarespace
website tutorial" or "wordpress for beginners" or "wordpress tutorial"
● Learn how to troubleshoot problems, which is crucial to this kind of work. So if
you come across something in a tutorial that doesn't make sense, or you want to
do something a little different, get on Google and start asking questions. When I
started designing websites for clients, I was honestly paid to learn. I would take
on jobs that I didn't yet know how to EVEN DO completely, but I trusted my
selfeducating abilities and you can do the same. I think this is inevitable in most
online work. A dear friend of mine who is a software engineer for a large
well-known corporation once told me that he was essentially paid $120,000 to
"search for answers on Google all day." So this is normal. Don't expect to EVER
know everything about your industry. This is NOT how web design works.
● After you do your due diligence of research and tutorials and classes and actual
design work, go back to that Upwork profile and clean it up. You'll inevitably
know a lot more terminology now so you'll be able to talk shop on your profile.
Throw those websites up on your portfolio, put your new title on your profile and
start sending in proposals for work! If you get stuck, look at other profiles of
Freelancers who offer the same service, particularly top rated freelancers in that
same industry.
If you decide to go the GRAPHIC DESIGN route, I recommend doing the following:
● Take a course learning how to use Adobe Illustrator. There's a great course on
Udemy for about $12 called "Illustrator CC 2020 MasterClass" that I
recommend.
● In addition, or you can even begin here, start learning how to use Canva.com.
Canva is a wonderful resource which allows non-designers the ability to create a
multitude of attractive visual graphics from logos to infographics to magazine
covers, social media images, branding graphics, and so much more. I would
recommend pottering around on Canva on your own for a while and playing,
then start incorporating YouTube tutorials about Canva.
● Get on Upwork and start perusing the job listings for graphic designers. Use
keywords such as: graphic designer, branding, logo, infographic, etc. This part of
your research will help you get familiar not only with terminology, but also with
what clients are wanting and how much they're willing to pay for it. These tidbits
of info should help guide you on your path.
● Using Google, browse websites of other graphic designers, particularly
solopreneurs (one-man operations) and freelance graphic designers. Pay
attention to how they market themselves, their portfolio to see what's popular
and paying, how they list their services, the client process, and pricing. Start
thinking about how you might specialize and differentiate yourself.
● Then, start making things! Work on branding graphics by imagining a brand and
creating the graphics that brand would use on its website, custom apparel, and
other promotional materials. Design an infographic or two. Design a few logos.
This is how you both learn graphic design AND start building a portfolio.
● The next step is to go back and edit and optimize that Upwork profile and start
marketing yourself as a graphic designer and sending in proposals for jobs!
If you decide to go the COPYWRITING / CONTENT DEVELOPMENT route, I
recommend doing the following:
● This is a bit more straightforward-- start writing articles! Find your voice. You
don't want to sound like WikiPedia.
● Decide who your target audience will be. Which industry are you going to write
for? Clients hire content developers / copywriters who are experienced in their
industry. Will it be health and wellness, outdoors, tech, legal, lifestyle...? The
choice is yours.
● Go to Upwork and search for "writing" or "articles" or "copywriter" or "content
developer" and research all of the job listings you find. This will get you in touch
with payment and client expectations and possibly help you hone in on the area
of writing you want to pursue.
● While you're on Upwork, look for the profiles of top-rated freelance copywriters
and content developers. Check out their portfolio and get an idea of what they
include on their profile description. This will help you learn what's important to
potential clients.
● Then, I have one writing guru I recommend who has turned freelance writing
into a very lucrative business earning a six-figure income. She has a great
newsletter I recommend signing up to. Her site is: TheMiddleFingerProject.com.
● After you've chosen the niche you'll be writing for, and created some articles,
save those articles as a .pdf format and upload them to your Upwork portfolio,
edit and optimize your profile, and start sending in proposals for writing jobs!
A QUICK TIP WHEN SENDING
PROPOSALS ON UPWORK:
When writing out a proposal on Upwork, I recommend first introducing yourself in
about two lines. Then, let the client know how you can help them. Focus on the ways
you can bring value to their brand and how the work you'll do for them will help them
achieve goals and grow their business. Don't go on and on-- be kind, understanding,
and to the point.
IDEA #2: FULFILLMENT BY AMAZON (FBA) / RESELLING
The particular flavor of reselling I'm going to dive into is Amazon FBA, because I think
it's by far the most lucrative.
In a nutshell, being an Amazon FBA seller means you purchase items in bulk, usually via
Alibaba.com, and then sell those items on Amazon via a program called Fulfillment by
Amazon. You can get started for as little as a few hundred dollars.
This online income source has very large potential if you do it right. It's fairly common
for people to make $10,000/month while some even make up to $500,000/month!
Check out ​this video​ if you don't believe me. And while you're there, go ahead and
subscribe to the Project Life Mastery YouTube channel because if you go the Amazon
FBA route, Stefan will be a very valuable resource for you.
Deciding on your first product needs to be a tedious research process. I recommend
creating an account on Alibaba.com and then browsing through all of their listings. You
want your first product to be cheap while you learn the ropes. Most people start out
with products that are around $.20 (cents) per unit on Alibaba and which can be sold
on Amazon for at least $10.
You will learn about this and more by watching the videos on Project Life Mastery's
YouTube channel, which is what I recommend you BEGIN with if you do want to pursue
this path. ​Here is a playlist​ on that channel that is all about Amazon FBA. I recommend
going there and committing to watching every single video. Pay attention, take notes,
and do your own research too.
IDEA #3: DROPSHIPPING
This is an online income idea that requires very little upfront capital. The reason is
because you ​don't actually​ purchase any inventory. But you ​do h
​ ave an online store.
Sound confusing? Let me explain.
Here's how dropshipping works: you decide on the product or products you'll be
offering in your store, then you design your store using Shopify.com, next you setup
Oberlo which will help manage communication between Aliexpress.com (which is a
suppliers website) and Shopify, and then when you get sales on your online store, an
order gets placed to Aliexpress and shipped to the customer.
Because the customer will be paying more than the product actually costs, the leftover
money will go to your bank account! See? No inventory in your hands necessary!
To get started in dropshipping, first you decide on what your store will specialize in.
The niche of the store. Maybe you'll be specializing in wooden watches or bed linens,
pet toys, or men's jackets. It's entirely up to you.
To begin brainstorming on what you might want to sell in your store, I recommend
going to Aliexpress.com and browsing through their categories. The reason we aren't
going to use Alibaba.com is because Alibaba requires a certain minimum purchase limit,
while Aliexpress allows you to only order one item at a time if desired. For
dropshipping, you want to use Aliexpress, for buying in bulk such as for Amazon FBA
you want to use Alibaba.
Check out the prices and be creative with how you could market products on your
online store. Something I think is important to keep in mind is to choose a niche that
isn't so readily available on Amazon. Most people shop on Amazon and expect 2-day
shipping nowadays, so you don't want to try marketing and dropshipping items that
people will probably shop for on Amazon.
You're basically wanting to think about how you can curate an online shop. Maybe you
want to go with kitchenware with an ancient Eastern aesthetic. You could go to Alibaba
and search for the products you want to offer to create this Eastern kitchen flair in your
storefront, so this would make the visitor feel inspired and more likely to purchase from
you.
Imagine walking into a candle shop. It's full of only candles and they have an air of
higher quality, and gets you in the candle-buying mood, so you end up purchasing a
candle there, even though you could go to any big box store or even order online. The
shopkeeper has created a shopping experience, through beautiful and strategic
curation.
Keep this in mind when setting up your online Shopify store.
If you want to try dropshipping, I recommend going to O
​ berlo's YouTube channel​ and
watching their helpful videos. YouTube is your classroom oftentimes when it comes to
self-educating to work online.
They have a g
​ reat blog​ too, with hundreds of articles I recommend studying.
IDEA #4: A CONVENTIONAL ONLINE STORE
If you're new to the world of making money online, this option might feel the most
familiar for you, or the easiest to grasp.
While it can certainly be lucrative, I do view this as one of the less lucrative sources of
online income. But of course, there are always exceptions. There are plenty of folks out
there killing it with an online store.
Maybe you're a woodworker or blacksmith or baker and want to start offering your
products to an online market, just like in a regular brick and mortar shop, but online. You
could put items for sale on your shop and also allow custom orders to be placed. This
allows you to reach a much larger marketplace than you would by just trying to appeal
to a local audience.
Or perhaps you're a photographer who would like to start selling prints. The great thing
about selling prints is you can do print-on-demand, meaning you don't have to keep the
inventory. Instead, when an order is placed on your store, you hop over to a website like
finerworks.com​ where you place the order your customer wants and get it shipped to
them. Of course, you can also take the route of ordering your inventory and keeping it
on hand so that you can personalize each print, sign it, and package and ship it yourself.
Many years ago, I had a vintage clothing shop on Etsy. I would go to a local thrift store
and find interesting vintage items, model and photograph each piece, and then add it to
my online Etsy shop.
Years after that, I started making earrings and hairsticks and rings out of wood and
bone (shed deer antlers). I turned this into an Etsy store as well, and it did well. It
started to really increase in traffic, to the point where a large corporation contacted me
wanting to place a large order. There was no way I could meet that large of a demand
as one woman with a bandsaw and dremel tool, so it didn't work out. But there is
potential if you stick with a craft, provide great customer service, and keep learning
how to organically promote your work online.
Another route to investigate and consider is selling ​digital p
​ roducts in an online store. I
know a woman who creates templates using simple graphic design in Canva. She sells
templates for recipes, greeting cards, tags, various labels, party invitations, and more.
When the customer makes a purchase from her, they receive a file which they can print
on their own.
So you see, the ideas for online stores are as broad as your creativity.
IDEA #5: YOUTUBE
This is one stream of online income that I find very appealing, mostly because it's
creative! I love crafting videos. I don't have any fancy equipment and I use Windows
Movie Maker (ha!), but I love the process.
First, you would want to reflect on your favorite YouTube channels. What kind of video
content do you enjoy and what do you not like?
Do you have any particular things you feel like you could teach? Maybe you have a large
cottage garden... go to YouTube and watch videos about cottage gardens and check
out the amount of views they're getting, the topic of the videos, and the quality. Read
through the comments and pay attention to any questions people are asking, and their
feedback in general.
Or maybe you are a barista who knows how to make every kind of espresso beverage.
You could create videos that teach people how to make these drinks using their own
espresso machine at home. Again, go look for other videos such as "how to make a
breve latte" and start researching.
Or maybe you just love philosophy or a certain era of art. Decide on interesting topics
and discuss those online. Start a philosophy channel, or an art channel.
DIY channels also do great-- teach people how to do things! Anything! How to mount a
staghorn fern, how to bake bread, how to change a tire, how to plant an apple tree,
how to knit a scarf, I could go on forever.
Finance and frugal living channels also do well. I watch a TON of videos about
budgeting, investing, and tips on saving money.
You can also "vlog" which is just video blogging. Bring people through days in your life
as a mom, as a traveler, as a homesteader, as a sufferer of Multiple Sclerosis, as an
inspiring human being.... there truly is a community out there for just about every niche.
Anything you're good at, or passionate about -- start a YouTube channel! Your videos
don't have to be perfect to begin, you'll get better in time.
Over time, as you continue to create good videos and upload them, you'll gain
subscribers. Eventually YouTube will allow you to monetize your videos. This allows
you to start making money through ad revenue.
You can make a full or part-time income just from your Youtube channel! And it all
depends on how much work you choose to put into it.
YouTube is ​one way​ I plan to diversify my online income streams, so ​I started a channel
last month! Let's see how it grows and evolves over time.
IDEA #6: NICHE WEBSITE / BLOG
I'm going to use the terms ​website a
​ nd b
​ log i​ nterchangeably because a
​ niche website
utilizes blogging​ as its form of marketing and gaining traffic.
So what is a niche website? A niche website is a site that focuses on a particular
category of interest that attracts a specific audience of people interested in this
category. The category can be very specific (very ​niche​) or more broadly specific (still
niche, though).
Frankly, a
​ lmost every website is a niche website.
Let me give you some examples using popular sites:
●
●
●
●
●
Wellness Mama​ | Niche: Healthy, natural family life
Outdoor Gear Lab​ | Niche: Outdoor gear reviews
Art of Manliness​ | Niche: Men's lifestyle website to help men become better men
Apartment Therapy​ | Niche: Lifestyle site focused on home decor and design
The Money Mix​ | NIche: Finance, Budgeting, Investing, General money matters
Here is a wonderful l​ ist of successful niche websites​ as part of your research if you
decide to go this route.
To reiterate, most websites are niche websites to some degree.
How do these websites make money, you might be wondering?
The two primary ways niche websites/blogs make money are via ads & affiliate links.
You can make a lot m
​ ore ​money by offering d
​ igital products​ for sale on your website,
though. That can be as simple as an eBook or a full-blown online course.
The main con to taking this route of online income is that it takes ​time t​ o start making
substantial amounts of money. Not only time, but c​ onsistent ​time and e
​ ffort​. You will
spend a
​ t least ​a year building the site before you start seeing profit.
But the really great part of having a niche website (or blog) is that it can turn into a kind
of "passive" income for you in the future. For example, on one of my niche websites,
some blog posts that I published last year are now earning me money each month (via
ads and affiliate links), no matter if I'm working or not. In fact, I can be traveling or
sleeping... and the income continues to get made despite. If you're interested in going
this route, here are the steps I recommend taking:
As always, you want to begin with ​research​. Brainstorm the niche you would want to
focus on. Maybe you love to cook and want to have a recipe site, maybe you're a new
mom and want to start a mom blog (they do really well, by the way), or you might be a
handyman who could write DIY tutorial blog posts. Maybe budgeting changed your life
so you want to start a frugal living site.
Once you decide on the kind of website you want to create, go research other sites in
that niche. Read through their blog posts (articles) to get ideas of topics you can write
about.
Create a list of at least 20 topics to begin with. Make sure you don't just create topics
that you *want* to write about, write blog posts about things people are searching on
Google. Remember, this niche website is a business blog, not just you rambling on
about what you did that day.
Watch videos on YouTube and read articles on Google about starting a blog, how to
make money blogging, that kind of thing.
Once you finish this research stage, it's time to create the website! You can do this on
your own, or if you are serious and really want to invest in a business, I would suggest
hiring a web designer who is also an SEO (search engine optimization) expert. A lot of
designers and SEO experts claim SEO expertise, but with no demonstrable results, so
be sure you choose someone with a proven track record. This is how your site will rank
well on search engines and not get smothered out by the millions of other websites in
existence
SEO is​ crucial.
My primary profession at this point in life is as a web designer & SEO specialist, so I
have a very high standard here. On that note, if you want to go with Squarespace as
your platform, you can contact me on my business website ​www.tiffany-davidson.com
and hire me to design your site and setup all of your SEO for you. The pricing is made
public on my site, so you can make sure my services are within the budget you're
willing to invest to get going.
As part of that service, I also offer 8 blog post topics you should write and long-term
instructions on what to do to grow your website ranking moving forward.
Okay! Onward! Now you've researched thoroughly and your site is live! Now it's time to
crank out those blog posts! You want to publish at least one new post a week. I recently
went on a frenzy and published a new blog post every single day on one of my niche
websites and the traffic growth was exponential!
Remember to ​treat this like a business. I​ f you work full-time, you might need to wake
up a half hour early each morning to chip away at that week's post or sacrifice one of
your weekend days. Whatever you need to do to get ​at least​ one new post out each
week.
Next, you want to start monetizing. I recommend setting up ​Google Adsense​ right
away. There are tons of articles and YouTube tutorials showing you how to do this,
depending on the platform you're using (Wordpress, Squarespace, etc.). Google
Adsense will NOT make you rich. As you build traffic, your numbers will grow, but
we're talking pennies or dollars on the day to begin.
Once your traffic increases to 25,000 monthly visitors, I suggest switching to an ad
network called M
​ ediavine​. With Mediavine, you can make the same amount each day
that you were making each month with Google Adsense! This should be more incentive
to keep writing and publishing quality content to grow your numbers, knowing that
once you hit 25,000 visitors a month, your earnings can potentially increase a lot!
Then, when you reach 100,000+ visitors each day, consider ad networks such as
AdThrive f​ or even higher earnings.
The next method of monetization I suggest implementing right away are ​Amazon
affiliate links​. This is called the ​Amazon Associates program​. Just Google "sign up for
amazon affiliates" for help on how to get signed up.
Once you have an account, you'll get customized links to items and pages on Amazon
that are directly linked to your affiliate account.
So how does this work? It's fairly straightforward: you insert your affiliate link to the
Amazon item or page in question that you're mentioning in that particular blog post. For
example, let's pretend you did indeed start that Handyman blog, and you're working on
a blog post reviewing a particular tool. Find the tool on Amazon, with the product page
open and logged into your Amazon Associates account, you'll have an option in the top
left to copy the affiliate link text or image or image with text, whichever design style
you want to display in your blog post.
Then, anytime a visitor to your site goes to Amazon via one of your links, a cookie is
created and if that person ends up making a purchase from Amazon, you get a
commission. It isn't much, only a few percent. But you can imagine how this has the
potential to add up if you have 50 or 100 quality blog posts, all with affiliate links in
them!
One of my niche websites is at around 6,000 monthly visitors (which is not a lot) and I
make several hundred each month from Amazon affiliate links alone. As the website
continues to grow, I should be able to make thousands. And the wonderful part, of
course, is that this money will continue to come through for years to come, whether I'm
sleeping, traveling, gardening, etc.
So it's important to remember that all of this work with little immediate return, will
truly pay off in the long run, allowing a whole different kind of lifestyle, with so
much more freedom built in!
Niche websites are one of my favorite ways to make money online. They just have so
much potential! If you want to make more money, simply create more posts focused on
high-intent keywords​, or write a short ebook and sell it for a few bucks on the site, or
build a course that your audience would be interested in and sell it at a higher price
point! The earning potential is as vast as your creativity, really.
IDEA #7: PUBLISH EBOOKS
Self-publishing an ebook is accessible to anyone nowadays with ​Amazon Kindle​, and
there's no upfront cost, other than your time!
The first step, as ever, is r​ esearch​--​ ​you must figure out what you want to write about. I
recommend going the non-fiction route. This can be anything, quite literally. So many
unexpected subjects do indeed have an audience who would be interested in
purchasing your ebook.
I know someone who started with Amazon Kindle by writing a book all about Labrador
dogs-- how to train them as puppies, ideal diet for them, their temperament and the
best lifestyle for them, common health problems and how to treat and avoid-everything
a Labrador owner would want to know. If this person wanted to branch out, they could
start a whole series of books about specific dog breeds. Because most ebooks of this
caliber sell at $.99 (cents) on Amazon Kindle, you would want to publish multiple titles
in order to see more monthly revenue.
Test the market. Go to A
​ mazon's Best-Selling ebooks list​ and spend some time
investigating non-fiction bestsellers. This might spark some ideas for you.
Once you decide on a topic, start writing! You can use Word or a Google Drive
document (like I'm doing right now). When finished, you can download as a .pdf or
.word document-- whatever the platform you plan to sell on recommends. You can
design book covers for free​ using Canva if you want to get more creative.
You can even sell it as a downloadable file on your website if you happen to have a
niche website or blog related to the topic (and make 5-10x more than you would on
Amazon!).
Never written anything lengthy? Commit to a certain amount per day until you're
finished. Start with a rough outline of the topics you want to touch on in the book, and
then write a little each day until you're finished. Maybe it's a page a day, or even a
paragraph a day. You know what's realistic for your schedule.
If the books are 50 pages or under, maybe your goal can be to create 4 ebooks in a
year, to begin. As you become more proficient and efficient at writing, you can publish
one a month, or one each week!
You're probably catching on now to the fact that​ online income streams have a
cumulative effect over time as far as profitability goes.​ It's a snowball effect!
IDEA #8: CREATIVE DESIGNS FOR PRINT ON-DEMAND SERVICES SUCH AS
REDBUBBLE AND MERCH BY AMAZON
Let me begin by explaining to you what print-on-demand is. If you go to Amazon and
find a t-shirt you like, or if you go to Redbubble.com and find a bumpersticker or other
custom product you like... those designs were made by someone, just a regular
individual like you and I, then uploaded, you came along and purchased, the product
was manufactured and shipped to you.
The designer then received a portion of the revenue, but didn't have the hassle of
making or shipping the product to you, dealing with inventory, or anything really. They
just collect their check each month.
There are many print on-demand services who operate like this, but I'm only familiar
with ​Redbubble​ and​ ​Merch by Amazon​.
Here's a list of others​, though.
So, in a nutshell- you create the designs (using free software such as​ C
​ anva​), then
upload them and select the product type(s) you want to offer (shirt, mug, towel, sticker,
etc.), create the listing (be sure to use popular keywords in your product listing title),
publish it, and that's it! Rinse and repeat as much as you possibly can. The more
designs you have live, the more money you can make.
I recently listened to a podcast of a woman who does this full-time, has thousands of
designs up on Merch by Amazon, and averages a $60,000/yr. salary. That's not bad
considering she doesn't necessarily HAVE to keep creating designs. She probably has a
lot of control over her schedule and freedom in her life, too. As she gets an idea, she
can go create the design and send it live, but maybe she wants to take a month off and
go travel or just relax. It's entirely up to her. The income would keep coming. Yet again,
that cumulative effect of online income that I keep coming back to is truly wonderful.
Here are the steps you should take if you want to go this route:
Decide which platform you're going to use by reading some Google articles and
watching some YouTube videos using search terms such as "merch by amazon" or "sell
on redbubble."
Once you decide on a platform, spend some time learning what's popular and getting
ideas. Find products that are selling well and think about how you can improve on the
design. Take into consideration upcoming holidays, recent political goings on and that
kind of thing.
For example, during hunting season I've seen a lot of shirts that say "I Like Big Bucks
And I Cannot Lie" selling, and with the upcoming election year and the massive amount
of political tension out there, I've noticed that shirts and bumperstickers that say "Any
Decent Human 2020" "Or Any Functional Adult 2020" are selling really well. If
Halloween is a month away, think about Halloween or Fall designs. You get the idea.
WHICH PATH WILL YOU
TAKE?
So now you have some introductory ideas about online income possibilities.
It's now in your hands to decide which routes are most appealing to you. What do you
think you'd be good at or would enjoy learning?
If I can leave you with any closing thoughts, it is this: D
​ on't put it off. Start now. And
do not doubt yourself.
It'll be a learning process, sure- but online income streams are e
​ ntirely within your
reach.
If you were able to read this short ebook, you can do any of the above ideas. I promise.
When we achieve prosperity ​and ​freedom, then we can really free up the space and
time to not only enjoy our lives much more, but to give back in ways we simply cannot
when being an employee occupies so much of our time. So it's my belief that this kind
of lifestyle is beneficial for the individual, the family unit, and society as a whole.
I hope you found this helpful, and that you learned a lot and feel inspired.
Now… go get busy!