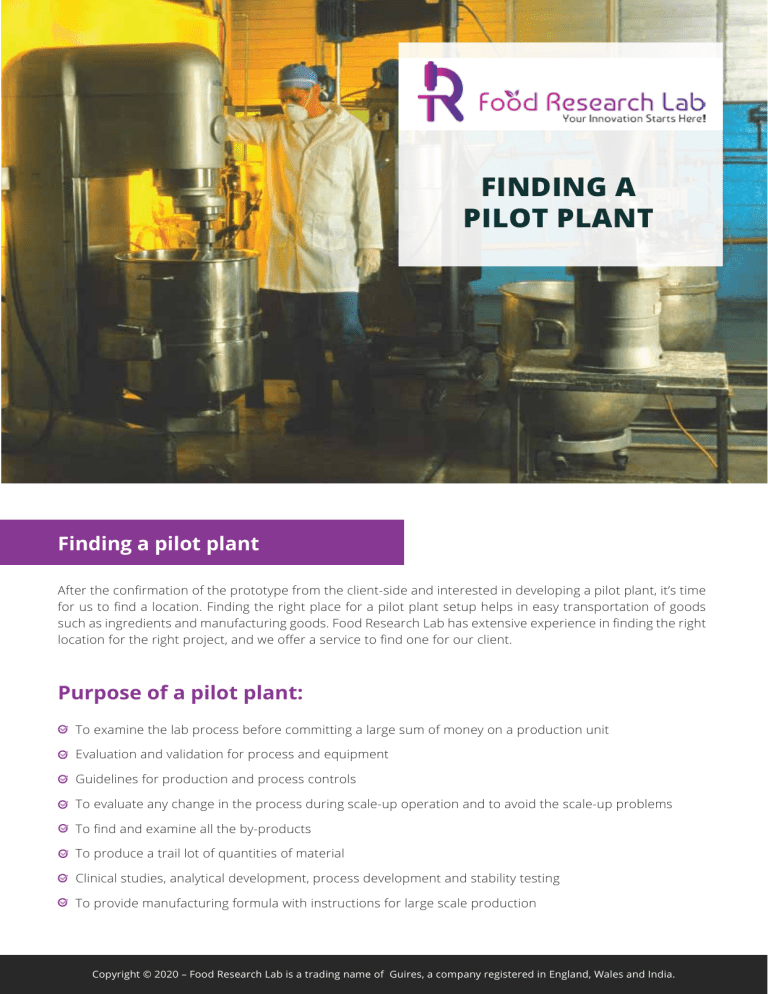 FINDING A
PILOT PLANT
Finding a pilot plant
After the confirmation of the prototype from the client-side and interested in developing a pilot plant, it's time
for us to find a location. Finding the right place for a pilot plant setup helps in easy transportation of goods
such as ingredients and manufacturing goods. Food Research Lab has extensive experience in finding the right
location for the right project, and we offer a service to find one for our client.
Purpose of a pilot plant:
To examine the lab process before committing a large sum of money on a production unit
Evaluation and validation for process and equipment
Guidelines for production and process controls
To evaluate any change in the process during scale-up operation and to avoid the scale-up problems
To find and examine all the by-products
To produce a trail lot of quantities of material
Clinical studies, analytical development, process development and stability testing
To provide manufacturing formula with instructions for large scale production
Copyright © 2020 – Food Research Lab is a trading name of Guires, a company registered in England, Wales and India.
About Us
Food Research Lab R&D, food innovation company, is the unit of Guires. With years of experience in
research especially in medical device and pharmaceutical regulations, food product development, scientific
publications and clinical trials, the company has now ventured into food research and formed a separate
unit, under the brand name of 'Food Research Lab' that will drive food forward. Food Research Lab brings
together the latest in food processing equipment, expert food scientists, chefs, nutritionists and partners
from across the globe to help food companies and entrepreneurs get their products to market quickly and
effectively.
Food Research Lab makes your dream concept into a commercial product as we have strong knowledge of
ingredients, processing techniques, and we can bring them all together to help you make the right decisions.
Contact Us
We are based in the beautiful City of Manchester and Chennai, Contact us on the details provided or follow
us on our social platforms.
UK
Guires Ltd,
MIIC Unit 52-56,
Greenheys Business Centre,
Pencroft Way, Manchester,
England, M15 6JJ, UK.
+44- 74248 10299
+91 9566299022
info@foodresearchlab.com
Copyright © 2020 – Food Research Lab is a trading name of Guires, a company registered in England, Wales and India.