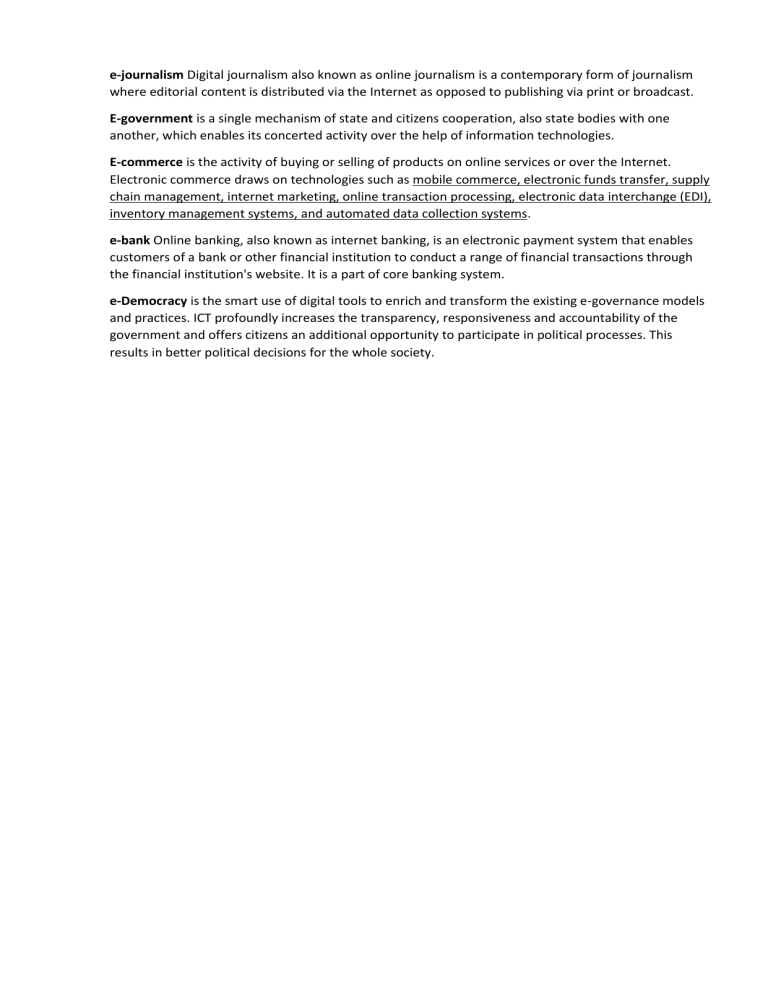 e-journalism Digital journalism also known as online journalism is a contemporary form of journalism
where editorial content is distributed via the Internet as opposed to publishing via print or broadcast.
E-government is a single mechanism of state and citizens cooperation, also state bodies with one
another, which enables its concerted activity over the help of information technologies.
E-commerce is the activity of buying or selling of products on online services or over the Internet.
Electronic commerce draws on technologies such as mobile commerce, electronic funds transfer, supply
chain management, internet marketing, online transaction processing, electronic data interchange (EDI),
inventory management systems, and automated data collection systems.
e-bank Online banking, also known as internet banking, is an electronic payment system that enables
customers of a bank or other financial institution to conduct a range of financial transactions through
the financial institution's website. It is a part of core banking system.
e-Democracy is the smart use of digital tools to enrich and transform the existing e-governance models
and practices. ICT profoundly increases the transparency, responsiveness and accountability of the
government and offers citizens an additional opportunity to participate in political processes. This
results in better political decisions for the whole society.