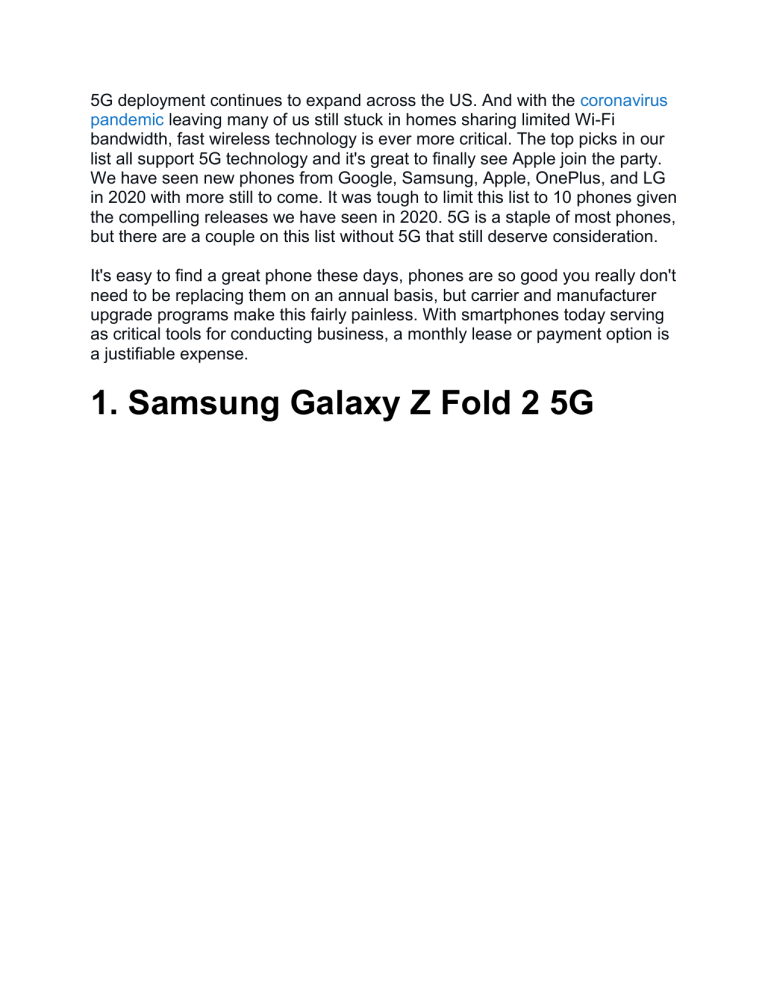 5G deployment continues to expand across the US. And with the coronavirus
pandemic leaving many of us still stuck in homes sharing limited Wi-Fi
bandwidth, fast wireless technology is ever more critical. The top picks in our
list all support 5G technology and it's great to finally see Apple join the party.
We have seen new phones from Google, Samsung, Apple, OnePlus, and LG
in 2020 with more still to come. It was tough to limit this list to 10 phones given
the compelling releases we have seen in 2020. 5G is a staple of most phones,
but there are a couple on this list without 5G that still deserve consideration.
It's easy to find a great phone these days, phones are so good you really don't
need to be replacing them on an annual basis, but carrier and manufacturer
upgrade programs make this fairly painless. With smartphones today serving
as critical tools for conducting business, a monthly lease or payment option is
a justifiable expense.
1. Samsung Galaxy Z Fold 2 5G

Must read:
Samsung Galaxy Z Fold 2 review


Z Fold 2 in-depth: Hinge, screens, cameras, and speakers
Z Fold 2 in-depth: Flex mode, App Continuity, and multitasking
While I fell in love with the Galaxy Fold last year, I didn't include it in my 10
best smartphones list because it seemed like an extravagant purchase.
However, given the Samsung Galaxy Z Fold 2 is the third iteration of its
folding phone and has been significantly improved, it deserves to not only be
on this list but to be at the top.
I spent a couple of weeks with a review unit, and after just a couple of days
with that evaluation device, I ordered my own. I exercised patience and
ordered a black phone with metallic red hinge and it is lovely. The Z Fold 2 is
priced at $2,000, but if you use your device as much as I do daily to get work
done, then the price can be justified.
The Z Fold 2 serves as a very capable smartphone and small tablet, providing
an extremely strong and fast 5G connection in both modes. The outside
display offers a typical 6.2-inch smartphone experience while the large 7.6inch main display is stunning with 120Hz refresh rate and Samsung's lovely
AMOLED technology.
You get the fastest RAM and internal storage speeds available today, triple
rear cameras, two other 10MP cameras, and much more. The 4500mAh
battery easily gets you through a full day, even when using the large main
screen.
$2,000 AT BEST BUY $2,000 AT BEST BUY
2. Samsung Galaxy Note 20/Note 20
Ultra 5G
Jason Cipriani/ZDNet
Must read:



Samsung Galaxy Note 20 Ultra review:
Samsung Galaxy Note 20, Note 20 Ultra: Top 5 features
Samsung Galaxy Note 20 Ultra: The first three things I noticed
Samsung announced the Galaxy Note 20 series a couple of months ago and it
is clear the Note 20 Ultra is one of the best phones for productivity and an
easy recommendation for those who love the S Pen.
The Note 20 devices bring everything we saw on the S20 series with some
improvements in the cameras. Of course, the S Pen is a staple of the Note
series, and with the Note 20, we see more Air Actions that are actually proving
to be quite useful and reliable this year.
Samsung's two Note 20 series devices are powered by a Qualcomm
Snapdragon 865 Plus, unique AMOLED 6.7- and 6.9-inch 120Hz refresh rate
displays that automatically adjust for the content being displays, 8GB and
12GB RAM, 128GB with a 512GB storage option for the Ultra with a microSD
for even more capacity, three rear cameras, IP68 rating, Wi-Fi 6, and
Bluetooth 5. Battery capacity is 4,300mAh and 4,500mAh.
$799 AT AMAZON $1,000 AT BEST BUY $350 AT SAMSUNG
3. Apple iPhone 12/12 Pro/12 Pro
Max
Apple's new iPhone 12 lineup includes four models, all sporting support for 5G
networks. New Apple processors, improved camera performance, and a more
square-shaped design (similar to the iPhone 4 and iPad Pro) are found on all
four models.
The iPhone 12 and 12 Pro have the same size 6.1-inch display and this year
that also means the exact same OLED panel. The only differences between
the iPhone 12 and 12 Pro are the additional telephoto camera, LiDAR support,
and likely more RAM found on the iPhone 12 Pro model for the more than
$120 difference in price.
The iPhone 12 Pro Max is the largest iPhone with a 6.7-inch display. This year
Apple also has the 12 Pro Max having slightly better cameras when compared
to the 12 Pro.
Pricing for the new iPads starts at $699 for the iPhone 6 Mini and ranges up to
$1,399 for the 512GB iPhone 12 Pro Max. Pricing varies by storage capacity
with some new carrier pricing differences. The iPhone 12 mini and 12 are
available in white, black, blue, green, and PRODUCT(Red). The iPhone 12
Pro and 12 Pro Max are available in graphite, silver, gold, and pacific blue.
$799 AT APPLE
4. Samsung Galaxy S20/S20
Plus/S20 Ultra

Must read:
Galaxy S20 Plus review


Galaxy S20 Ultra review CNET
Galaxy S20 Ultra 5G review
While I spent a few months with the flagship S20 Ultra 5G, I agree
with ZDNet's Jason Cipriani that the S20 Plus is the best Samsung phone for
most people.
The focus on the S20 line this year is universal 5G and improved camera
experiences. The S20 Ultra saw some software updates to improve its
camera, but it is a very large device that went a bit overboard with a high price
to boot.
Samsung's S20 series phones are powered by a Qualcomm Snapdragon 865,
AMOLED 120Hz refresh rate displays ranging from 6.2 to 6.9 inches, 12GB
RAM (with 16GB option), 128GB to 512GB storage options with a microSD for
even more capacity, three rear cameras (the Ultra has unique camera
specifications), IP68 rating, WiFi 6, and Bluetooth 5. Battery capacity ranges
from 4,000mAh to 5,000mAh. The S20 does not support high band
(mmWave) faster 5G networks so make sure you pick the device that will fit
your network needs.
$1,382 AT AMAZON $1,400 AT BEST BUY $1,382 AT WALMART
5. Google Pixel 5

Must read:
Google Pixel 5 Cheat Sheet TechRepublic
The Google Pixel 5 is the first 5G smartphone available from Google and
appears to check the boxes needed for a competitive smartphone. Unlike past
Pixel phones, it is not designed to compete with the flagships from Apple,
Samsung, and others, but provides the essentials with Google's software
chops.
Google's past Pixel phones always lacked some features and couldn't
compete with Apple and Samsung flagships so this approach makes much
more sense. Priced at $699, the Pixel 5 is a great option for getting 5G into
your hands with Google's software and reliance on regular updates for years.
The Pixel 5 has a 6-inch display, Qualcomm Snapdragon 765G processor,
8GB of RAM, 128GB internal storage, 4000mAh battery, dual rear cameras
(12MP and 16MP ultrawide), 8MP front camera, and more.
You can pick one up in black or an interesting green color (Sorta Sage). The
back is aluminum and we also see the return of a rear fingerprint sensor.
$700 AT AMAZON $700 AT BEST BUY $699 AT GOOGLE STORE
6. OnePlus 8/8 Pro

Must read:
OnePlus 8 review

OnePlus 8 Pro review
OnePlus rolled out its new 2020 phones with the OnePlus 8 and OnePlus 8
Pro, both compatible with 5G networks. T-Mobile carries the OnePlus 8 while
Verizon has a unique version with 5G mmWave support.
This latest OnePlus flagship offers extremely responsive performance with its
90Hz and 120Hz displays, fast UFS 3.0 internal storage, generous RAM, and
the latest Qualcomm Snapdragon 865 processor.
The phones are lovely with Interstellar Glow, Glacial Green, and other color
options available. There are a couple of different RAM and internal storage
options for each phone. With the size and battery capacity differences
between the OnePlus 8 and 8 Pro, we also find some differences in cameras,
display refresh rate, and wireless charging functionality.
The OnePlus phones now have Android 11 and are very responsive. They still
lack an IP rating so be careful using them outside as inclement weather
season approaches.
$999 AT ONEPLUS
7. LG V60 ThinQ 5G

Must read:
LG V60 ThinQ 5G review

Hands-on LG V60 ThinQ review CNET
The LG V60 ThinQ 5G is available from T-Mobile, AT&T, and Verizon. It's only
available in the US from one of these wireless carriers, but it may appear as
an unlocked model on Amazon in the future.
This latest LG V series device continues to focus on video creation with a
triple rear camera system, 8K video recording, four microphones, ASMR and
Voice Bokeh audio technology, and advanced camera software. It's also
powered by a massive 5,000mAh battery with a 1080p display so it is sure to
help you capture hours of video content.
The LG V60 ThinQ 5G is composed of two pieces of Gorilla Glass 5 with a
metal frame and is certified for shock resistance to MIL-STD 810G. LG's new
phone has a 6.8-inch OLED panel, Qualcomm Snapdragon 865, 8GB of RAM,
128GB of internal storage with a microSD card, and 5G. A Dual Screen cover
is included for the $900 price and gives you a large platform for serious
productivity.
Along with 5G and a focus on video capture, the LG V60 continues LG's
tradition of audio excellence with a 3.5mm audio port with quad DAC support
and stereo speakers. It sounds great through the speakers, but the wired
headphone experience is even better. It's one of the last phones remaining
with a 3.5mm audio port so audiophiles are sure to be pleased.
$900 AT BEST BUY $900 AT LG
8. Samsung Galaxy S20 FE
While the Galaxy S20 series that launched in early 2020 provide compelling
options, they are flagship phones priced in the $1,000 and higher range. In
order to offer customers another alternative, Samsung recently released
the Galaxy S20 FE (Fan Edition) 5G phones. The S20 FE is available in five
lovely colors to suit your style.
Priced at $699.99, you may think Samsung compromised a lot to offer a
powerful 5G phone. However, we see a 6.5-inch Infinity-O display with 120 Hz
dynamic refresh rate, high-end Qualcomm Snapdragon 865 processor, large
capacity 4500mAh battery, 6GB of RAM, 128GB storage with a microSD card
slot, IP68 dust/water resistance, three rear cameras (one with 3X optical and
30x super-resolution zoom), and a high resolution 32MP front camera.
Where are the compromises? Exactly, there really aren't any and yet the $700
price is where we see phones in the upper mid-range with less capable specs
appear. The S20 FE challenges Google's new Pixel 5 and other phones.
$419 AT AMAZON $315 AT WALMART
9. Microsoft Surface Duo

Must read:
Microsoft Surface Duo review

Mary Jo Foley's Surface Duo review
There seems to be a love it or hate it feeling with the Microsoft Surface Duo
and even though I found it very productive I ended up returning mine in favor
of the Galaxy Z Fold 2. While the Surface Duo has 2019 specs and bold
bezels, in the right hands it is a productivity workhorse.
The Surface Duo does not support 5G networks and is powered by the
Qualcomm Snapdragon 855. It has two 5.6-inch displays when you open it up
with no ability to see anything on the outside of the device. The Surface Duo
has 6GB of RAM, 128/256GB internal storage, and a sub-par single 11MP
camera.
The story is not about the hardware though and its capability rests in the
software enhancements offered by Microsoft. There have been a couple of
updates to improve the experience and this first generation is a good first
attempt. The $1,400 starting price is tough to swallow, which is one reason its
positioned towards the bottom of this list.
$1,399 AT BEST BUY
10. Google Pixel 4A 5G

Must read:
Google unveils Pixel 4A 5G
If you want an Android phone that will always have the latest firmware and
security updates, while also offering a fairly stock experience while also now
having 5G support then take a look at the affordable Google Pixel 4A 5G. At
$499, it's the most affordable 5G phone we have seen released.
The Google Pixel 4A 5G has a large 6.2-inch, Snapdragon 765G processor,
6GB of RAM, 64GB, and 128GB integrated storage, 12.2MP rear camera,
8MP front-facing camera, and a 3,800mAh battery.
In addition to the software being a focus for Google, the camera is another
reason to buy the Pixel 4A 5G over other better smartphone hardware.
However, while others have phones with three or four rear cameras, Google
provides just one so there are some limits on its capability as a daily shooter.
Android 11 powers the phone and it will receive OS upgrades for three years.
Monthly Android security updates are the most important software support for
the enterprise since major firmware updates tend to break things and be less
stable immediately after release.