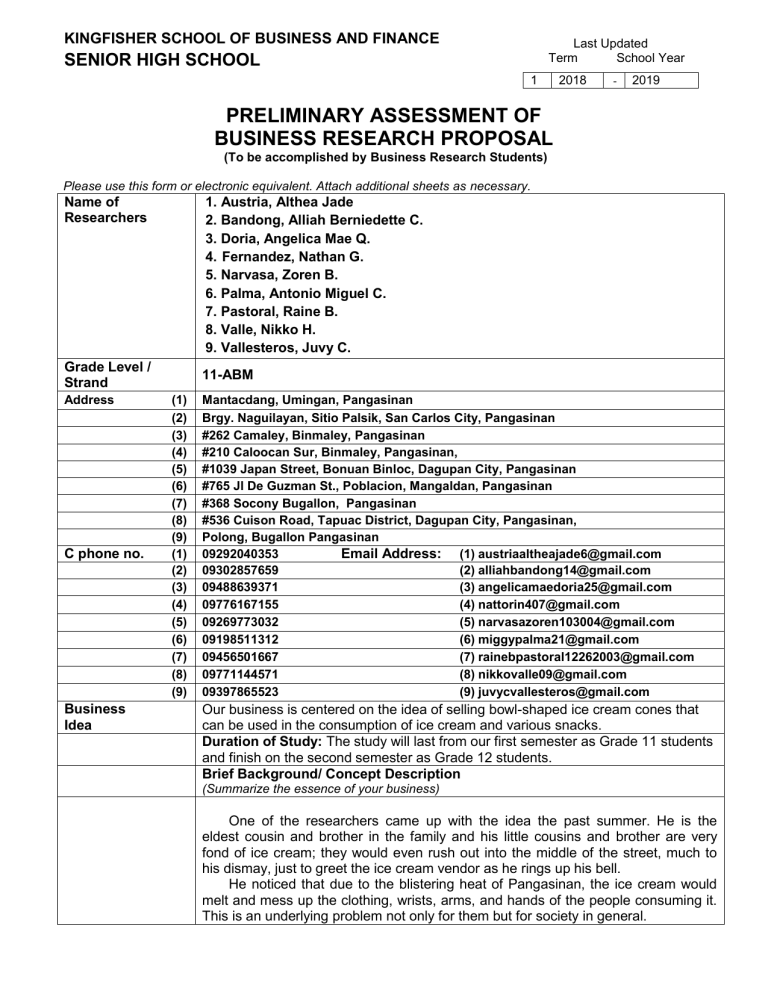 KINGFISHER SCHOOL OF BUSINESS AND FINANCE
Last Updated
Term
School Year
SENIOR HIGH SCHOOL
1
2018
-
2019
PRELIMINARY ASSESSMENT OF
BUSINESS RESEARCH PROPOSAL
(To be accomplished by Business Research Students)
Please use this form or electronic equivalent. Attach additional sheets as necessary.
Name of
Researchers
1. Austria, Althea Jade
2. Bandong, Alliah Berniedette C.
3. Doria, Angelica Mae Q.
4. Fernandez, Nathan G.
5. Narvasa, Zoren B.
6. Palma, Antonio Miguel C.
7. Pastoral, Raine B.
8. Valle, Nikko H.
9. Vallesteros, Juvy C.
Grade Level /
Strand
Address
C phone no.
Business
Idea
11-ABM
(1)
(2)
(3)
(4)
(5)
(6)
(7)
(8)
(9)
(1)
(2)
(3)
(4)
(5)
(6)
(7)
(8)
(9)
Mantacdang, Umingan, Pangasinan
Brgy. Naguilayan, Sitio Palsik, San Carlos City, Pangasinan
#262 Camaley, Binmaley, Pangasinan
#210 Caloocan Sur, Binmaley, Pangasinan,
#1039 Japan Street, Bonuan Binloc, Dagupan City, Pangasinan
#765 Jl De Guzman St., Poblacion, Mangaldan, Pangasinan
#368 Socony Bugallon, Pangasinan
#536 Cuison Road, Tapuac District, Dagupan City, Pangasinan,
Polong, Bugallon Pangasinan
09292040353
Email Address: (1) austriaaltheajade6@gmail.com
09302857659
(2) alliahbandong14@gmail.com
09488639371
(3) angelicamaedoria25@gmail.com
09776167155
(4) nattorin407@gmail.com
09269773032
(5) narvasazoren103004@gmail.com
09198511312
(6) miggypalma21@gmail.com
09456501667
(7) rainebpastoral12262003@gmail.com
09771144571
(8) nikkovalle09@gmail.com
09397865523
(9) juvycvallesteros@gmail.com
Our business is centered on the idea of selling bowl-shaped ice cream cones that
can be used in the consumption of ice cream and various snacks.
Duration of Study: The study will last from our first semester as Grade 11 students
and finish on the second semester as Grade 12 students.
Brief Background/ Concept Description
(Summarize the essence of your business)
One of the researchers came up with the idea the past summer. He is the
eldest cousin and brother in the family and his little cousins and brother are very
fond of ice cream; they would even rush out into the middle of the street, much to
his dismay, just to greet the ice cream vendor as he rings up his bell.
He noticed that due to the blistering heat of Pangasinan, the ice cream would
melt and mess up the clothing, wrists, arms, and hands of the people consuming it.
This is an underlying problem not only for them but for society in general.
Kingfisher Senior High School
Preliminary Assessment of Business Research Proposal
The ice cream cone bowl solves this problem by providing the consumer a
design that prohibits the spillage of ice cream melt from getting anywhere besides
your mouth.
Research
Objectives /
Statement of
the Problem
(Describe your research goals and objectives)
General:
To test new ideas with the public regarding how they want to serve or eat their
favorite desserts.
Specific:
To (subtly) promote the saving of natural resources usually used to prepare snacks
such as ice cream.
Identifying
business
opportunities

What do you do best? What is your strength you think you can capitalize on a business
venture?
Aside from being the best at finding out what the people want, and giving them what
they want, one of our strengths we can capitalize is that we are good in promoting. We also
have the ability to give great services to our customers.

What business must we get into? What does the market need (market potential)?
The business that we must get into is the business that would satisfy our customers not
just because of our service and the quality of our product but also because of the
effectiveness of the cone bowls when used with ice cream. The market needs a product like
this because of melted ice cream creating big messes everywhere you go while eating said
snack, not only because it melts onto your hands, arms, and stains your clothes, but
because with the use of regular ice cream cones, tissue waste skyrockets and pollution does
so too.

Is there a GAP between supply and demand?
There is a GAP between supply and demand because in supply, the ingredients of our
product are available all the time while in demand, our product is not that always demand in
market.

What are the available resources that you have?
We have enough money/budget for promotions, production, and packaging. We will
rent a place in the downtown area of Dagupan City. In addition, we know someone who can
sell our ice cream cone bowls; a vendor of ice cream.

If we went into this business, would it assure us of a fair return?
Yes, our business can assure you of a fair return. With our product, it requires a low
price for production and we have implemented a profit percentage.


Opportunity
(Significance
of Research)
Indicators in screening business options:
 Ease of entry
It is hard to enter in this business because in every starting business it is difficult in the
beginning. It also hard to enter in this business because there are so many competitors
includes all local producers of cones here in Dagupan and all commercially sold products
such as: Nestle, Selecta, Bear Cones, Edward & Sons, Fairy's and etc.
 Degree of risk involve
Delayed delivery of resources that are going to use in making the product, inflation of
resources, increasing price of the resources, dynamic or sudden changes of decision of our
customers and as well as the natural disasters (pandemic) that may occur are the risks
involved.
(Why is this business project a good opportunity? What evidences / gut feel do you have to
support the demand? What is the potential size of your market? What are the critical trends
and how will you exploit them?)
Kingfisher Senior High School



Product /
Service
Value
Proposition
Promotional
Activities
Preliminary Assessment of Business Research Proposal
The Ice Cream Cone Bowl is a good opportunity because ice cream does not choose
any age and it can be eaten any time as a snack and dessert. People will also be convinced
to buy this ice cream cone bowl for it is related to problems with tissue and water. Aside from
that, it is evident that people don't like melted ice cream and they don't like it getting on their
hands, body, shirt, etc.
It will to be a demand in the Dagupan City, because we all know that people nowadays
are fond of discovering new ideas. They are tends to test something new especially when it
comes to food. Because of the hot weather year round, the dryness of the climate which
leads to the melt ice cream and many people may face this problem.
The potential size of our market is only small for we are only city-based and we will
focus on Dagupan City so it will be a good start. It will also help us to easily deliver to our
customers.
The critical trends that we will face are the natural disasters, pandemic, dynamic or
sudden changes of decisions of our customers like cancellations of orders, delayed delivery
of resources that are going to use in making the product and the inflation of resources. We
will exploit these kinds of situations with an equal and fair treatment of our customers. Due to
the occurrence of natural phenomenon, we will give notice to our customers if we cannot
give our product to them immediately.
(Describe the product or service that makes it unique. How is the product or service to be
produced, delivered, and qualified to compete?)
The Ice Cream Cone Bowl is particularly unique because of size accommodations, the
particular shape, its affordability, and presentation. Not only is it a new twist on something so
common, it also helps with saving resources such as tissue paper, water, plastic, and other
such materials. Ice cream is also usually in cones or cups. With the use of an edible bowl
made from natural ingredients such as apa (or waffles, whichever is preferred), it can be
seen like an extra to the ice cream provided within it. In short, this means there's more to
eat, and less to waste.
The Ice Cream Cone Bowl can be produce by the man power of our management
team. It can be produce by bowl-shaped and by its upgraded version of usual cones. The
marketing team is the responsible in distributing or delivering our products to our target
market. It is qualified to compete because of its quality, uniqueness and affordability.
(Who is your target market? What are the benefits to the target market?)
Our Target Market in Dagupan City includes all the famous ice cream shops
considering small scale ice cream vendors such as ice cream stands and also dirty ice
cream vendors. Our product improves the satisfaction you feel when eating your favorite ice
cream flavor, whereas our product reduces the annoyance and the chance of staining your
favorite shirt.
The benefit that our customers would receive by choosing our product is that the ice
cream vendors would save some of their income, whereas the owner will buy fewer tissue
papers. Because tissue paper would not be a necessity when eating ice cream with our
product, for our product will catch all the melting ice cream which means there will be no
dripping. Another benefit of our product is that the number of garbage and waste will
decrease because our product is 100% edible meaning the only thing which is nonbiodegradable would be the spoon because the tissue paper is not necessary. In addition,
our product will come with a variety of colors that will depend on the flavor that will be
provided. It will increase the ambiance of the dessert to be served and also add another
taste because of our product's flavor choices. With this feature, the ice cream vendor's can
implicate another variety of combinations depending in the flavor of the ice cream and the
flavor of the cone bowl.
(How are you going to promote your product and/or your business? How will you sell it?)
By doing video advertisement and infomercials we can convince customers to buy our
products by proving that our products are better than those offered by competitors. Putting
up posters in public places to make people aware that our product has existing. Tagline and
logo for our product's identity. Offering promos, bundles, discounts, free shipping,
conducting games, contests and giveaways. We can also have a mascot that looks like our
product so that it can attract people especially when we will have some stalls. Reaching out
to our famous friends or relative or even to influencers to promote our product. Lastly, the
use of social media to advertise our product. We will have our own page or website to
Kingfisher Senior High School
Preliminary Assessment of Business Research Proposal
upload our video advertisement, promos, contests, giveaways, and updates about our ice
cream cone bowls.
Physically, we'd sell them through many sorts of stores, like supermarkets, vending
stalls, and other such places. Online, you can make orders to buy them there as well, and it
acts like a sort of delivery system. Both platforms have many flavor options, and we might
opt to add pre-added snacks or ice cream, if desired.


Competitive
Advantage
Management
Team
Methods and
Techniques
(Who are your competitors? What is your competitive advantage?)
Our competitors include all local producers of cones here in Dagupan and all
commercially sold products such as: Bear Cones. Edward & Sons, Nestle, Selecta, Fairy's
and many more. Local paper bowl manufacturers such as Dexie Ultra and Firepack are also
our competitors because our product can also be substitutes for serving different kinds of
desserts.
The advantage of our product from these competitors is that our customers can expect
that the quality of our products is rivaled to our competitors. Our product is innovated from
the components of a cone combined with the design of a bowl. Our product removes the
annoyance of the dripping of ice cream that stains and ruins our clothes, and also helps our
environment for our product will use less tissue paper. Our product is 100% edible as it is
made with the original ingredients of a normal ice cream cone compared to paper bowls to
which is not edible and also pollutes the environment because it is not biodegradable. Our
product doesn't harm any trees, therefore it will help our environment not only by saving
trees but also decreasing the waste disposal of plastics and paper.
(Who is the management team and why will they make a success of the venture?)
Our management team is composed of 9 different positions assigned to each of us in
the group. The CEO will be the leader of the group, Alliah Bandong; she makes the major
decisions and also manages the overall operations of our company. The Finance Manager,
assigned to Zoren Narvasa, is tasked to produce the financial goals and reports of our
company. The position of Marketing Manager will be assigned to Miguel Palma, therefore he
will be in charge in creating unique ways to attract customers. The General Manager position
is assigned to Nikko Valle; he will be tasked to improve the efficiency, increase the profits,
and handle all the operations of the company. The next position is the Human Resource
Manager, assigned to Juvy Vallesteros, she is assigned to mediate arguments in the
company. Next, for the Operations Manager we assigned Althea Austria. Our Purchasing
Officer is Nathan Fernandez meaning he is assigned to be the one to purchase the goods
and services for company use. Our Assistant Manager will be Angelica Doria, she is
responsible in helping the manager to keep the company and store running. Lastly, we have
Raine Pastoral as Supervisor. She is tasked to supervise the different employees of our
company.
To reinstate our earlier sentence, we know this team's chemistry will not be of
question since the strengths and weakness of each member was taken into account when
assigning the positions. To add, we also have an environment where our organizational
chart and departmentalization structure is horizontal in that we view each member as an
equal. This means we each demand respect and we all acknowledge each other's opinions.
(Briefly describe your research design)
Qualitative Research.
We used a descriptive method that is defined as any study that is not truly
experimental. Our research systematically describes the characteristics and facts of a given
population or area of interest (in this case ice cream cone bowls), factually, and precisely. Its
aim is to seek or explain relationships and to test the usefulness of our product in a market.
To make this study about ice cream cone bowl feasible, we strengthen it by the use of:
 Surveys
 Interviews
 Research
Kingfisher Senior High School
Preliminary Assessment of Business Research Proposal
(Write at least (5) recent references; APA Style)
Sources of
information
 Ice cream vendors
 Internet
https://www.recyclingtoday.com/article/afandpa-reports-tissue-production-record-high-levelsmarch-2020/
https://climate.nasa.gov/evidence/
 Saving Earth magazines
 Newspaper articles
 People who have knowledge about the business
Signature of the Researchers
Researcher
Date:
(1)
(5)
(2)
(6)
(3)
(7)
(4)
Recommended for Presentation:
Approved by:
Adviser
Date:
Academic
Integrity Policy
Date:
It is the mission of Kingfisher to train its students in the highest levels of professionalism and
integrity. In support of this goal, academic integrity is highly valued at Kingfisher and
violations are considered serious offenses.
Examples of violations of academic integrity include, but are not limited to the following:
1. Plagiarism – using ideas, data or languages of another without specific of proper
acknowledgement. Example: copying text from web site without quoting or properly citing the
URL page.
2. Cheating – using or attempting to use unauthorized assistance, materials, or study aids during
the examination or other academic work. Examples: using a cheat sheet in quiz or exam,
altering grade exam and resubmitting it for a better grade.
3. Fabrication – submitting contrived or improperly altered information in any academic
requirements. Examples: making up data for a research project, changing data to bias its
interpretation, citing non-existent articles, contriving sources.