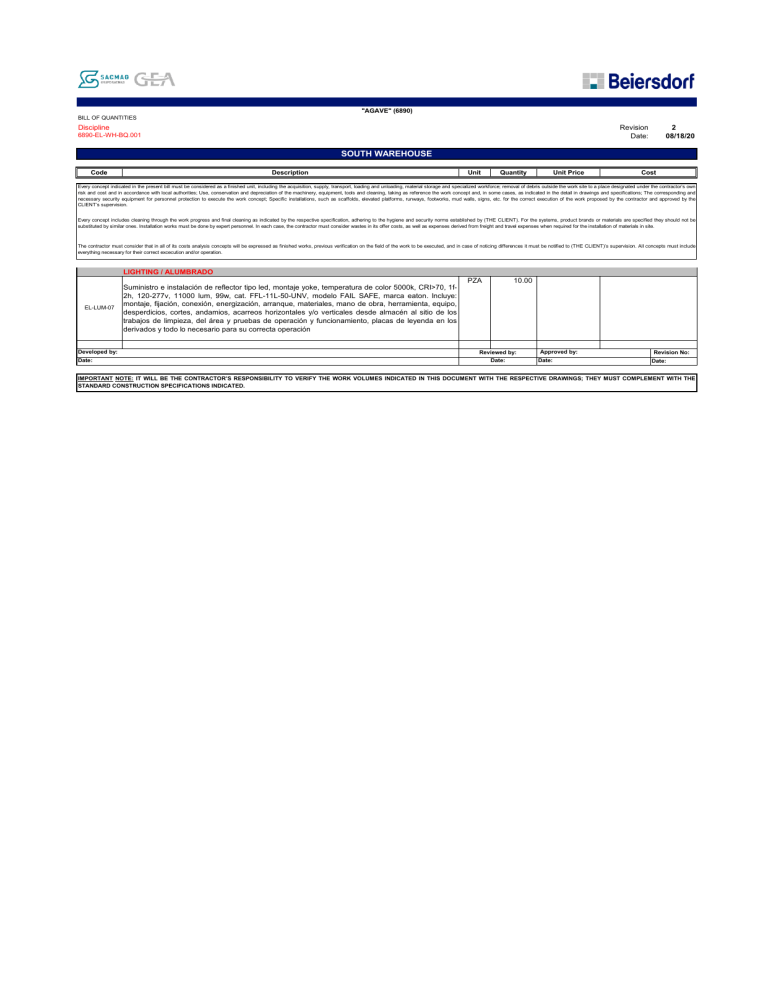 "AGAVE" (6890)
BILL OF QUANTITIES
Discipline
Revision
Date:
6890-EL-WH-BQ.001
2
08/18/20
SOUTH WAREHOUSE
Code
Description
Unit
Quantity
Unit Price
Cost
Every concept indicated in the present bill must be considered as a finished unit, including the acquisition, supply, transport, loading and unloading, material storage and specialized workforce; removal of debris outside the work site to a place designated under the contractor's own
risk and cost and in accordance with local authorities; Use, conservation and depreciation of the machinery, equipment, tools and cleaning, taking as reference the work concept and, in some cases, as indicated in the detail in drawings and specifications; The corresponding and
necessary security equipment for personnel protection to execute the work concept; Specific installations, such as scaffolds, elevated platforms, runways, footworks, mud walls, signs, etc. for the correct execution of the work proposed by the contractor and approved by the
CLIENT's supervision.
Every concept includes cleaning through the work progress and final cleaning as indicated by the respective specification, adhering to the hygiene and security norms established by (THE CLIENT). For the systems, product brands or materials are specified they should not be
substituted by similar ones. Installation works must be done by expert personnel. In each case, the contractor must consider wastes in its offer costs, as well as expenses derived from freight and travel expenses when required for the installation of materials in site.
The contractor must consider that in all of its costs analysis concepts will be expressed as finished works, previous verification on the field of the work to be executed, and in case of noticing differences it must be notified to (THE CLIENT)'s supervision. All concepts must include
everything necessary for their correct excecution and/or operation.
LIGHTING / ALUMBRADO
PZA
EL-LUM-07
Developed by:
Date:
10.00
Suministro e instalación de reflector tipo led, montaje yoke, temperatura de color 5000k, CRI>70, 1f2h, 120-277v, 11000 lum, 99w, cat. FFL-11L-50-UNV, modelo FAIL SAFE, marca eaton. Incluye:
montaje, fijación, conexión, energización, arranque, materiales, mano de obra, herramienta, equipo,
desperdicios, cortes, andamios, acarreos horizontales y/o verticales desde almacén al sitio de los
trabajos de limpieza, del área y pruebas de operación y funcionamiento, placas de leyenda en los
derivados y todo lo necesario para su correcta operación
Reviewed by:
Date:
Approved by:
Date:
Revision No:
Date:
IMPORTANT NOTE: IT WILL BE THE CONTRACTOR'S RESPONSIBILITY TO VERIFY THE WORK VOLUMES INDICATED IN THIS DOCUMENT WITH THE RESPECTIVE DRAWINGS; THEY MUST COMPLEMENT WITH THE
STANDARD CONSTRUCTION SPECIFICATIONS INDICATED.