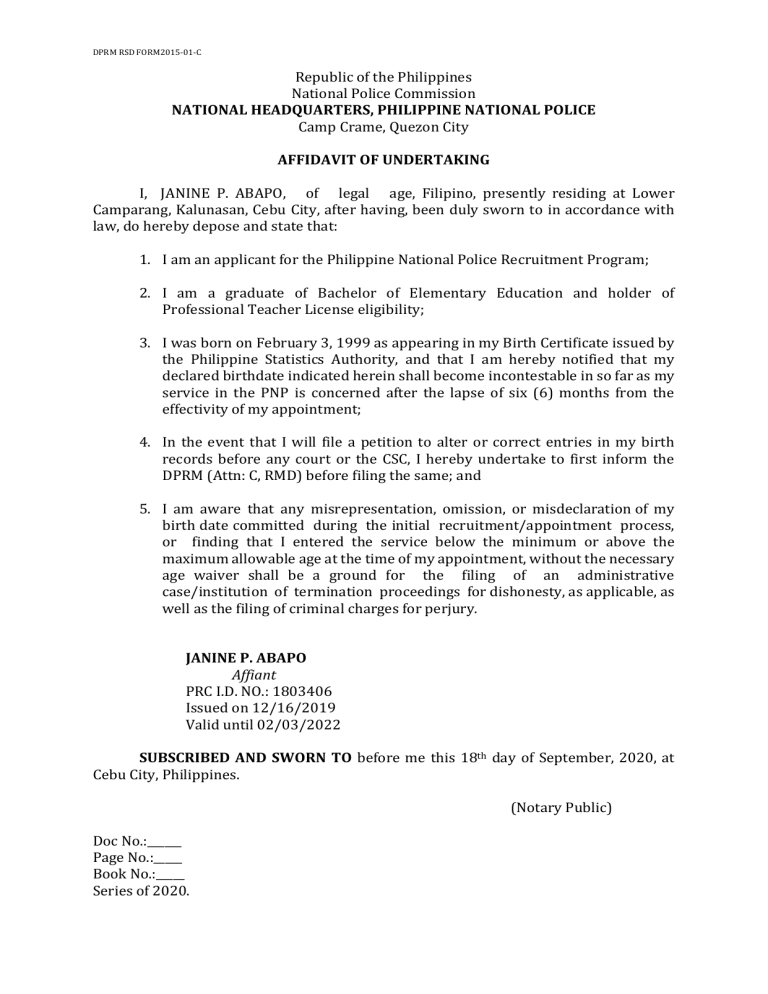 DPRM RSD FORM2015-01-C
Republic of the Philippines
National Police Commission
NATIONAL HEADQUARTERS, PHILIPPINE NATIONAL POLICE
Camp Crame, Quezon City
AFFIDAVIT OF UNDERTAKING
I, JANINE P. ABAPO, of legal age, Filipino, presently residing at Lower
Camparang, Kalunasan, Cebu City, after having, been duly sworn to in accordance with
law, do hereby depose and state that:
1. I am an applicant for the Philippine National Police Recruitment Program;
2. I am a graduate of Bachelor of Elementary Education and holder of
Professional Teacher License eligibility;
3. I was born on February 3, 1999 as appearing in my Birth Certificate issued by
the Philippine Statistics Authority, and that I am hereby notified that my
declared birthdate indicated herein shall become incontestable in so far as my
service in the PNP is concerned after the lapse of six (6) months from the
effectivity of my appointment;
4. In the event that I will file a petition to alter or correct entries in my birth
records before any court or the CSC, I hereby undertake to first inform the
DPRM (Attn: C, RMD) before filing the same; and
5. I am aware that any misrepresentation, omission, or misdeclaration of my
birth date committed during the initial recruitment/appointment process,
or finding that I entered the service below the minimum or above the
maximum allowable age at the time of my appointment, without the necessary
age waiver shall be a ground for the filing of an administrative
case/institution of termination proceedings for dishonesty, as applicable, as
well as the filing of criminal charges for perjury.
JANINE P. ABAPO
Affiant
PRC I.D. NO.: 1803406
Issued on 12/16/2019
Valid until 02/03/2022
SUBSCRIBED AND SWORN TO before me this 18th day of September, 2020, at
Cebu City, Philippines.
(Notary Public)
Doc No.:______
Page No.:_____
Book No.:_____
Series of 2020.