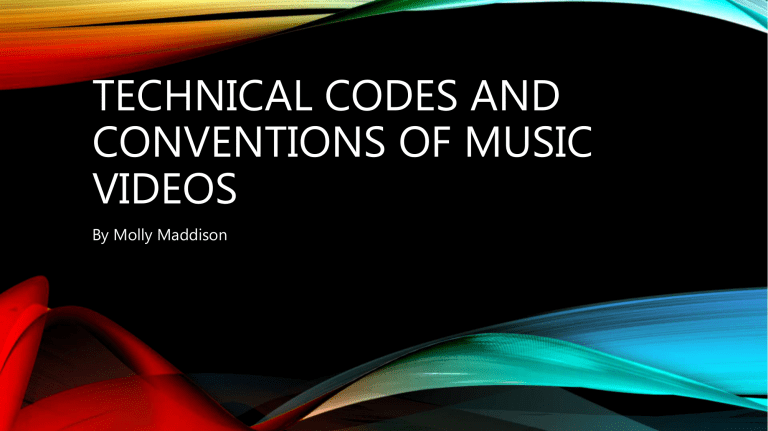 TECHNICAL CODES AND
CONVENTIONS OF MUSIC
VIDEOS
By Molly Maddison
•
•
•
•
•
•
•
•
•
•
•
Slow motion
Lots of camera movement
Different locations
Dynamic atmosphere
Eye line action
Lots of close ups
Rhythmic editing
Diegetic and non-diegetic lighting
Walking whilst singing
Moving lights
Pulled focus
TECHNICAL CODES AND
CONVENTIONS
SLOW MOTION
In the video 'slow motion' by Trez Songs in different
parts of the video it shows the woman dancing and
getting dressed in slow motion, and then when it comes
to show the artist singing it speeds up again, this fits in
well with the lyrics and title of the song
Slow motion is
often used to
create a more
dramatic effect to
fit in with the
theme of the
song.
LOTS OF CAMERA MOVEMENT
This is when the
camera isn't static,
and follows the
artist around rather
than just staying in
one place.
Too deep by Sum 41 use camera
movements such as tracking and panning,
this creates an energetic feel which fits in
with the young boy band type look there
music is about.
DIFFERENT LOCATIONS
For example a grime/rap song is most likely to
filmed in an urban setting fit in with the type of
genre. This is an example of to he artist Stormzy, a
grime/rapper artist filming in a graffiti skate park.
Artists film there video
depending which
location will fit best with
their music genre and
music.
DYNAMIC ATMOSPHERE
An example of this would be the
song Free by Rudimental ft. Emeli
Sande. In this video the camera is
strapped to the mans helmet to
show him flying through the air
showing you footage of the mans
reactions.
This is where you would see a
shot that wouldn't be in a
film for example a camera
strapped to a vehicle.
LOTS OF CLOSE UPS
An example of this would be in
Adele's music video 'Hello'
showing a close up of her singing
and it gives more meaning to the
song because it shows Adele's
passion in her face.
Close ups give us a zoomed
view on things such as the
artists face, this gives the
video a more dramatic
effect is usually more
common in more slow
songs.
RHYTHMIC EDITING
This is where the video is
edited to go to the beat of
the song.
An example of
this would be
'Boom Boom
Pow' by The
Black Eyed
Peas.
NON-DIEGETIC LIGHTING
An example of this would be, Lorde –
Tennis court, she uses fake lighting In
order to grasp her dark themed song.
This is artificial
studio lighting, this
is usually used when
the artist is
performing
DIEGETIC LIGHTING
As we can see here that natural lighting
is used with the sunlight behind her,
this fits in well with her music as it is
country/acoustic, it gives a more
elegant innocent feel
This is where
natural lighting is
used to film the
music video
instead of fake
studio lighting.
WALKING WHILST SINGING
An example of this would
be 'Bitter sweet symphony'
by The Verve showing the
lead artist walking down
the street singing the song,
this gives full focus onto
the artist and shows
attitude by the way the
artist is walking.
MOVING LIGHTS
An example of this would be 'I Gotta
Feeling' by The Black Eyed peas,
which is set at a party, the moving UV
lights give the video a more energetic
vibe to fit with the song.
This is used to create more
energy in a music video if
the song is more upbeat, this
will usually be used if a
music video is filmed in
something such as a
nightclub.
PULLED FOCUS
An example of this would be Ariane
Grande's music video 'Focus' where
it starts off out of focus and then
into focus when she starts to sing.
This is where a
shot starts out of
focus then
gradually begins
to go into focus.