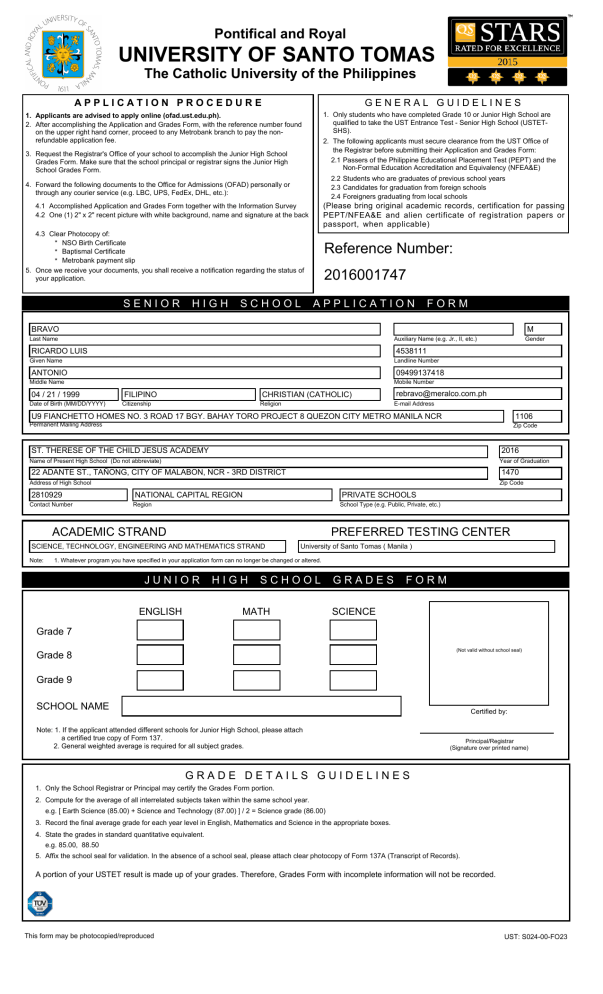 Pontifical and Royal
UNIVERSITY OF SANTO TOMAS
The Catholic University of the Philippines
APPLICATION PROCEDURE
GENERAL GUIDELINES
1. Only students who have completed Grade 10 or Junior High School are
qualified to take the UST Entrance Test - Senior High School (USTETSHS).
1. Applicants are advised to apply online (ofad.ust.edu.ph).
2. After accomplishing the Application and Grades Form, with the reference number found
on the upper right hand corner, proceed to any Metrobank branch to pay the nonrefundable application fee.
2. The following applicants must secure clearance from the UST Office of
the Registrar before submitting their Application and Grades Form:
2.1 Passers of the Philippine Educational Placement Test (PEPT) and the
Non-Formal Education Accreditation and Equivalency (NFEA&E)
3. Request the Registrar's Office of your school to accomplish the Junior High School
Grades Form. Make sure that the school principal or registrar signs the Junior High
School Grades Form.
2.2 Students who are graduates of previous school years
2.3 Candidates for graduation from foreign schools
2.4 Foreigners graduating from local schools
4. Forward the following documents to the Office for Admissions (OFAD) personally or
through any courier service (e.g. LBC, UPS, FedEx, DHL, etc.):
(Please bring original academic records, certification for passing
PEPT/NFEA&E and alien certificate of registration papers or
passport, when applicable)
4.1 Accomplished Application and Grades Form together with the Information Survey
4.2 One (1) 2" x 2" recent picture with white background, name and signature at the back
4.3 Clear Photocopy of:
* NSO Birth Certificate
* Baptismal Certificate
* Metrobank payment slip
5. Once we receive your documents, you shall receive a notification regarding the status of
your application.
SENIOR
HIGH
SCHOOL
Reference Number:
2016001747
APPLICATION
FORM
BRAVO
M
Last Name
Auxiliary Name (e.g. Jr., II, etc.)
RICARDO LUIS
4538111
Given Name
Landline Number
ANTONIO
09499137418
Middle Name
04 / 21 / 1999
Date of Birth (MM/DD/YYYY)
Gender
Mobile Number
FILIPINO
CHRISTIAN (CATHOLIC)
Citizenship
Religion
rebravo@meralco.com.ph
E-mail Address
U9 FIANCHETTO HOMES NO. 3 ROAD 17 BGY. BAHAY TORO PROJECT 8 QUEZON CITY METRO MANILA NCR
1106
Permanent Mailing Address
Zip Code
ST. THERESE OF THE CHILD JESUS ACADEMY
2016
Name of Present High School (Do not abbreviate)
Year of Graduation
22 ADANTE ST., TAÑONG, CITY OF MALABON, NCR - 3RD DISTRICT
1470
Address of High School
2810929
Contact Number
Zip Code
NATIONAL CAPITAL REGION
PRIVATE SCHOOLS
Region
School Type (e.g. Public, Private, etc.)
ACADEMIC STRAND
PREFERRED TESTING CENTER
SCIENCE, TECHNOLOGY, ENGINEERING AND MATHEMATICS STRAND
Note:
University of Santo Tomas ( Manila )
1. Whatever program you have specified in your application form can no longer be changed or altered.
JUNIOR
ENGLISH
HIGH
SCHOOL
MATH
GRADES
FORM
SCIENCE
Grade 7
(Not valid without school seal)
Grade 8
Grade 9
SCHOOL NAME
Certified by:
Note: 1. If the applicant attended different schools for Junior High School, please attach
a certified true copy of Form 137.
2. General weighted average is required for all subject grades.
Principal/Registrar
(Signature over printed name)
GRADE DETAILS GUIDELINES
1. Only the School Registrar or Principal may certify the Grades Form portion.
2. Compute for the average of all interrelated subjects taken within the same school year.
e.g. [ Earth Science (85.00) + Science and Technology (87.00) ] / 2 = Science grade (86.00)
3. Record the final average grade for each year level in English, Mathematics and Science in the appropriate boxes.
4. State the grades in standard quantitative equivalent.
e.g. 85.00, 88.50
5. Affix the school seal for validation. In the absence of a school seal, please attach clear photocopy of Form 137A (Transcript of Records).
A portion of your USTET result is made up of your grades. Therefore, Grades Form with incomplete information will not be recorded.
This form may be photocopied/reproduced
UST: S024-00-FO23
INFORMATION SURVEY
Below are some survey questions. Please answer them as truthfully as you can by placing a check mark. Your response to these questions
will help us a lot in our decision making activities.
1. Do you have family members who are graduates of or are currently enrolled in UST?
Name
Relationship
College/Course
Batch
Contact No.
RIO
FATHER
FACULTY OF ENGINEERING
1986
4538111
REGINA
SISTER
COLLEGE OF ARCHITECTURE AND FINE
2020
4538111
2. How did you learn about UST?
14. Please write the name of the school and the track/strand applied for.
0 Trimedia (Print, Broadcast, Online)
0 Teachers
1 Family
0 Guidance Counselors
1 Friends
0 School Career Orientations
School
Track/Strand
15. Are your parents/siblings or other relatives currently employed at UST?
Others (Please specify):
0 Yes (proceed to no. 16)
3. Are you a school varsity player?
1 No (proceed to no. 17)
0 Yes (proceed to no. 4)
16. Please write the name, department and position in UST.
1 No (proceed to no. 5)
Name
4. What is your sport?
Relationship
Department
Position
5. Are you planning to pursue a college degree after finishing your Senior High
School?
0 Yes (proceed to no. 6)
17. If there will be new UST campuses outside Manila, are you willing
to enrol in these campuses?
0 Yes (proceed to nos. 18, 19 and 20)
1 No (proceed to no. 7)
6. What program are you planning to pursue after Senior High School?
1 No (proceed to no. 21)
18. Which campus is more accessible to you?
0 UST, Sta. Rosa (Laguna)
0 UST, General Santos City (South Cotabato)
7. What is your declared Monthly Family Income (Php)? Please check.
0 Below 10,000
0 60,001-70,000
0 10,001-20,000
0 70,001-80,000
0 20,001-30,000
0 80,001-90,000
030,001-40,000
190,001-100,000
040,001-50,000
0100,001 and Above
19. What degree program do you plan to take if you enroll in a UST Campus
outside Manila?
20. Would you be willing to stay in the student dormitory located inside the
new UST Campus outside Manila?
0 Yes
1 No
050,001-60,000
8. Will you need financial assistance?
21. If you passed the USTET but will not enroll in UST, what could be a
possible reason?
0 Yes
1 No
0 Other school preference
9. Are you a member of any cultural, civic, or church organization?
0 Yes (proceed to no. 10)
1 Financial
Others, please specify:
1 No (proceed to no. 11)
10. What is the name of the organization?
I certify that:
1. I have not withheld any information that might affect my admission.
2. I have not been admitted to and/or debarred from any other school.
3. My final admission will also depend on the submission of my
official documents and the grades.
4. All information in this Application and Grades Form are complete
and correct to the best of my knowledge and belief.
11. Are you a member of any fraternity/sorority?
0 Yes (proceed to no. 12)
1 No (proceed to no. 13)
12. What is the name of the fraternity/sorority?
13. Have you applied or are you planning to apply in other schools?
I authorize the Office for Admissions (OFAD) of the University of Santo Tomas
to verify all data that I have provided.
0 Yes (proceed to no. 14)
1 No (proceed to no. 15)
Signature
Date
IMPORTANT REMINDERS
1. To Avoid problems in the release of your USTET results, please forward the complete set of documents to the Office for Admissions (OFAD) personally or through
any courier service.
2. All applicants are strongly advised to deposit their non-refundable application fee in cash at any Metrobank branch. Payments will not be accepted at the Office for
Admissions (OFAD).
3. Please take note of the USTET schedules and their corresponding deadlines for the payment of the non-refundable application fee and submission of documents
(For Metro Manila applicants only):
USTET SCHEDULE
September 27, 2015
December 6, 2015
January 31, 2016
Deadline of Payment and Submission of Documents
September 18, 2015
November 27, 2015
January 22, 2016
4. The following are grounds for forfeiture of the right to enrol or debarment in the succeeding semester if discovered in the current semester.
4.1 Misrepresentation of information entered in the Application and Grades Form / Information Survey
4.2 Misrepresentation during the examination
4.3 Any violation of the instructions given.
5. Visit the OFAD website (ofad.ust.edu.ph) and activity log in your Applicant Admission Account every Friday for any announcement.