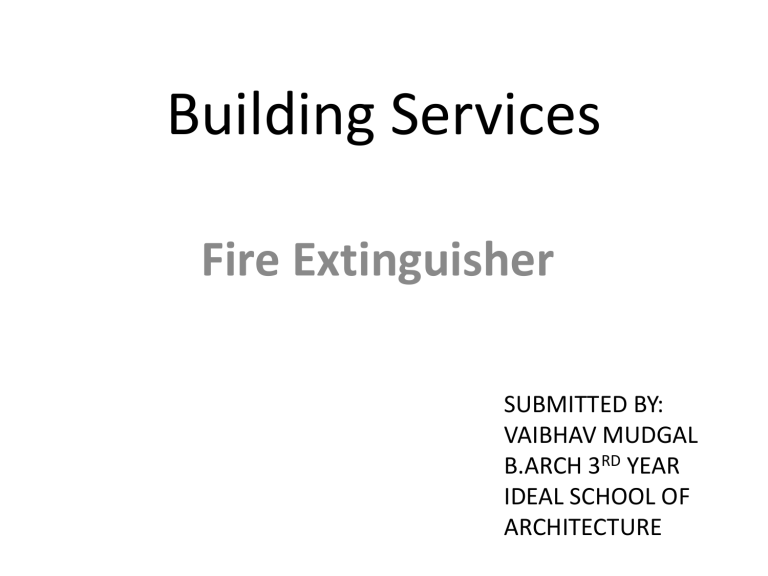 Building Services
Fire Extinguisher
SUBMITTED BY:
VAIBHAV MUDGAL
B.ARCH 3RD YEAR
IDEAL SCHOOL OF
ARCHITECTURE
What is Fire Extinguisher ?
• A Fire extinguisher is a device which can be
used to control a fire. Fire extinguishers can
help remove the fire, and may stop it from
burning.
Things to remember before installation of
fire extinguishers.
•
•
•
•
•
•
Brass Valve Chrome Plated Heavy duty
BIS Approved
CE Certified.
Maintenance should be done as per IS 2190:2010
Must Check the color band according to need.
Extinguisher/ Equipments must be according to guidelines
given by concerned disaster authority.
Types of fire extinguisher
Water
• Water extinguishers are for Class A fires only.
• The discharge stream could spread the flammable liquid in a
Class B fire or could create a shock hazard on a Class C fire.
• Color Band- Black
• Easy and No Maintenance and Service.
• Can not be used on electrical fires.
• Used in- Schools / Theaters, Apartments,
Office, Textile / Wood
Industry, Warehouses
Carbon Dioxide
•
•
•
•
•
Carbon dioxide can be used on Class B & C fires.
They are usually ineffective on Class A fires.
Color Band- Black
Features- Colorless, Odorless
Used in -Rail Yards / Warehouses Construction
Sites,Airports,Electrical Substation, Meter Room,DG
Room,Power Sector.
A B C Type Dry Powder
• ABC or Multi-Purpose extinguishers comprise of a special
fluidized and siliconized mono ammonium phosphate dry
chemical
• It is use for Class A fires and breaks the chain reaction of Class
B fires
• Easy and More Economical to Maintain and Service
• Used in- Homes, Offices,
Buildings, Warehouses,
Cinema halls.
• Color Band- Blue
• Capacity-1-9kg
Dry Powder
• Dry Chemical powder extinguishers utilize a specially
siliconized Sodium Bicarbonate.
• It insulates class B , C fires by forming a cloud and cutting off
the oxygen supply.
• Used in- Homes / Offices,Buildings,Warehouses,Pump Room,
Refinery
• Color band- Blue
• Capacity- 4kg-9kg
Foam Based Extinguisher
• Foam has the ability to form an aqueous film which quickly
over water-insoluble hydrocarbon fuel surfaces causing rapid
fire extinguishment and vapour suppression for class B fires.
• Also it provides excellent penetrating and wetting qualities
when used on class A fires.
• Foam extinguishers are ideal for fires involving volatile liquids
and freely burning materials such as lubricant, oil fires, paper,
cloth, wood, etc.
• Only for fighting class A and B fire.
• Easy and Maintenance and Service.
• Do not use on electrical fires.
• Used in-Paints, Lubricants, Chemical Industry, Oil
Fire/Refinery, Kitchen/Restaurant, Boiler Room.
• Color Band- Yellow
Clean Agent Fire Extinguisher
• CLEAN AGENT replaces Halon 1211 as the agent-of-choice for
applications where the agent must be clean, electrically
nonconductive, environment-friendly, extremely low in
toxicity and exceptionally effective.
• Suitable for Class A, B and C fires.
• Low Global Warming Potential.
• Low Ozone Depletion Potential.
• Short Atmospheric Lifetime
• Useful for- Computer Rooms / Laboratories, Essential
Communication Area, Server-data Room / Telecommunications, Aerospace- Warehouse, Hospitals - Medical
Equipment's, Sensitive Expensive Equipment.
• Color Band- Green
Other Fire Extinguisher
• Sand Bucket
• Water Bucket
Fire Fighting Equipment
Stand posts:
• Standpipes for Fire Brigade use available with Aluminium/
copper/ G.I. provided with Instantenous/ threaded Inlet and
Outlets.
• Made up of Aluminium/ Copper/ G.I. Pipe. Gunmetal/ Al. alloy
Inlet/ Outlet.
• Sizes : 2½", 4"
• Item Description : Fire Hydrant Stand Pipe Double
outlet, having 63mm Female Round
Thread / Female Inst.Inlet & 2 nos. 63mm
Female Inst.Outlet used for Under ground
Fire Hydrant Valve
Standposts
• Standposts for mounting of Hydrants/ monitors in Firewater
systems. Welded Construction.
• Builders using M.S. Pipe to IS:1239 class C, M.S. Flanges as per
IS:226
• Outlet : Swivel head/ female Instantaneous.
• Sizes : 3", 4", 6"
• Item Description : MS Double Stand Post 100mm NB
flanged Inlet & 2 nos. 80mm NB
flanged outlet for mounting 2 nos. single
outlet Fire Hydrant Valve
Fire Sprinklers
• Sprinkler is thermo-sensitive quarzoid liquid glassbulb burst
actuated type and be standard products.
• All sprinklers is brass castings polished / chrome OR white
(polyester) unless stated otherwise and rated for 12.0
KG/CM2 WG and factory tested for 34.0 KG/CM2. Sprinklers is
pendant OR side wall type as specified and shown on
drawings.