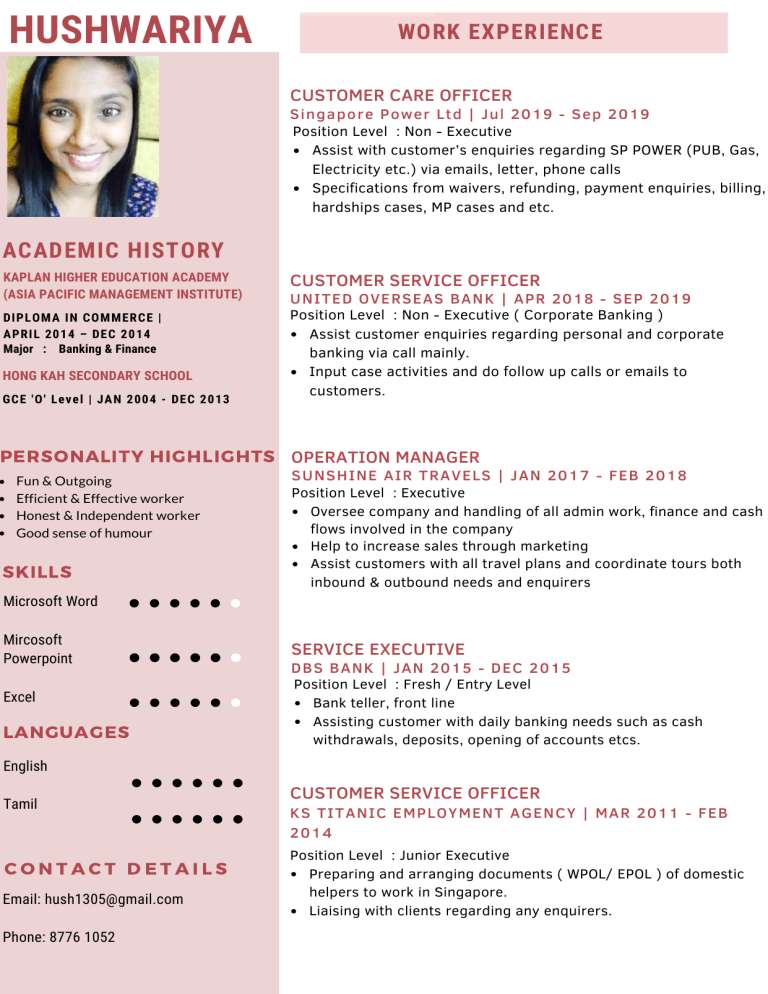 HUSHWARIYA
WORK EXPERIENCE
CUSTOMER CARE OFFICER
Singapore Power Ltd | Jul 2019 - Sep 2019
Position Level : Non - Executive
Assist with customer's enquiries regarding SP POWER (PUB, Gas,
Electricity etc.) via emails, letter, phone calls
Specifications from waivers, refunding, payment enquiries, billing,
hardships cases, MP cases and etc.
ACADEMIC HISTORY
KAPLAN HIGHER EDUCATION ACADEMY
(ASIA PACIFIC MANAGEMENT INSTITUTE)
DIPLOMA IN COMMERCE |
APRIL 2014 – DEC 2014
Major : Banking & Finance
HONG KAH SECONDARY SCHOOL
GCE 'O' Level | JAN 2004 - DEC 2013
CUSTOMER SERVICE OFFICER
UNITED OVERSEAS BANK | APR 2018 - SEP 2019
Position Level : Non - Executive ( Corporate Banking )
Assist customer enquiries regarding personal and corporate
banking via call mainly.
Input case activities and do follow up calls or emails to
customers.
PERSONALITY HIGHLIGHTS OPERATION MANAGER
Fun & Outgoing
Efficient & Effective worker
Honest & Independent worker
Good sense of humour
SKILLS
SUNSHINE AIR TRAVELS | JAN 2017 - FEB 2018
Position Level : Executive
Oversee company and handling of all admin work, finance and cash
flows involved in the company
Help to increase sales through marketing
Assist customers with all travel plans and coordinate tours both
inbound & outbound needs and enquirers
Microsoft Word
Mircosoft
Powerpoint
Excel
LANGUAGES
SERVICE EXECUTIVE
DBS BANK | JAN 2015 - DEC 2015
Position Level : Fresh / Entry Level
Bank teller, front line
Assisting customer with daily banking needs such as cash
withdrawals, deposits, opening of accounts etcs.
English
Tamil
CONTACT DETAILS
Email: hush1305@gmail.com
Phone: 8776 1052
CUSTOMER SERVICE OFFICER
KS TITANIC EMPLOYMENT AGENCY | MAR 2011 - FEB
2014
Position Level : Junior Executive
Preparing and arranging documents ( WPOL/ EPOL ) of domestic
helpers to work in Singapore.
Liaising with clients regarding any enquirers.