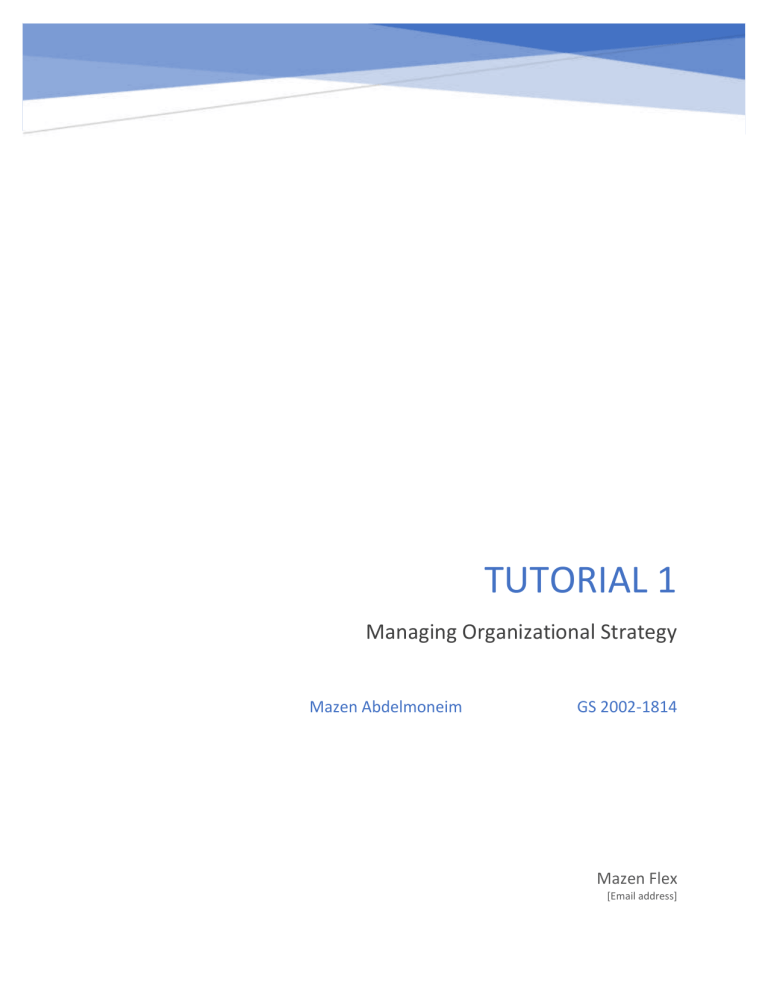 TUTORIAL 1
Managing Organizational Strategy
Mazen Abdelmoneim
GS 2002-1814
Mazen Flex
[Email address]
Q1: Compare and contrast strategic planning with strategic management.
The role of the process of strategic planning in the ongoing generation of Innovative knowledge
is essential for a firm's survival and growth, particularly when it comes to technology and
development. Market conditions are evolving rapidly.
Strategic Management:
Definition:
The term strategic management is used in an organization to refer to the entire spectrum of
strategic decision-making operation. Strategic leadership has evolved over time as a concept and
will continue to evolve. (Garry D. Smith, Danny R. Arnold, Bobby G. Bizzell)
Strategic Management Models:
The strategic management model identifies concepts of strategy and the elements necessary for
development of a strategy enabling the organization to satisfy its mission.
a review of the major strategic management models indicates that they all include the following
elements:
1.
2.
3.
4.
5.
Performing an environmental analysis.
Establishing organizational direction.
Formulating organizational strategy.
Implementing organizational strategy.
Evaluating and controlling strategy.
The major models differ primarily in the degree of explicitness, detail, and complexity. These
differences derive from the differences in backgrounds and experiences of the authors.
Strategic management aims at gaining sustained competitive advantage, so as to supersede
competitors and attain a dominating position in the entire market. Further, it assesses, guide and
adjusts the enterprise, according to the changes in the business environment. The figure provided
below explains the strategic process, in the sequence of various stages.
Strategic Planning:
Strategic planning may be understood as the long-term forward-looking activity, performed by
the high-level managers, that focuses on the organization as a whole. It establishes the overall
objectives of the enterprise, frame policies and most importantly, assist in the determination of
the organizational strategy, to meet competition and survive and grow in the market.
Definition:
Strategic planning is a systematic process of envisioning a desired future, and translating this
vision into broadly defined goals or objectives and a sequence of steps to achieve them
Approaches to Strategic Planning


Top Down Approach: It delineates a centralized approach to strategy formulation, in
which the center determines organization's vision, mission, objectives, and goals.
Bottom-up Approach: Autonomous or semi-autonomous units are featured with bottomup approach, wherein the corporate centers do not determine the strategic role.
Differences Between Strategic Planning and Strategic Management
1. Strategic planning is called a future-oriented activity that helps to define the
organizational approach and is used to set goals. Strategic management, on the other
hand, is a set of actions or steps made by top managers to devise and implement plans to
achieve organizational objectives.
2. Although strategic planning focuses on optimal strategic decisions, effective management
is all about strategic outcomes, emerging markets , new goods, new technologies, etc.
3. Strategic planning uses the management of plans, while the strategic management process
uses the outcomes of management.
4. Strategic planning, since it is related to planning, is an analytical practice. Strategic
management, on the opposite, is a practice geared towards implementation.
5. Strategic planning includes identifying the measures to be taken. Strategic management,
on the other hand, requires the detection of actions to be performed, the people
performing the actions, the best time to execute the action, the way to execute certain
actions.
Q2: Explain who strategists are and what they do in an organization.
The definition of a strategy is a set of plans or decisions made in an effort to help organizations
achieve their objectives (Dess, G 2013) from that definition we extract the meaning of a
strategist is an individual who are involved or interest in the implementation and evaluation of
strategies in an organization or an entity.
Strategists are individuals or groups who are primarily involved in the formulation,
implementation, and evaluation of strategy. In a limited sense, all managers are strategists. There
are persons outside the organization who are also involved in various aspects of strategic
management. They too are referred to as strategists. We can identify nine strategists who, as
individuals or in groups, are concerned with and play a role in strategic management.




Consultant
Board of Directors
Senior Management
Strategic business Unit
Entrepreneurs
CEOs
Corporate Planning staff
Middle level Managers
Q3: Discuss the value of integrating intuition and analysis.
In the global marketplace, intuition and rational process both play a crucial role in effective
strategic decision making. In various firms, intuitive process is used under the strategic
management to develop effective decisions for attaining organizational goals and objectives.
Intuition indicates to solve the problem with the help of using sensing and without using rational
process. It can be discussed as a process to reach at the conclusion with the help of fewer
information those are required for taking appropriate decisions.
It is a built-in capacity that is used by the individuals to reach at the solution of the problem
effectively. At the same time, it is negatively related with the stable competitive environment.
Intuition is used as a business tool in many organizations to conduct and run the business
successfully.
Intuition is a psychological function supports to individuals for using her/his experiences and
knowledge to isolate and integrate the data for taking appropriate decision for the business
(Hubbard, Rice & Beamish, 2008). There are various roles of intuitive those are played by it
under the strategic decision -making process those make it necessary part of the strategic
management.
Q4: Discuss the differences between vision and mission statements.
Mission and vision statements are a crucial component of the infrastructure of an entity. They
offer a common goal and direction to everyone involved in the business. The goal sets the course
for the objectives of the organization and the vision should illuminate a roadmap to how the
organization will get there.
These statements build part of the expected behavior structure and offer a sense of cohesiveness
to employees and volunteers. The mission and vision statements become part of the community
when they are built well.
The mission of an organization defines the organization's overarching intent. This paints a
picture of what the business is doing and will be doing for the next one to three years. The
mission statement explains what you are doing, for whom you are doing it, and the advantages it
brings. It's typically a short sentence, something that can be quickly recited and proud to be worn
on a T-shirt by all employees.
Conversely, whether they can accomplish their goal, the vision statement refers to where the
corporation or group wishes that they can go in the future. The vision should be worded so that
feedback and motivation are given. It is a forward-thinking assertion in the five- to 10-year time
period that should be fulfilled.
Q5: Identify any five pitfalls in strategic planning for which management should watch out.
1.
2.
3.
4.
5.
Doing strategic planning only to satisfy accreditation or regulatory requirements
Failing to communicate the plan to employees, who continue to work in the dark
Top managers making many intuitive decisions that conflict with the formal plan
Failing to use plans as a standard for measuring performance
Failing to create a collaborative climate supportive of change
References
1. Smith, G.D., Arnold, D.R. and Bizzell, B.G., 1991. Business strategy and policy: Cases.
Houghton Mifflin College Div.
2. Johnson, G.N., Young, A.J., Scholes, J.D. and Horton, P., 1993. The dissipation of excess
excitation energy in British plant species. Plant, Cell & Environment, 16(6), pp.673-679.
3. Dess, G., 2013. Strategic management: Text and cases. McGraw-Hill Education.
4. UKEssays. November 2018. Intuition and Analysis in Strategic Decision Making.
[online]. Available from: https://www.ukessays.com/essays/business/intuition-andanalysis-in-strategic-decision-making-business-essay.php?vref=1 [Accessed 14 October
2020].
5. Beamish, H.R., Hubbard, G. and Rice, J., 2008. Strategic management, thinking analysis
action. Australia: Pearson Education Australia, pp.85-95.