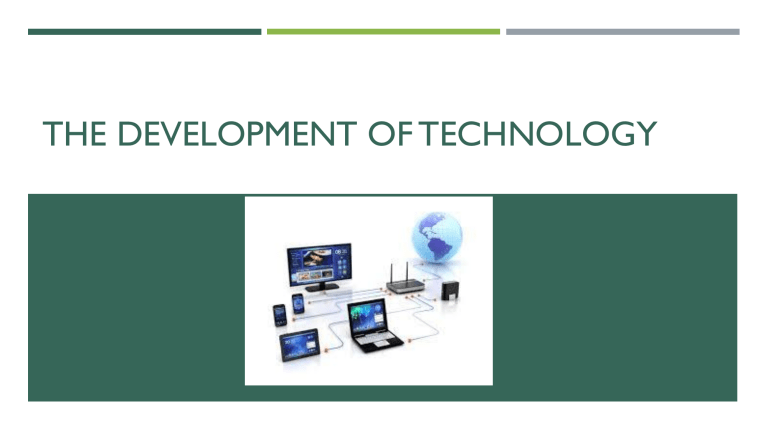 THE DEVELOPMENT OF TECHNOLOGY
TECHNOLOGY IMPROVEMENTS
 As the range of input and output devices increases, the range of tasks a
computer can perform improves.
 For example: Entering pictures into a document was once limited to
using Clip Art or drawing a picture from scratch. Scanners improved this
with the ability to scan a picture into a file, which could then be inserted
into a document.
NETWORK COMMUNICATIONS
 Communications components such as modems are now part of
a standard computer system.
 A network is created when two or more computers and other
devices are connected by a modem, network cable or wireless
device technology.
NETWORK COMMUNICATION
 A network within a small area (such as a room), building or
buildings close together (such as a school or hospital) is called a
local area network, better known as LAN.
WIRELESS DEVICE
 Wireless device: A device that transmits and receives data from other
sources, using electromagnetic radiation (e.g. radio waves) rather than
being connected by electrical conductors such as wires.
BENEFITS OF USING A NETWORK
 There are many benefits in using a network, the main being the need for
fewer devices.
 In a network, only one printer is required as each computer
communicates with the printer via the network.
 Other advantages lie in the ability to access fi les and applications on
other computers and communicate via internal email.
ACTIVITY
 Digital cameras
1. Find out how a digital camera works.
2. What hardware do you need to use it?
3. What advantages are there to having a camera in a smartphone?
4. What advantages are there to using a digital camera instead of a
camera in a smartphone
ANSWERS
1.
Digital camera work through the process of the camera lens capturing the colour
and features of the snap shot. Then the image is stored electronically through the
SD card.
2.
The hardware used in a digital camera is the memory card.
3.
The advantages of having a camera in your smart phone is that they are thin, easy
to carry and are light.
4.
Using a digital camera allows you to use optical zoom, also the camera will allow
for better quality of lighting.