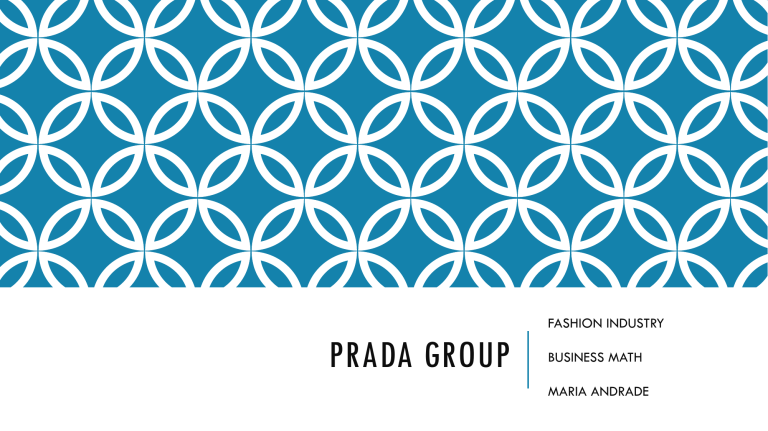 FASHION INDUSTRY
PRADA GROUP
BUSINESS MATH
MARIA ANDRADE
CHIEF EXECUTIVE OFFICERS
The Prada Group consists of five luxury brands: Prada, Miu Miu, Church's, Car Shoe,
and Marchesi 1824. The CEOs of this group are Miuccia Prada Bianchi and Patrizio
Bertelli. They have both been CEOs since May 26, 2015. Though Miuccia is the
granddaughter of Mario Prada (founder of Prada), the group was only founded by
her and Bertelli, who are married, years later. Bianchi is estimated to be worth $2.4
billion, and her husband is worth around $3.3 billion. The couple owns 80% of the
Group.
BOARD OF DIRECTORS
The board includes Miuccia Bianchi and Patrizio Bertelli (check slide 2), Giancarlo
Forestieri (since May, 2007), Gian F. O. Mattei (since May, 2009), Sing Cheong Liu
(since May, 2011), Alessandra Cozzani (since December, 2013), Mazzi Carlo (since
February, 2014), Maurizio Cereda (since 2015), and Stefano Simontacchi (since
April, 2016). They are all employed by/currently working at the Prada Group.
However, most hold more than one position, and four are independent directors.
PRADA GROUP'S MANIFESTO
According to their own website, their manifesto suggests "a new approach to doing
business by placing at the core of ethical and action principles essential values as
freedom of creative expression, reinterpretation of the existent, preservation of
know-how and valorisation of people's work."
FINANCIAL MARKET CONCERNS
The market gets all kinds of financial information from the Prada Group due to the
annual online publishing of their financial reports, which include gross and net profits,
loans, cost of goods sold, etc.
Anyone can have access to their stocks and share information via this link:
https://www.pradagroup.com/en/investors/investor-relations/shareholder-info.html
PUBLIC IMAGE
Prada itself and the other brands owned by the Prada Group are centennial luxury
houses that have acquired much respect due to its history and accomplishments. Not
much is needed for them to keep their good appearance, since having their products
means to be someone of the higher society.
STOCKHOLDERS
The Prada Group has quite a large number of stockholders, from the CEO couple to
other large companies. In 2010, the Prada Group decided to expand to Hong Kong;
the listing was as much as $7bn-$8.4bn.