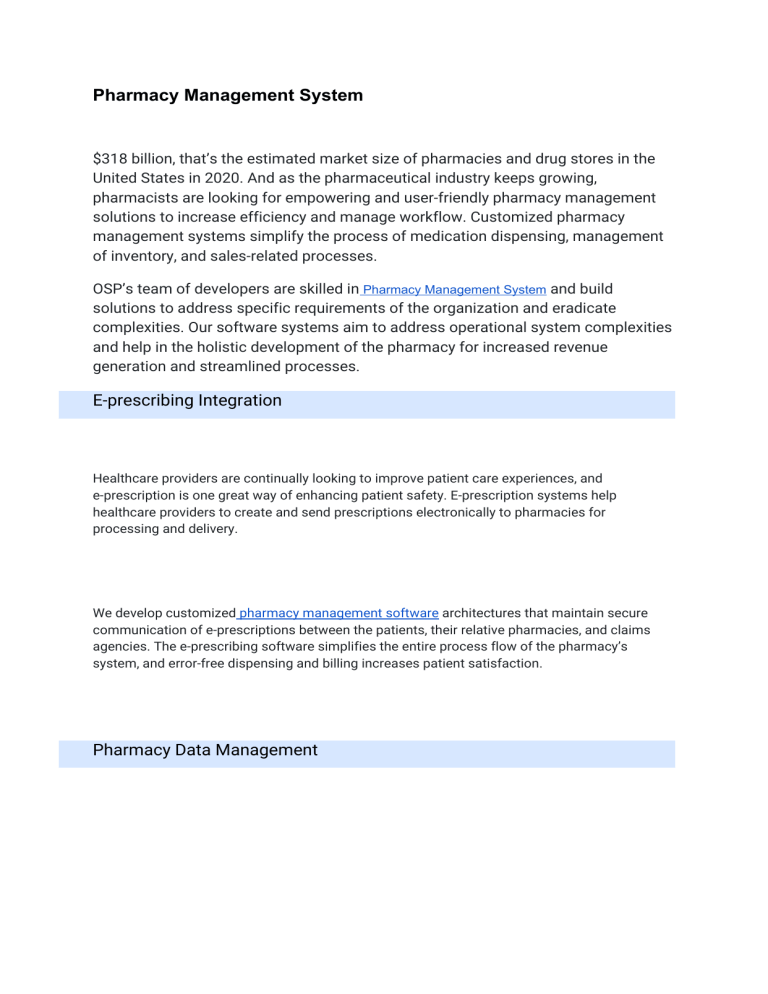 Pharmacy Management System
$318 billion, that's the estimated market size of pharmacies and drug stores in the
United States in 2020. And as the pharmaceutical industry keeps growing,
pharmacists are looking for empowering and user-friendly pharmacy management
solutions to increase efficiency and manage workflow. Customized pharmacy
management systems simplify the process of medication dispensing, management
of inventory, and sales-related processes.
OSP's team of developers are skilled in​ ​Pharmacy Management System​ and build
solutions to address specific requirements of the organization and eradicate
complexities. Our software systems aim to address operational system complexities
and help in the holistic development of the pharmacy for increased revenue
generation and streamlined processes.
E-prescribing Integration
Healthcare providers are continually looking to improve patient care experiences, and
e-prescription is one great way of enhancing patient safety. E-prescription systems help
healthcare providers to create and send prescriptions electronically to pharmacies for
processing and delivery.
We develop customized​ pharmacy management software​ architectures that maintain secure
communication of e-prescriptions between the patients, their relative pharmacies, and claims
agencies. The e-prescribing software simplifies the entire process flow of the pharmacy's
system, and error-free dispensing and billing increases patient satisfaction.
Pharmacy Data Management
Like other areas of healthcare, pharmacies also handle a large amount of data. Pharmacy data
management solutions provide real-time data that helps pharmacists control operating costs,
ensure medication adherence, and improve population health management.
Robust pharmacy management systems with intelligent analytics provide seamless access to
patient data as well as demographic related information. These solutions also work toward
incorporating audit requirements and updates and modifications related to billing and claims.
We design data management modules that help to document and manage patients' Electronic
Health Records (EHR) and Electronic Medical Records (EMR), along with the doctor's notes,
supporting documents, scans, and X-rays, all in one place.
Inventory Management
Small and independent pharmacies should actively manage their inventory by taking stock of it
frequently, rather than just once or twice a year. Doing so will help them understand trends,
identify problems, and make timely changes.
Customized pharmacy inventory management systems improve efficiency through process-flow
automation of stocking, numerical balances, monitoring and tracking, warehouse stock
manifests, and dispensing updates.
Through the generation of a wide variety of reports, pharmacists can review important
information about different medicines, vendors, and wholesalers efficiently. Our automation
techniques incorporate barcodes that meet compliance requirements aiding in better inventory
management.
Pharmacy Compounding Solutions
Pharmacies are a gateway to the health system for most patients as patients visit pharmacies
more often than healthcare facilities. So pharmacies can help healthcare providers in better
patient engagement​, patient education, and care management.
OSP's pharmacy management software solutions aim to combine the pharmacy's compounding
skills and multiply them through integration with innovative technologies.
Highly advanced systems help pharmacists create customized medication packages for each
patient. Patients prefer value-based care that addresses their individual needs, so the overall
revenue generation of the pharmacy increases.
Managing Dispensing Workflows
One of the most associated and critical actions in a pharmacy is the dispensing of medicines.
The pharmacy receives the prescription and reviews it for potential drug interactions, appropriate
dosage, duplicate therapies, or transcription errors. The pharmacy then dispenses the
prescription and confirms the filled prescription contains the right medication, dosage, and
supply.
OSP's pharmacy management solution merges workflows, clinical procedures, programs, data,
and stock reporting into a centralized platform that helps the healthcare personnel in intelligent
decision-making.
Customized processes of delivery, drug refills, and clinical department cross-communication
streamline the dispensing workflows. Our solution automates the prescription fulfillment process
as well as the requests for delivery of medications.
Master Patient Indexes
A Master Patient Index (MPI) is a patient database that helps pharmacies maintain accurate
patient data across separate systems and create consolidated patient lists. The MPI assigns a
unique identifier to each registered patient.
OSP's pharmacy management system automates the index through state-of-the-art technologies
for minimal human involvement in maintenance and updates of patient information and
communication.
An MPI provides a complete view of a patient's medical data so pharmacies can provide better
patient care and better service. Pharmacies can also provide proper guidance in an emergency
as they have access to details like the patient's medical conditions and other information.