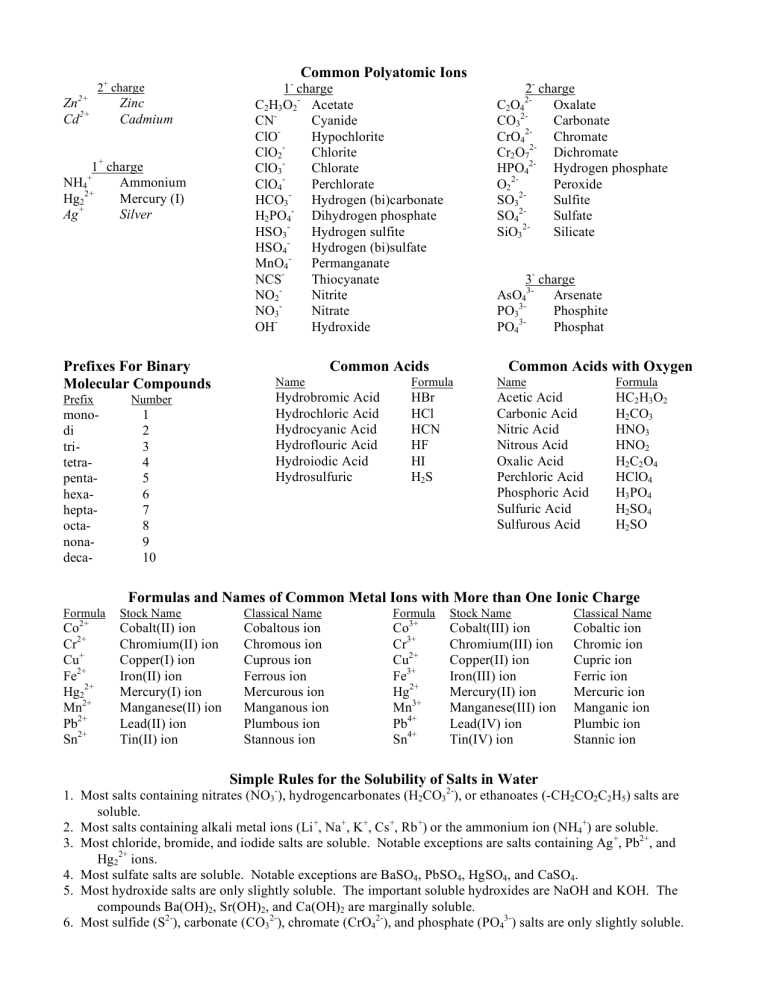 2+
2+ charge
Zn
Cd2+
Zinc
Cadmium
1+ charge
NH4+
Ammonium
Hg22+
Mercury (I)
Ag+
Silver
Prefixes For Binary
Molecular Compounds
Common Polyatomic Ions
1- charge
C2H3 O2- Acetate
CNCyanide
ClO
Hypochlorite
ClO2Chlorite
ClO3Chlorate
ClO4Perchlorate
HCO3- Hydrogen (bi)carbonate
H2PO4- Dihydrogen phosphate
HSO3Hydrogen sulfite
HSO4Hydrogen (bi)sulfate
MnO4- Permanganate
NCSThiocyanate
NO2Nitrite
NO3Nitrate
OH
Hydroxide
2- charge
C2O4
Oxalate
CO32Carbonate
2CrO4
Chromate
Cr2 O72- Dichromate
HPO42- Hydrogen phosphate
O22Peroxide
SO32Sulfite
SO42Sulfate
2SiO3
Silicate
2-
3- charge
AsO43- Arsenate
PO33Phosphite
3PO4
Phosphat
Common Acids
Common Acids with Oxygen
Name
Formula
Name
Formula
Hydrobromic Acid
Hydrochloric Acid
Hydrocyanic Acid
Hydroflouric Acid
Hydroiodic Acid
Hydrosulfuric
HBr
HCl
HCN
HF
HI
H2S
Acetic Acid
Carbonic Acid
Nitric Acid
Nitrous Acid
Oxalic Acid
Perchloric Acid
Phosphoric Acid
Sulfuric Acid
Sulfurous Acid
HC2H3 O2
H2CO3
HNO3
HNO2
H2C2 O4
HClO4
H3PO4
H2SO4
H2SO
Prefix
Number
monodi
tritetrapentahexaheptaoctanonadeca-
1
2
3
4
5
6
7
8
9
10
Formula
Stock Name
Classical Name
Cobalt(II) ion
Chromium(II) ion
Copper(I) ion
Iron(II) ion
Mercury(I) ion
Manganese(II) ion
Lead(II) ion
Tin(II) ion
Cobaltous ion
Chromous ion
Cuprous ion
Ferrous ion
Mercurous ion
Manganous ion
Plumbous ion
Stannous ion
Formulas and Names of Common Metal Ions with More than One Ionic Charge
Co2+
Cr2+
Cu+
Fe2+
Hg22+
Mn2+
Pb2+
Sn2+
Formula
Co3+
Cr3+
Cu2+
Fe3+
Hg2+
Mn3+
Pb4+
Sn4+
Stock Name
Classical Name
Cobalt(III) ion
Chromium(III) ion
Copper(II) ion
Iron(III) ion
Mercury(II) ion
Manganese(III) ion
Lead(IV) ion
Tin(IV) ion
Cobaltic ion
Chromic ion
Cupric ion
Ferric ion
Mercuric ion
Manganic ion
Plumbic ion
Stannic ion
Simple Rules for the Solubility of Salts in Water
1. Most salts containing nitrates (NO3-), hydrogencarbonates (H2CO32-), or ethanoates (-CH2CO2C2 H5) salts are
soluble.
2. Most salts containing alkali metal ions (Li +, Na+, K+, Cs +, Rb +) or the ammonium ion (NH4+) are soluble.
3. Most chloride, bromide, and iodide salts are soluble. Notable exceptions are salts containing Ag +, Pb2+, and
Hg22+ ions.
4. Most sulfate salts are soluble. Notable exceptions are BaSO4, PbSO4, HgSO4, and CaSO4.
5. Most hydroxide salts are only slightly soluble. The important soluble hydroxides are NaOH and KOH. The
compounds Ba(OH)2, Sr(OH)2, and Ca(OH)2 are marginally soluble.
6. Most sulfide (S2-), carbonate (CO32-), chromate (CrO42-), and phosphate (PO43-) salts are only slightly soluble.