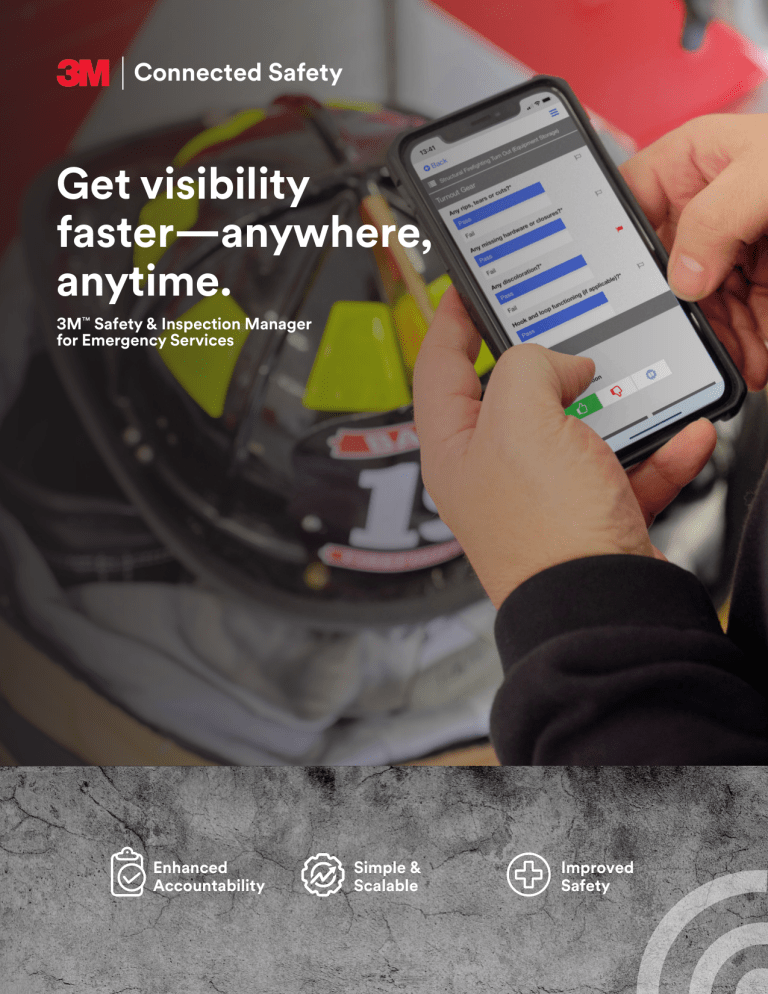 Connected Safety
Get visibility
faster—anywhere,
anytime.
3M™ Safety & Inspection Manager
for Emergency Services
Productivity
Compliance
Safety
Enhanced
Accountability
Productivity
Productivity
Compliance
Simple &
Scalable
ComplianceSafety
Safety
Improved
Safety
The flexibility to track and inspect anything in
the firehouse.
3M™ Safety & Inspection Manager for Emergency Services is software that empowers command staff to take a proactive
approach to managing records and documentation of training, qualification, service, maintenance, inspections, as well as
cleaning and decontamination of personnel, equipment, and PPE. Alerts and notifications of impending and overdue activities
keep your agency on track and support adherence to regulatory requirements.
Enhanced Accountability
Productivity
Compliance
On demand validation of inspections and training
with insight into who, what, when, where, and
why the activities were completed, supporting
adherence to regulatory requirements.
Safety
Simple & Scalable
Productivity
Web based software is pre-populated with your
new 3M Scott equipment while mobile applications
provide the ability to conduct workflow anywhere
regardless of Internet access.
Compliance
Safety
Improved Safety
Compliance
Safety
Increased confidence that personnel are safe and
secure using PPE that is appropriately maintained
and cared for and at the ready with up-to-date
dashboard views of all activities and training.
Part of 3M™ Connected Safety, SIM is a platform that conforms with
the most common global security requirements - the platform uses
state-of-the-art access control and credentialing, user logging and
encryption, and is hosted on secure cloud services.
Featured Firefighting PPE
3M™ Scott™ Air-Pak™ X3 Pro SCBA
3M™ Scott™ Vision C5 Facepiece
3M™ Scott™ Cylinder
3M™ Scott™ V320 Thermal Imager
SIM Packages
Part Number
Description
Price
6100003148
SIM ES Bronze Package (1-25 Personnel) - One Year
$3,250
6100003149
SIM ES Silver Package (26-50 Personnel) - One Year
$6,500
6100003150
™
SIM ES Gold Package (51-75
- One Year
$9,750
3MPersonnel)
Safety & Inspection
Manager Application Subscriptions
6100003151
SIM ES Custom (= or >76 Personnel) - One Year
Contact for Quote
Additional SIM Training & Services
Part Number
Description
Price
6010002882
On-site training for SIM ES - Full Day
$2692.17
6100001903
Remote training for SIM ES - Per Hour
$161.53
Personal Safety Division
3M Scott Fire & Safety
Personal Safety Division
Monroe Center, P.O. Box 569
Monroe, NC 28111
3M.com/ConnectedSafety
Learn more and request a demo at 3MScott.com/SIM
© 3M 2020. All rights reserved. 3M is a trademark of
3M Company, used under license in Canada.
3M PSD products are for occupational use only. HS7724.