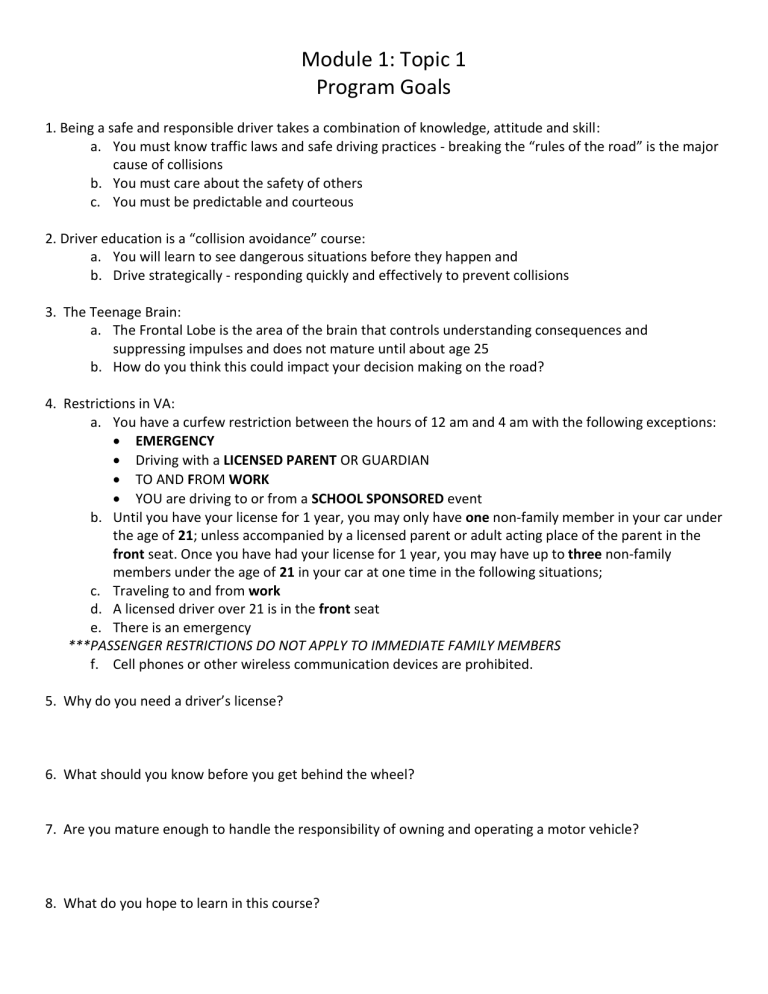 Module 1: Topic 1
Program Goals
1. Being a safe and responsible driver takes a combination of knowledge, attitude and skill:
a. You must know traffic laws and safe driving practices - breaking the "rules of the road" is the major
cause of collisions
b. You must care about the safety of others
c. You must be predictable and courteous
2. Driver education is a "collision avoidance" course:
a. You will learn to see dangerous situations before they happen and
b. Drive strategically - responding quickly and effectively to prevent collisions
3. The Teenage Brain:
a. The Frontal Lobe is the area of the brain that controls understanding consequences and
suppressing impulses and does not mature until about age 25
b. How do you think this could impact your decision making on the road?
4. Restrictions in VA:
a. You have a curfew restriction between the hours of 12 am and 4 am with the following exceptions:
 EMERGENCY
 Driving with a LICENSED PARENT OR GUARDIAN
 TO AND FROM WORK
 YOU are driving to or from a SCHOOL SPONSORED event
b. Until you have your license for 1 year, you may only have one non-family member in your car under
the age of 21; unless accompanied by a licensed parent or adult acting place of the parent in the
front seat. Once you have had your license for 1 year, you may have up to three non-family
members under the age of 21 in your car at one time in the following situations;
c. Traveling to and from work
d. A licensed driver over 21 is in the front seat
e. There is an emergency
***PASSENGER RESTRICTIONS DO NOT APPLY TO IMMEDIATE FAMILY MEMBERS
f. Cell phones or other wireless communication devices are prohibited.
5. Why do you need a driver's license?
6. What should you know before you get behind the wheel?
7. Are you mature enough to handle the responsibility of owning and operating a motor vehicle?
8. What do you hope to learn in this course?
Module 1: Topic 2
Licensing Laws
1. To obtain your learner's permit:
a. You must have parent permission
b. You must be at least 15 years and 6 months.
c. Provide proof of residency, identity, social security number and legal presence
2. Proof of Virginia Residency – need one:
a. Verification by the parents if under the age of 19
b. DMV issued ID Card
3. Proof of legal presence – need one:
a. Birth Certificate
b. Legal Passport
4. To obtain a learner's permit applicants must successfully complete:
a. Must correctly answer all 10 traffic sign, signals and pavement marking questions (100%)
b. General Knowledge Test (80%)
c. Vision Test - Correctable Vision (20/40) Day Time only driving (between 20/40 and 20/70)
5. If you fail the learners permit test:
a. Applicants less than 18 must wait 15 days to retake the test.
b. Applicants older than 18 pay $2 or wait 15 days.
c. If you fail the learner's permit test 3 times you must complete a driver's education course
subsequent to the third failure.
6. Permit Guidelines:
a. You should practice with a licensed driver who is at least 21 years of age or a family member that is
at least 18 years of age.
b. Learner's Permit carriers may not carry more than 1 passenger who is under the age of 18.
7. To obtain a Driver's License:
a. You must be at least 16 years and 3 months old.
b. You must hold a learner's permit for at least 9 months.
c. You must also successfully complete an approved driver education program.
d. Having parent permission as well as a certified 45 hours (at least 15 of which were after sunset) is a
must for applicants under the age of 18.
e. You must attend Partners for Safe Teen Driving Program with you parent/guardian
f. When you start driving, you must carry with you, your 180 day temporary license (TDL-180), issued
by your in car driver education teacher AND your learner's permit.
g. Also note that under 21 the license is vertical and 21 and over the license is horizontal.
8. Juvenile Licensing Ceremony:
a. You will receive notice of date to appear within the initial 180–day licensing period.
b. A Judge will give your PARENTS the hard copy of your license at a ceremony held by the Juvenile
and Domestic Relations Court that serves your zip code
c. You must dress appropriately, be on time, and bring learner's permit and 180-day temporary
driver's license
9. License Expiration Date:
a. License expires on 20th birthday
b. Applicants 20 years of age or less will be required to retake the signs and general knowledge tests if
they have any traffic convictions
10. License Suspensions and Revocation:
a. Suspension - Your privilege to drive has been withdrawn temporarily
b. Revocation - Your privilege to drive has been terminated
c. 1st offense under 18
 Anyone convicted of a violation under the age of 21 will be mandated by a judge to attend a
driver improvement clinic
d. 2nd offense under 18 – Suspension
e. 3rd offense under 18 – Revocation
 Must reapply for a driver's license after revocation period has passed
11. Administrative License Suspension (ALS):
a. Your driver's license will be suspended for a minimum of seven days if you:
 Register a Blood Alcohol Concentration (BAC) of 0.08 or higher
 Are under age 21 and register a BAC of 0.02 or higher (zero tolerance law)
 Refuse to take the field sobriety test (implied consent law)
12. School Attendance and Your License:
a. Ten consecutive unexcused absences from school can result in a license suspension
13. Consequences for driving with a suspended license:
a. Jail time
b. Fine
c. Extension of the initial suspension
Module 1: Topic 3
Virginia Driver's Manual
Signs, Signals and Pavement Markings
Type of Light
STEADY (traffic light)
RED
stop and remain stopped
TRAFFIC SIGNAL ARROWS
DO NOT proceed in the
direction of that arrow.
stop, yield and go when
clear
FLASHING LIGHTS
LANE USE SIGNALS
RED X – never drive in
this lane
YELLOW
clear the intersection
GREEN
go if the intersection is
clear
warning that the light is
proceed in the direction
about to change
of that arrow.
caution dangerous
go in the direction of
intersection
arrow if clear; If turning,
yield to vehicles from
other direction
Yellow X: Move out of the Green Arrow: Safe to
lane as soon as safely
drive in this lane
possible
1. When can you turn RIGHT on red?
a. At some intersections you may turn right while the traffic light is red
b. BEFORE turning STOP
c. Check for traffic and pedestrians
d. You may NOT turn right on red if one of these signs is present
2. When can you turn LEFT on Red?
a. It is permitted on a one-way street.
b. BEFORE turning STOP
c. Check for traffic and pedestrians
d. You may NOT turn left on red if one of these signs is present
3. What if the traffic signals do not work?
a. You are required to STOP and treat this situation like a 4 way stop
b. If a police office is there directing traffic than follow the officer's directions
4. The color of a traffic sign conveys a specific meaning.
SIGN COLOR
Category
Red used with
White
Black used with
white
Yellow used
with black
Blue
Prohibitive
Green
Guide
Fluorescent
optic yellow
Pink
School zone
Orange
Construction
Brown
Recreational
Example
(Draw or name a sign here)
Regulatory
Warning
Motorist Services
Warn about incidents
Make sure to slow down, be
alert and protect the workers
who build and maintain our
roads.
You may be fined up to $500
if convicted of exceeding the
speed limit in a highway work
zone.
5. The shape of a traffic sign conveys a specific meaning.
Shape
Category
Vertical Rectangle
Regulatory or Guide
Horizontal
Rectangle
Directions or Information
Round
Advance warning of a railroad
Cross buck
Railroad Crossing – same as a
YIELD sign
Diamond
Warning
Pentagon
School Zone
Octagon
Stop
Triangle
Yield
Flag Triangle
Pennant
No Passing
Example
(Draw or name a sign here)
6. Pavement markings:
a. Broken lines – may pass with caution
b. Solid lines – do not cross
c. Yellow lines – two way traffic
d. White lines – one way traffic
What does a broken white line mean?
What does a double solid yellow line mean?
7. Shared Left Turn Lane:
a. Traffic from both directions uses the lane
to turn left
b. You may not go more than 150 feet
8. What is an (High Occupancy vehicles) HOV Lane?
a. A lane that is reserved at peak travel times or longer for the exclusive use of vehicles with a driver
and one or more passengers
b. The lane has a white diamond shape on the road.
9. Triangles painted on the pavement show that you must yield.