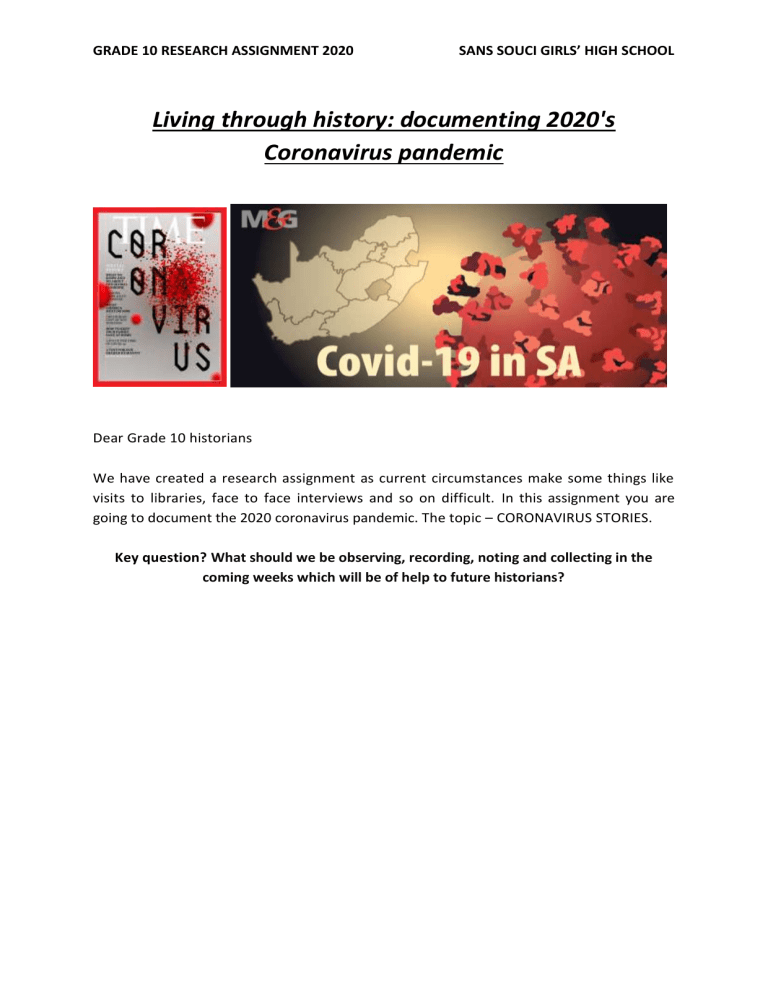 GRADE 10 RESEARCH ASSIGNMENT 2020
SANS SOUCI GIRLS' HIGH SCHOOL
Living through history: documenting 2020's
Coronavirus pandemic
Dear Grade 10 historians
We have created a research assignment as current circumstances make some things like
visits to libraries, face to face interviews and so on difficult. In this assignment you are
going to document the 2020 coronavirus pandemic. The topic – CORONAVIRUS STORIES.
Key question? What should we be observing, recording, noting and collecting in the
coming weeks which will be of help to future historians?
GRADE 10 RESEARCH ASSIGNMENT 2020
SANS SOUCI GIRLS' HIGH SCHOOL
Format- Research Report
STEP 1- INTRODUCTION


AN OUTLINE OF THE TOPIC – CORONAVIRUS STORIES- 4 – 5 lines
Your understanding of what the Covid-19 pandemic is and what you will do in the research
assignment
CONTENT
STEP 2-
STEP 3- CONSPIRACY THEORIES (ROLE OF MEDIA)
 Look at how media covers the story, and how different angles become more important as it
progresses

We also want you to look at conspiracy theories - what are they and what are the most
prominent on social and other media?

Look at how the media, especially social media, is reflecting the pandemic. Which bits of media
did you notice, like and find useful.

You can include and collect newspaper headlines (pictures/screenshots) and follow how they
change over time
STEP 4 –Interviews
 What impact does the Coronavirus have on ordinary South Africans? For this assignment you
required to conduct an oral history investigation by interviewing people who are affected in
some way by the lockdown, what they know and are doing about the virus.


You need to record their stories.

Conduct the interviews and record their repsonses (This can be done on various platforms/
Whatsapp, video calls or indviduals within your home)

Devise a questionnaire that asks the people locked down with you how they are being affected
by the virus,
It is necessary to set up and do research before the interviews to help you to ask relevant
questions.
STEP 5- PUBLIC REACTION – 1 PAGE
 People watching at such times of crisis really serves useful purposes, as you see their attitudes
to the disease, containment measures, self-isolation and fear of their loved ones being affected.

What do they buy? Who makes money out of the crisis? What does joining crowds of shoppers
tell about their understanding of the disease? Why do various groups think they will not catch it?

Comb social media websites for public responses to news coverage of the pandemic.
GRADE 10 RESEARCH ASSIGNMENT 2020

SANS SOUCI GIRLS' HIGH SCHOOL
Look for positives too, as societies in crisis can show great kindness. During the influenza
pandemic, neighbours risked their own lives to nurse neighbours, and communities rallied to set
up food kitchens to bring meals to the very ill. This is happening around us already today so
document it.
STEP 6- REFLECTION
 Much remains uncertain, but analysts say the pandemic and the measures we are taking to save
ourselves could permanently change the ways in which we live, work, worship and play in the
future. Envisioning that post-pandemic world is key in ensuring we change for the better, not
the worse.

Write a paragraph ( 10-15 lines) of our lives after the coronavirus pandemic. So what does the
future look like?

How did doing this assignment affect you? – about 8-10 lines
STEP 7 - CONCLUSION & FINDINGS
 CONCLUDING REMARKS AND SUGGESTIONS – about 8-10 lines
STEP 8- BIBLIOGRAPHY – please record the sites as well as the date visited if it is internet
research. When conducting research, you should not rely on only one source. Use different
sources to check your information.