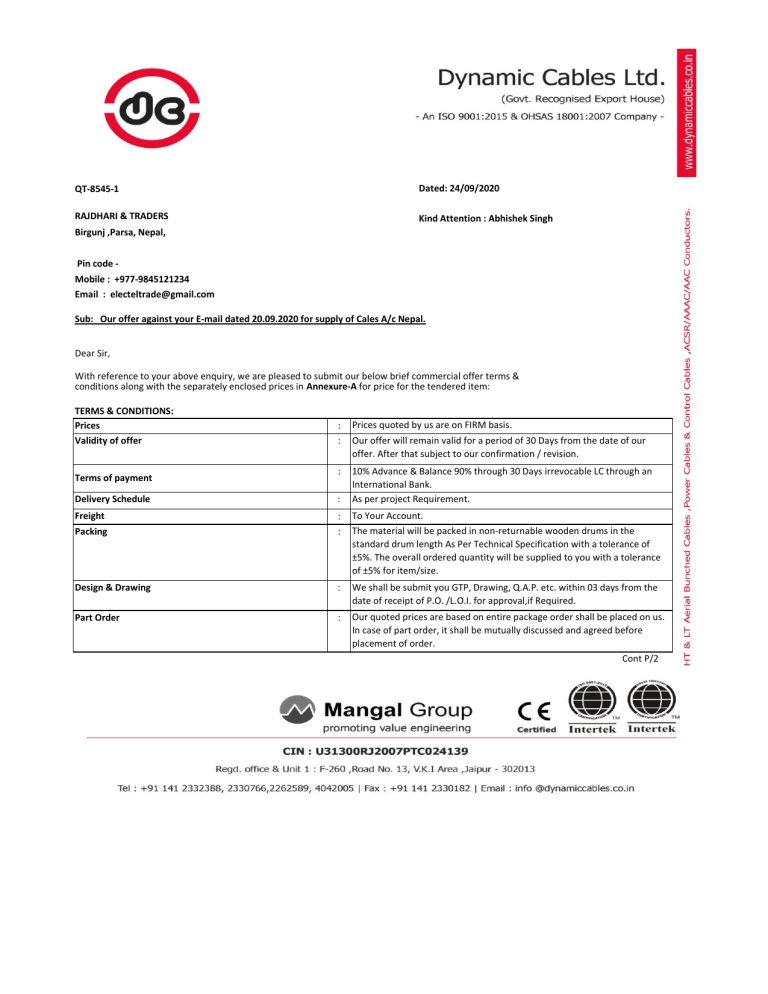 QT-8545-1
Dated: 24/09/2020
RAJDHARI & TRADERS
Kind Attention : Abhishek Singh
Birgunj ,Parsa, Nepal,
Pin code Mobile : +977-9845121234
Email : electeltrade@gmail.com
Sub: Our offer against your E-mail dated 20.09.2020 for supply of Cales A/c Nepal.
Dear Sir,
With reference to your above enquiry, we are pleased to submit our below brief commercial offer terms &
conditions along with the separately enclosed prices in Annexure-A for price for the tendered item:
TERMS & CONDITIONS:
Prices
:
Prices quoted by us are on FIRM basis.
Validity of offer
:
Our offer will remain valid for a period of 30 Days from the date of our
offer. After that subject to our confirmation / revision.
:
10% Advance & Balance 90% through 30 Days irrevocable LC through an
International Bank.
As per project Requirement.
Terms of payment
Delivery Schedule
:
Freight
:
:
To Your Account.
Packing
Design & Drawing
:
We shall be submit you GTP, Drawing, Q.A.P. etc. within 03 days from the
date of receipt of P.O. /L.O.I. for approval,if Required.
Part Order
:
Our quoted prices are based on entire package order shall be placed on us.
In case of part order, it shall be mutually discussed and agreed before
placement of order.
Cont P/2
The material will be packed in non-returnable wooden drums in the
standard drum length As Per Technical Specification with a tolerance of
±5%. The overall ordered quantity will be supplied to you with a tolerance
of ±5% for item/size.
www.dynamiccables.co.in
:: 2 ::
Type Test
:
Type tests if required to witness, we shall offer free of cost "IN HOUSE" on 1
sample in case order value is 1cr and above otherwise we shall charge Rs. 1
Lac / Sample .However, if needs to be done at any third party laboratory ,
then the cost of the same has to borne by purchaser. Also, purchaser should
give conditional dispatch clearance before completion of type test else
inventory carrying cost @ 2% / month has be borne by purchaser.
Order quatity tolerance
:
±5%.
Insurance
:
To Your Account.
Guarantee/Waranty
:
Inventory Carrying Cost
:
Manufacturing Clearance
:
Materials offered by us are guaranteed for trouble free performance for a
period of 12 months from the date of commissioning or 18 months from
thedate of suppy, whichever is earlier. Our warranties are not valid for any
mishandling, abused wear and tear,
We shall offer the ordered material well within agreed contractual terms,
however, if the material is not get lifted within 15 days from the date of
inspection, then we rederve to charge inventory carrying cost @2% per
month.
Manufacturing clearance should be given within 15 days from the date of
GTP and drawing approval. In case of manufacturing clearance is delay 15
days from the date of GTP and drawing approval due to reasons pertaining
to purchaser, then we reserve right to revise the prices.
Mode Of Transportation
:
:
:
PBG
Inspection
Thanking you,
For Dynamic Cables Ltd
S.Kadam
Assistant Vice President (Marketing)
Dated: 24/09/2020
Place: Jaipur
By Sea/By Road
NIL
The cost of inspection by buyer nominated Engineers shall be to your
account . We shall provide all necessary technical documentation and
facilities for the Tests. Local Transportation, Food & Accommodation shall
be taken care by us for Jaipur only. Air tickets and daily allowance shall be
to your account. The cost of inspection & nomination for third party
inspection agencies shall be to your Account.