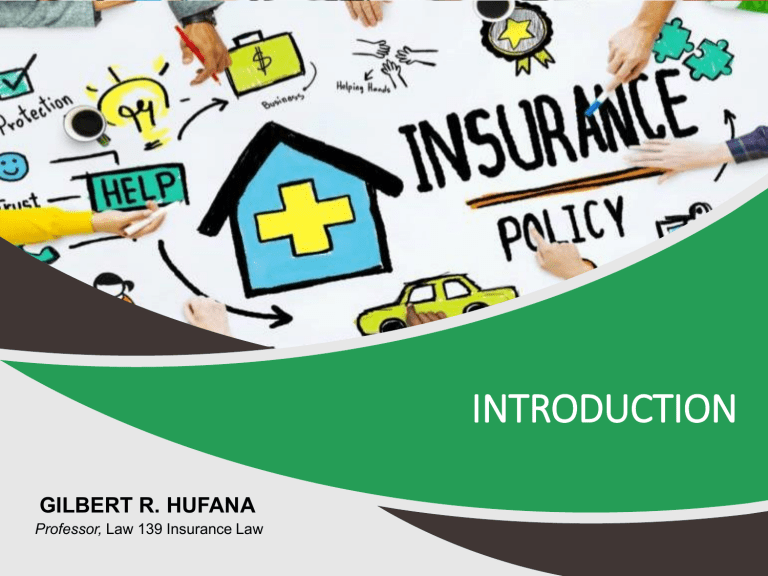 INTRODUCTION
GILBERT R. HUFANA
Professor, Law 139 Insurance Law
WHAT IS THE PRINCIPLE BEHIND
INSURANCE?
• Insurance is based upon the principle of aiding
another from a loss caused by an unfortunate
event.
• Benevolent societies organized for the purpose of
extending aid to their unfortunate members from a
fund contributed by all, have been in existence from
the earliest times.
• They existed among the Egyptians, the Chinese, the
Hindus, the Romans, and are known to have been
established among the Greeks as early as, believe it
or not, 3 B.C.
INSURANCE IN THE PHILIPPINES
• Pre-Spanish Era - there was no insurance; every loss
was borne by the person or the family who suffered
the misfortune.
• Spanish era – Insurance, in its present concept, was
introduced in the Philippines when Lloyd's of
London appointed Strachman, Murray & Co., Inc. as
its representative here.
DEVELOPMENT OF INSURANCE IN THE
PHILIPPINES
• 1898 – Life insurance was introduced in this country
with the entry of Sun Life Assurance of Canada in the
local insurance market.
• 1906 – First domestic non-life insurance company, the
Yek Tong Lin Insurance Company, was organized 1910
– First domestic life insurance company, the Insular
Life Assurance Co., Ltd., was organized
• 1939 – Union Insurance Society of Canton appointed
Russel & Surgis as its agent in Manila. The business
transacted the Philippines was then limited to non-life
insurance.
DEVELOPMENT OF INSURANCE IN THE
PHILIPPINES
• 1936 – Social insurance was established with the
enactment of Commonwealth Act no. 186 which
created the Government Service Insurance System
(GSIS) which started operations in 1937. The Act
covers gov't employees.
• 1949 – Government agency was formed to handle
insurance affairs, where the Insular Treasurer was
appointed commissioner ex-officio.
DEVELOPMENT OF INSURANCE IN THE
PHILIPPINES
• 1950 – Reinsurance was introduced by the
Reinsurance Company of the Orient when it wrote
treaties for both life and non life.
• 1951 – First workmen's compensation pool was
organized as the Royal Group Incorporated.
• 1954 – RA 1161 was enacted which provided for the
organization of the Social Security System (SSS)
covering employees of the private sector.
INSURANCE LAW IN THE PHILIPPINES
• During the Spanish Period, the laws on insurance
were found in Title VII of Book II and Section III of
Title III of Book III of the Spanish Code of
Commerce; and in Chapters II and IV of Tile XII of
Book IV of the Spanish Civil Code of 1889
• During the American Regime, on Dec. 11, 1914,
the Phil Legislature enacted the Insurance Act (Act
2427). This Act which took effect on July 1, 1915
repealed the provisions of the Spanish Code of
Commerce on Insurance.
INSURANCE LAW IN THE PHILIPPINES
• When the Civil Code of the Philippines (RA 386) took
effect on August 30, 1950, the provisions of the Spanish
Civil Code of 1889 were likewise repealed. For quite a
long time, the Insurance Act was the governing law on
insurance in the Philippines.
• On Dec. 18, 1974, PD 612 was promulgated, ordaining
and instituting the Insurance Code of the Philippines,
thereby repealing Act 2427. PD's 63, 123 and 317 were
issued, amending PD 612. Finally PD 1460 which took
effect on June 11, 1976 consolidated all insurance laws
into a single code and this is what we know now as the
Insurance Code of 1978.
INSURANCE LAW IN THE PHILIPPINES
• Recently on August15, 2013, President BENIGNO S.
AQUINO III signed into law RA 10607 "An act
strengthening the insurance industry, further
amending presidential decree no. 612, otherwise
known as "the insurance code", as amended by
presidential decree nos. 1141, 1280, 1455, 1460,
1814 and 1981, and batas pambansa blg. 874, and
for other purposes"
CONTRACT OF INSURANCE
SEC 2, IC
• A "Contract of Insurance" is an agreement whereby
one undertakes for a consideration to indemnify
another against loss, damage or liability arising
from an unknown or contingent event.
• A contract of suretyship shall be deemed to be an
insurance contract, within the meaning of this
Code, only if made by a surety who or which, as
such, is doing an insurance business as hereinafter
provided.
CONTRACT OF INSURANCE
• According to Vance a " contract of insurance is an
agreement by which one party, for a consideration,
promises to pay money or its equivalent, or to do
some act valuable to the insured or his nominee,
upon the happening of a loss, damage, liability or
disability arising from an unknown or contingent
event."
"DOING OR TRANSACTING AN INSURANCE
BUSINESS"
1. Making or proposing to make, as insurer, any insurance
contract;
2. Making, or proposing to make, as surety, any contract of
suretyship as a vocation and not as merely incidental to
any other legitimate business or activity of the surety;
3. Doing any kind of business including a reinsurance
business, specifically recognized as constituting the doing
of an insurance business within the meaning of this
Code;
4. Doing or proposing to do any business in substance
equivalent to any of the foregoing in a manner designed
to evade the provisions of this code.
CHARACTERISTICS OF AN INSURANCE
CONTRACT
1. Consensual – perfected by the meeting of the
minds of the parties
2. Voluntary – it is not compulsory and the parties
may incorporate such terms and conditions as they
may deem convenient which will be binding
provided they are not against the law or public
policy
3. Aleatory – depends upon some contingent (subject
to chance) event
4. Executed – as to the insured after the payment of
the premium
CHARACTERISTICS OF AN INSURANCE
CONTRACT
5. Executory – as to the insurer as it is not executed
until payment for a loss
6. Conditional – subject to conditions the principal
one of which is the happening of the event insured
against
7. Personal – each party in the contract have in view
the character, credit and conduct of the other
8. One of perfect good faith (uberrimae fides)
• More so on the insurer since its position carries with it a
stricter responsibility
CHARACTERISTICS OF AN INSURANCE
CONTRACT
9. A contract of adhesion
• Insurer prepares "agreements" in printed form which the
insured may not change
• Insured is only limited to "take it or leave it"
• Resolve ambiguities in favor of insured, against the
insurer to protect the weaker party
10. A contract of insurance is a contract of indemnity
and not a wagering, or gambling contract.
• Indemnity is compensation for damages or loss, and in
the legal sense, it may also refer to an exemption from
liability for damages.
INSURANCE CONTRACT IS NOT A
WAGERING/GAMBLING CONTRACT
• A contract of insurance is a contract of indemnity
and not a wagering, or gambling contract.(Sec. 25)
• While it is based on a contingency, it is not a
contract of chance and is not used for profit.
• If the prizes do not come out of the fund or
contributions by the participants, no consideration
has been paid and consequent, there is no lottery.
INSURANCE FOR OR AGAINST
ANY LOTTERY
SEC. 4, IC
• The preceding section does not authorize an insurance
for or against the drawing of any lottery, or for or
against any chance or ticket in a lottery drawing a
prize.
• Insurance for or against any lottery is VOID.
• "LOTTERY" extends to all schemes for the distribution
of prizes by chance, such as policy playing, gift
exhibition, prize concerts, raffles at fair, etc. and
various forms of gambling
• ELEMENTS: Consideration, prizes and chance
INSURANCE CONTRACT VS
GAMBLING CONTRACT
CLASSIFICATION OF
INSURANCE CONTRACTS
• Life insurance contracts
• Individual (Sections 179-183, 227)
• Group Life (Sections 50 and 228)
• Industrial Life (Sections 229-231)
• Non-Life Insurance Contracts
• Marine (Sections 99-166)
• Fire (Sections 167-173)
• Casualty (Section 174)
• Contracts of Suretyship and bonding (Sections 175178)
HOW ARE INSURANCE CONTRACTS & THE
INSURANCE CODE CONSTRUED?
• Ambiguities or obscurities must be strictly
interpreted against the party that caused them.
• As the insurance policy is prepared solely by the
insurer, the ambiguities shall be construed against it
and in favor of the insured. (Qua Chee Gan v. Law
Union Rock 98 PHIL 85)
• Art. 2011, NCC. The contract of insurance is governed
by special laws. Matters not expressly provided for in
such special laws shall be regulated by this Code.