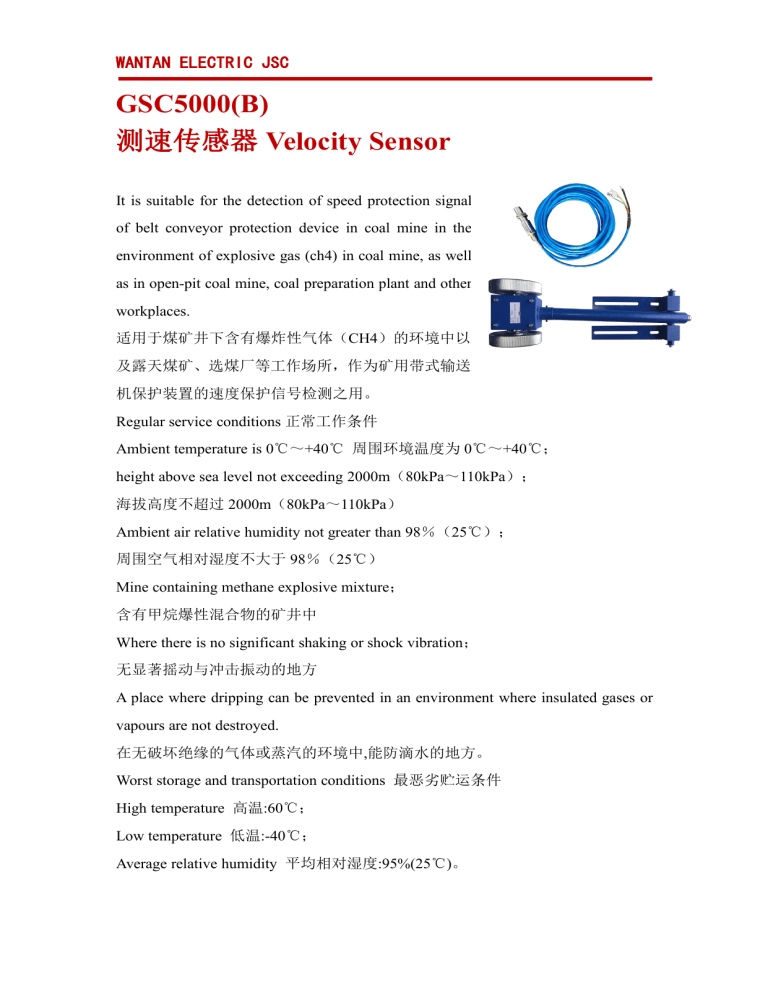 WANTAN ELECTRIC JSC
GSC5000(B)
测速传感器 Velocity Sensor
It is suitable for the detection of speed protection signal
of belt conveyor protection device in coal mine in the
environment of explosive gas (ch4) in coal mine, as well
as in open-pit coal mine, coal preparation plant and other
workplaces.
适用于煤矿井下含有爆炸性气体(CH4)的环境中以
及露天煤矿、选煤厂等工作场所,作为矿用带式输送
机保护装置的速度保护信号检测之用。
Regular service conditions 正常工作条件
Ambient temperature is 0℃~+40℃ 周围环境温度为 0℃~+40℃;
height above sea level not exceeding 2000m(80kPa~110kPa);
海拔高度不超过 2000m(80kPa~110kPa)
Ambient air relative humidity not greater than 98%(25℃);
周围空气相对湿度不大于 98%(25℃)
Mine containing methane explosive mixture;
含有甲烷爆性混合物的矿井中
Where there is no significant shaking or shock vibration;
无显著摇动与冲击振动的地方
A place where dripping can be prevented in an environment where insulated gases or
vapours are not destroyed.
在无破坏绝缘的气体或蒸汽的环境中,能防滴水的地方。
Worst storage and transportation conditions 最恶劣贮运条件
High temperature 高温:60℃;
Low temperature 低温:-40℃;
Average relative humidity 平均相对湿度:95%(25℃)。
WANTAN ELECTRIC JSC
Technical Parameter 技术参数
Intrinsically safe parameter 本安参数:
Ui:DC12.5V;Ii:13mA;Ci:0μF;Li:0mH。
measuring range 测量范围: 0~5m/s
basic and linear error 基本及线性误差:
±2.0%
Frequency response range 频率响应范围:20Hz~5kHz
Output pulse signal 输出脉冲信号.