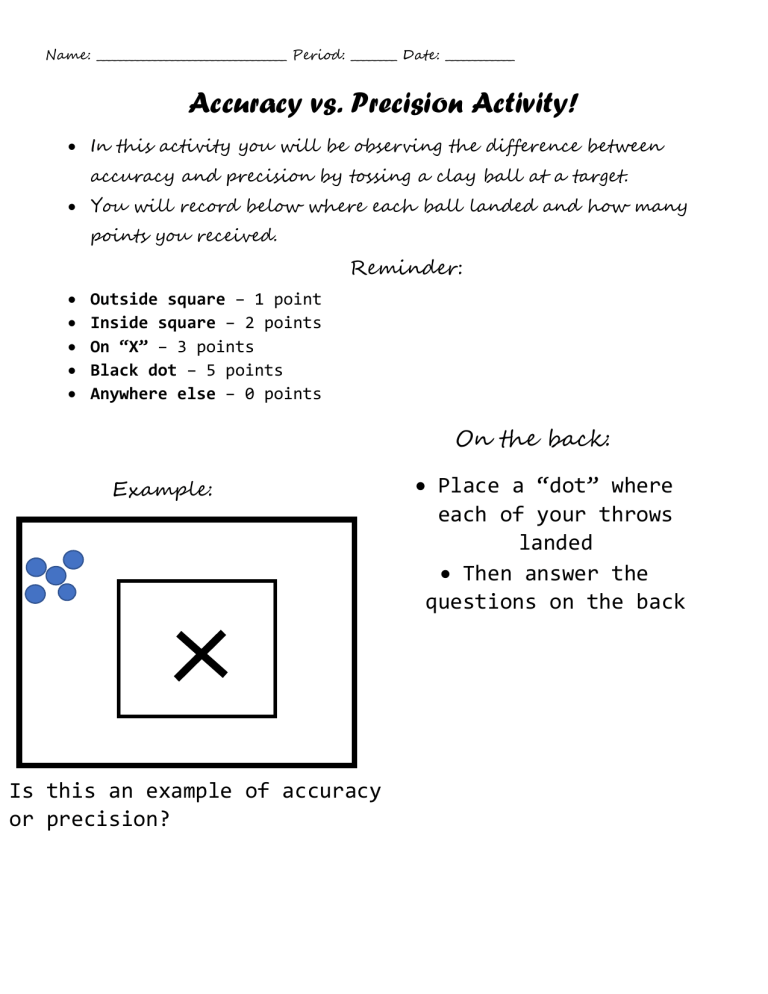 Name: _________________________________ Period: ________ Date: ____________
Accuracy vs. Precision Activity!
 In this activity you will be observing the difference between
accuracy and precision by tossing a clay ball at a target.
 You will record below where each ball landed and how many
points you received.
Reminder:





Outside square – 1 point
Inside square – 2 points
On "X" – 3 points
Black dot – 5 points
Anywhere else – 0 points
On the back:
Example:
 Place a "dot" where
each of your throws
landed
 Then answer the
questions on the back
aaaaaaaaaaaaaaaaaaaaaaaaaaaaaaaaaaaaaaaaaaaaaaaaaaaaaaaaaa
aaaaaaaaaaaaaaaaaaaaaaa
Is this an example of accuracy
or precision?
Teammate Name
Throw Throw Throw Throw Throw
1
2
3
4
5
Total
Points
Team Total:
Questions
1. How many points did you score? ______
2. Were your throws ACCURATE, PRECISE, or BOTH (circle one)
3. Explain how you got your answer for #2
4. Would you want your surgeon to be accurate, precise, or
both? Why?
Graphing Practice!
Create a bar graph using your team's data!