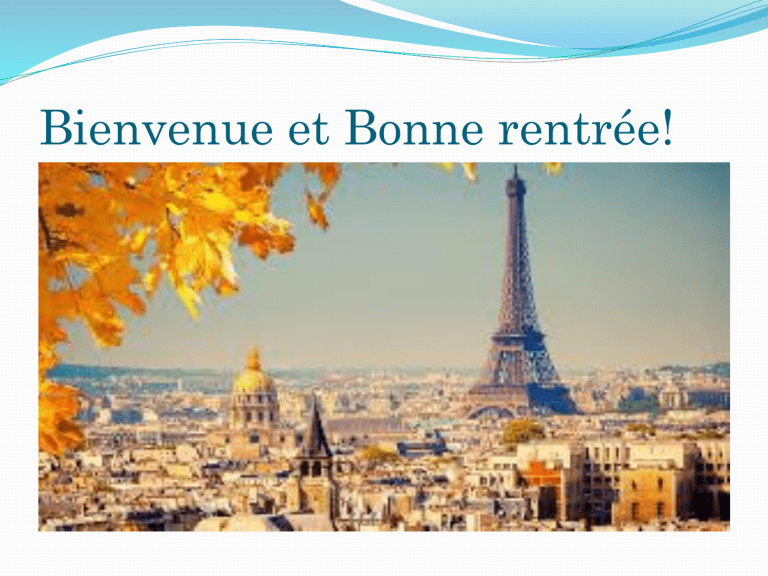 Bienvenue et Bonne rentrée!
Professeure Caroline Maniscalco
Horaires de bureau : Lundi 8h-11h,
ou avec rendez-vous
Introduction au cours
Au programme
•TEXTBOOK: Encore, Niveau intermédiaire (2nd edition) , Wong, Weber-fève, Lair and
Vanpatten. Boston: Cengage, 2020. Here are some purchasing options for textbook and
on-line access to Mind-Tap
•Un Village Français – une série télévisée
But du cours
•Bien comprendre le français oral/parlé et écrit
•Communiquer clairement: écouter, parler, lire et écrire
•S'informer sur la culture française et francophone
•Explorer la IIème Guerre Mondiale dans la France occupée - Un Village Français
Examen final 19 Décembre 2020
Faisons connaissance !
Bonjour !/ Salut! (informel)
Comment vous appelez-vous?
Je m'appelle Caroline/ Moi, je suis Caroline!
D'où venez vous?
Je viens de Milton à quelques minutes de Boston.
Quelle est votre nationalité?
Je suis d'origine américaine.
Et toi ?
Reviser le syllabus/questions
Qu'est-ce que tu as fait pendant les vacances d'été ?
Modèle : Premièrement, j'ai passé du temps avec ma famille.
Et puis, j'ai aussi préparé pour nos cours de français!
En fin, j'ai mangé beaucoup de glaces avec mes amis.
Et toi ?