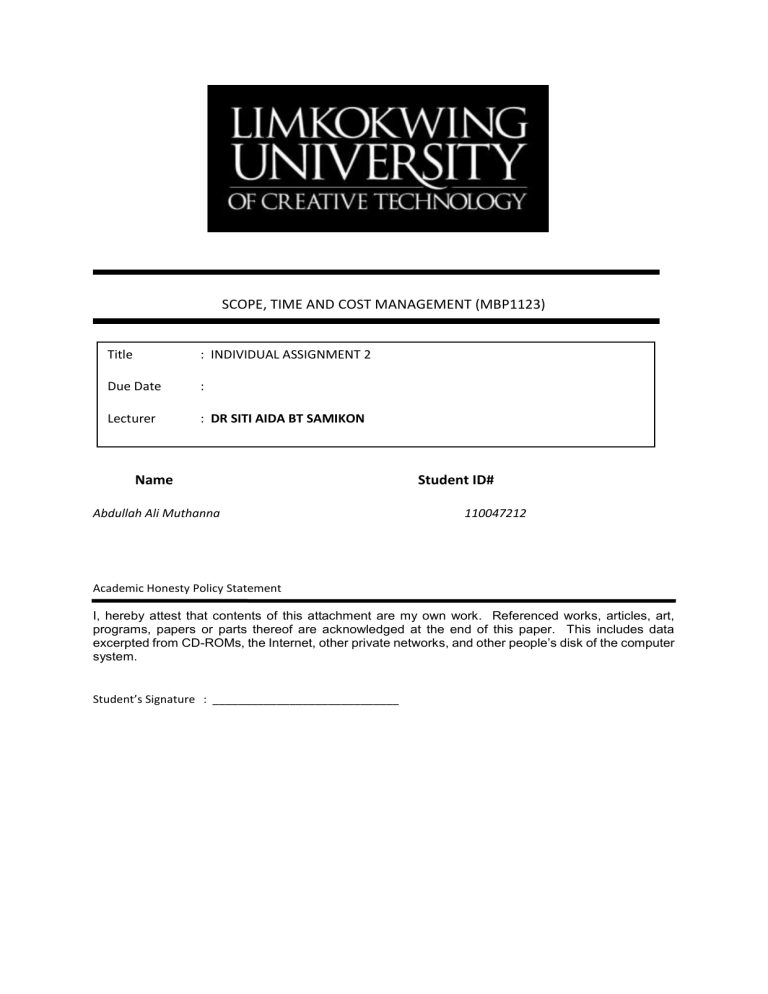 SCOPE, TIME AND COST MANAGEMENT (MBP1123)
Title
: INDIVIDUAL ASSIGNMENT 2
Due Date
:
Lecturer
: DR SITI AIDA BT SAMIKON
Name
Abdullah Ali Muthanna
Student ID#
110047212
Academic Honesty Policy Statement
I, hereby attest that contents of this attachment are my own work. Referenced works, articles, art,
programs, papers or parts thereof are acknowledged at the end of this paper. This includes data
excerpted from CD-ROMs, the Internet, other private networks, and other people's disk of the computer
system.
Student's Signature : _____________________________
1. Activity on Node
Order Picking System, Wing Frozen Food Warehouse
Upgrading Guardhouse, LUCT
2. Critical Path
In the Order Picking System, A B D G represent the critical needed to complete the project,
As for the Upgrading Guardhouse project, A B D E F G are the activates needed for the project
to be finished.
3. Shortest And The Longest Amount Of Time
For the Order Picking System the started duration is 175 workdays, but it can be done in about
120 workdays if the minimize the Define Requirements and testing the software days, as it
doesn't have to take this long to test the software, and the longest time needed to finish the
project will about 200 workdays that's only if something went wrong the coding after testing
the software, since we will need to go two steps back.
The starting time that has been set to finish the Upgrading Guardhouse project is 24
workdays, but with combining the doors, windows and roof initialising days together the
project can be done in 19 workdays.