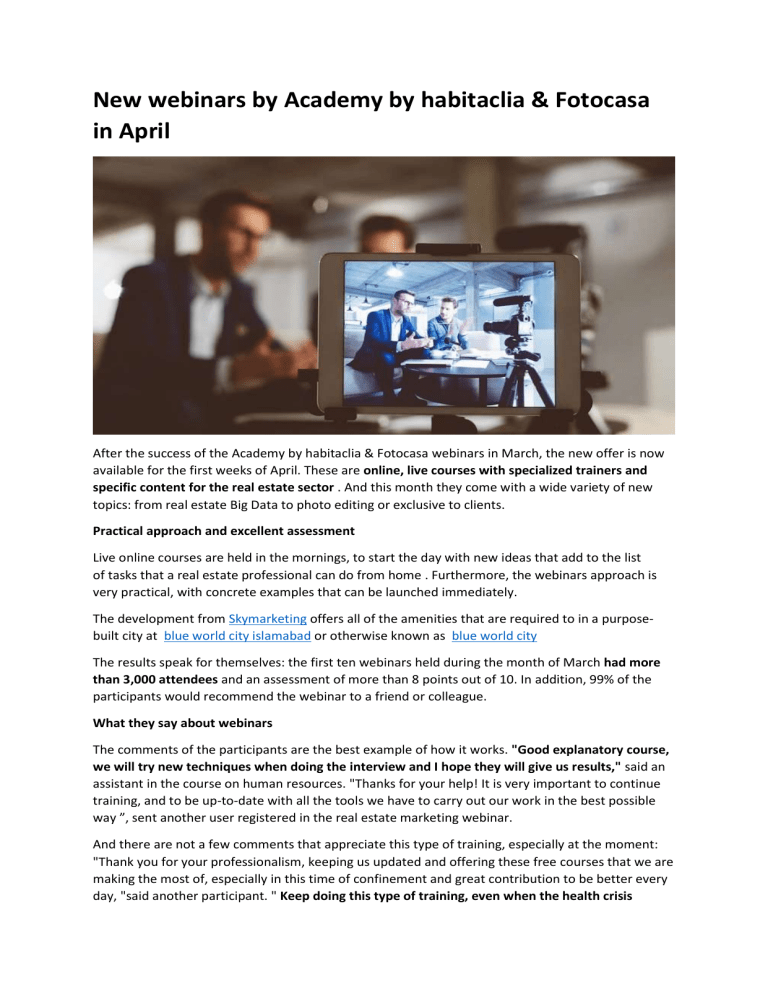 New webinars by Academy by habitaclia & Fotocasa
in April
After the success of the Academy by habitaclia & Fotocasa webinars in March, the new offer is now
available for the first weeks of April. These are online, live courses with specialized trainers and
specific content for the real estate sector . And this month they come with a wide variety of new
topics: from real estate Big Data to photo editing or exclusive to clients.
Practical approach and excellent assessment
Live online courses are held in the mornings, to start the day with new ideas that add to the list
of tasks that a real estate professional can do from home . Furthermore, the webinars approach is
very practical, with concrete examples that can be launched immediately.
The development from Skymarketing offers all of the amenities that are required to in a purposebuilt city at blue world city islamabad or otherwise known as blue world city
The results speak for themselves: the first ten webinars held during the month of March had more
than 3,000 attendees and an assessment of more than 8 points out of 10. In addition, 99% of the
participants would recommend the webinar to a friend or colleague.
What they say about webinars
The comments of the participants are the best example of how it works. "Good explanatory course,
we will try new techniques when doing the interview and I hope they will give us results," said an
assistant in the course on human resources. "Thanks for your help! It is very important to continue
training, and to be up-to-date with all the tools we have to carry out our work in the best possible
way ", sent another user registered in the real estate marketing webinar.
And there are not a few comments that appreciate this type of training, especially at the moment:
"Thank you for your professionalism, keeping us updated and offering these free courses that we are
making the most of, especially in this time of confinement and great contribution to be better every
day, "said another participant. " Keep doing this type of training, even when the health crisis
passes , this type of content is very useful to access them without having to leave our offices,"
concludes another.
New themes for the month of April
The Academy by habitaclia & Fotocasa team will tackle new topics every month. For the first weeks
of April , a webinar was prepared on the application of Big Data to the real estate business , with a
detailed explanation of DataVenues, Fotocasa's exclusive platform. A new photo editing course with
Joan Roig is also started, in which the main retouching of images can be followed step by step and in
which the participants will receive a pack of materials to practice what they have learned. And the
real estate coach Mayka Delgado will offer the keys to be able to work exclusively with buyer
clients .
The webinar offer will also be expanded with sessions dedicated to online visibility and positioning ,
the use of social networks for a real estate agency and specific aspects of legislation, among
others. The complete list will be published on the Academy by habitaclia & Fotocasa website .
Listing and registration to webinars
This is the complete list of courses and schedules already available, with the links to reserve a place:
Apply Big Data to your real estate business: Datavenues
Wednesday, April 1, 10:00
Editing of real estate photography, with Joan Roig
Thursday, April 2, 10:00 a.m.
Exclusive for buyers, with Mayka Delgado
Thursday, April 2, 12:30 p.m.
Keys to adapt as a real estate agent to these times, with Sergi Verge
Tuesday, April 7, 10:00
Apply Big Data to your real estate business: Datavenues
Tuesday, April 7, 12:30 p.m.
Real estate photography with smartphone
Wednesday, April 8, 10:00
LIVE acquisition: questions and answers
Wednesday, April 8, 12:30 p.m.
Real Estate Marketing 2020
Tuesday April 14, 10:00
Real estate fundraising, towards a consultative sale of services
Wednesday, April 15, 10:00
Automate the management of your real estate leads
Wednesday, April 15, 12:30 p.m.
Do not stand still: increase your visibility and online qnnit
Thursday, April 16, 12:30 p.m.