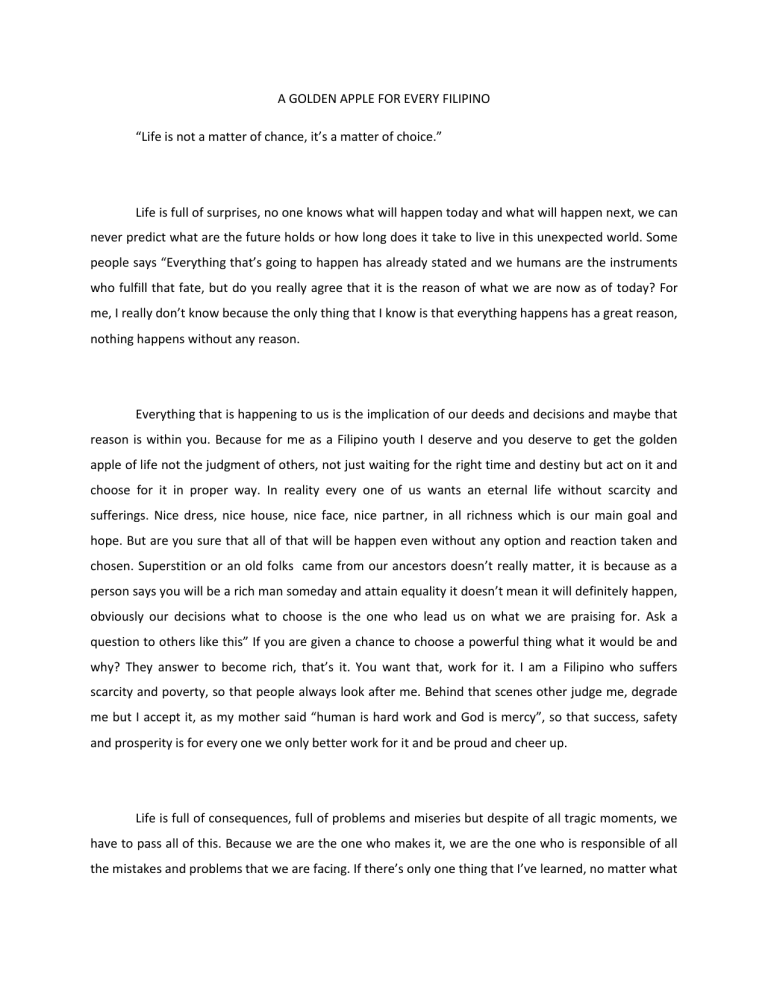 A GOLDEN APPLE FOR EVERY FILIPINO
"Life is not a matter of chance, it's a matter of choice."
Life is full of surprises, no one knows what will happen today and what will happen next, we can
never predict what are the future holds or how long does it take to live in this unexpected world. Some
people says "Everything that's going to happen has already stated and we humans are the instruments
who fulfill that fate, but do you really agree that it is the reason of what we are now as of today? For
me, I really don't know because the only thing that I know is that everything happens has a great reason,
nothing happens without any reason.
Everything that is happening to us is the implication of our deeds and decisions and maybe that
reason is within you. Because for me as a Filipino youth I deserve and you deserve to get the golden
apple of life not the judgment of others, not just waiting for the right time and destiny but act on it and
choose for it in proper way. In reality every one of us wants an eternal life without scarcity and
sufferings. Nice dress, nice house, nice face, nice partner, in all richness which is our main goal and
hope. But are you sure that all of that will be happen even without any option and reaction taken and
chosen. Superstition or an old folks came from our ancestors doesn't really matter, it is because as a
person says you will be a rich man someday and attain equality it doesn't mean it will definitely happen,
obviously our decisions what to choose is the one who lead us on what we are praising for. Ask a
question to others like this" If you are given a chance to choose a powerful thing what it would be and
why? They answer to become rich, that's it. You want that, work for it. I am a Filipino who suffers
scarcity and poverty, so that people always look after me. Behind that scenes other judge me, degrade
me but I accept it, as my mother said "human is hard work and God is mercy", so that success, safety
and prosperity is for every one we only better work for it and be proud and cheer up.
Life is full of consequences, full of problems and miseries but despite of all tragic moments, we
have to pass all of this. Because we are the one who makes it, we are the one who is responsible of all
the mistakes and problems that we are facing. If there's only one thing that I've learned, no matter what
happen or no matter what our life brings to us, no matter how hard it is, we just have learn to accept
those challenges ,just go with the flow and don't ever forget to pray and thank God.