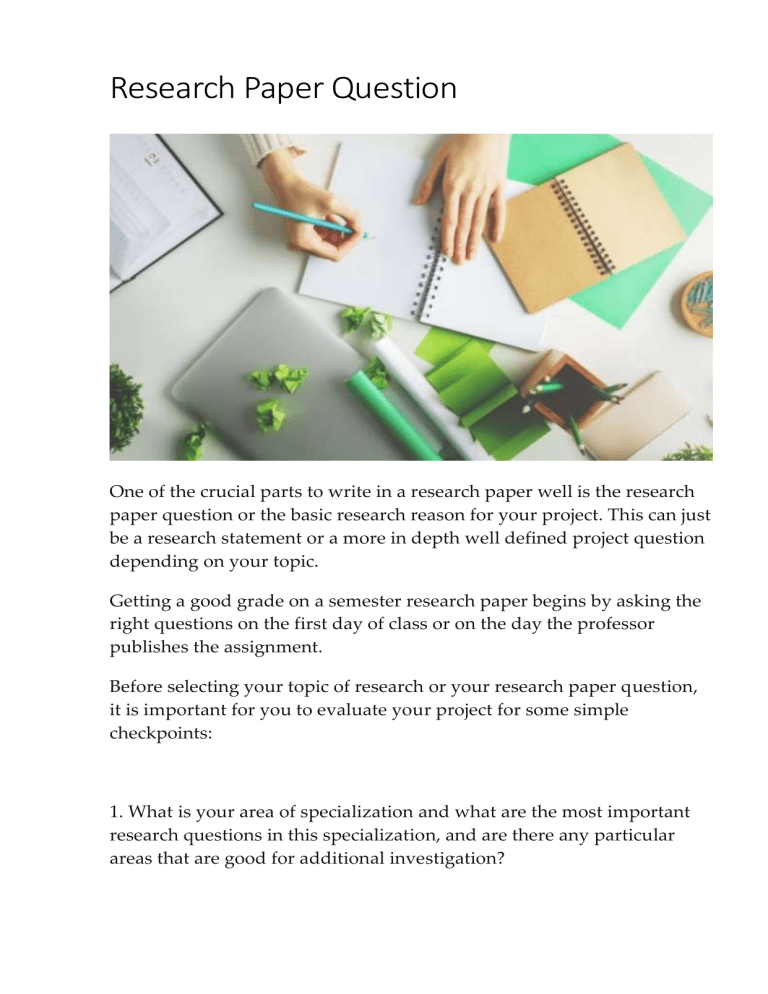 Research Paper Question
One of the crucial parts to write in a research paper well is the research
paper question or the basic research reason for your project. This can just
be a research statement or a more in depth well defined project question
depending on your topic.
Getting a good grade on a semester research paper begins by asking the
right questions on the first day of class or on the day the professor
publishes the assignment.
Before selecting your topic of research or your research paper question,
it is important for you to evaluate your project for some simple
checkpoints:
1. What is your area of specialization and what are the most important
research questions in this specialization, and are there any particular
areas that are good for additional investigation?
2. Define a purpose of your research- What value proposition will your
research work provide to others, will the research lead to a greater
understanding, and fill a gap in current knowledge?
3. Availability of information- is there plenty of information available in
the selected question of research?
4. Be sure not to copy or produce duplicate work. Check if the particular
research question on your mind has already been investigated. In case if
it has, check if it is really valuable that you put your time in the research,
i.e., are you adding any more value to already performed research in the
specific research area?
5. Does the evaluator or your mentor prefer the selected research paper
question or is there an ambiguity that your mentor might suggest you
some other topic to write on?
One way to select your particular question is first you can put down
various topics in same area and then select what exactly you would
want to do research on. Once you have a good research paper question,
you can then begin to generate a testable hypothesis or research
question, and construct your paper around this.
At the end of the research, you will be able to refer your results and
discussion back to the research paper question, adding a little more
information to the store of human knowledge.
If you want to structure your research question well, you can take help
from expert writers via our website. You can also look at some sample
research papers on "write my paper for me" site and research questions
to get a basic idea of how a research question should be put together. If
you still have difficulty, it is never too late to seek quality research paper
online help.