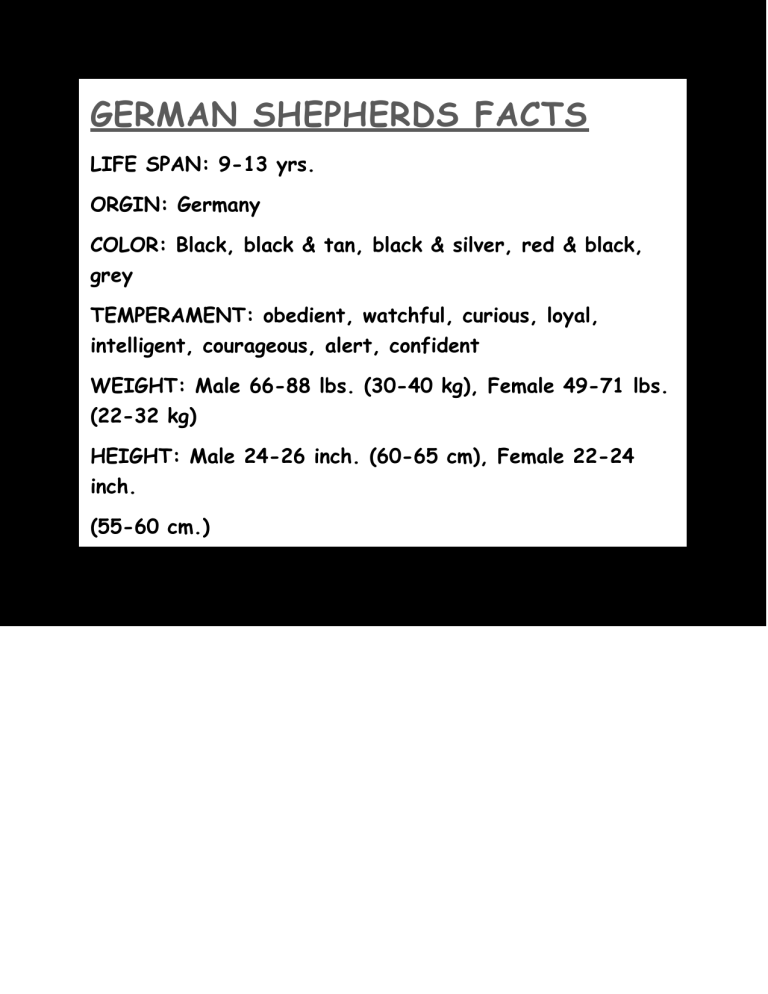 GERMAN SHEPHERDS FACTS
LIFE SPAN: 9-13 yrs.
ORGIN: Germany
COLOR: Black, black & tan, black & silver, red & black,
grey
TEMPERAMENT: obedient, watchful, curious, loyal,
intelligent, courageous, alert, confident
WEIGHT: Male 66-88 lbs. (30-40 kg), Female 49-71 lbs.
(22-32 kg)
HEIGHT: Male 24-26 inch. (60-65 cm), Female 22-24
inch.
(55-60 cm.)
Training a German Shepherd
German Shepherds are smart, active dogs who will do best
with smart active owners able to give them focused
attention exercise and training.
German Shepherd dogs are police dogs because they are
easy to train and are protective to humans.
History
The German Shepherd dog is a breed of large dogs that
originated in Germany in 1899. They were used for herding
and guarding sheep. Von Stephanitz, the person who bred
the first German Shephard named the dog Deutscher
Schaferhund translated to German Shepherd dog.
Health
German Shepherd dogs have a-lot of health problems and
issues including hip and elbow Dysplasia, blood disorders,
digestive problem (probably due to nerves), epilepsy,
chronic eczema, keratitis (inflammation of cornea),
dwarfism and flea allergies.
FUN FACTS
-German Shepherds used to be used for herding sheep but
now, they are mostly used by police and the military.
-Another name for German Shepherd dogs are police dogs.
-German Shepherds are the second most popular dog in
America.
-Strong heart, a German Shepherd was a canine star and
even has a star on the Hollywood Walk of Fame. He
starred in six movies.
- Rin-Tin-Tin, another German Shepherd is known as
America's first rescue dog. He also has a star in the
Hollywood Walk of Fame.