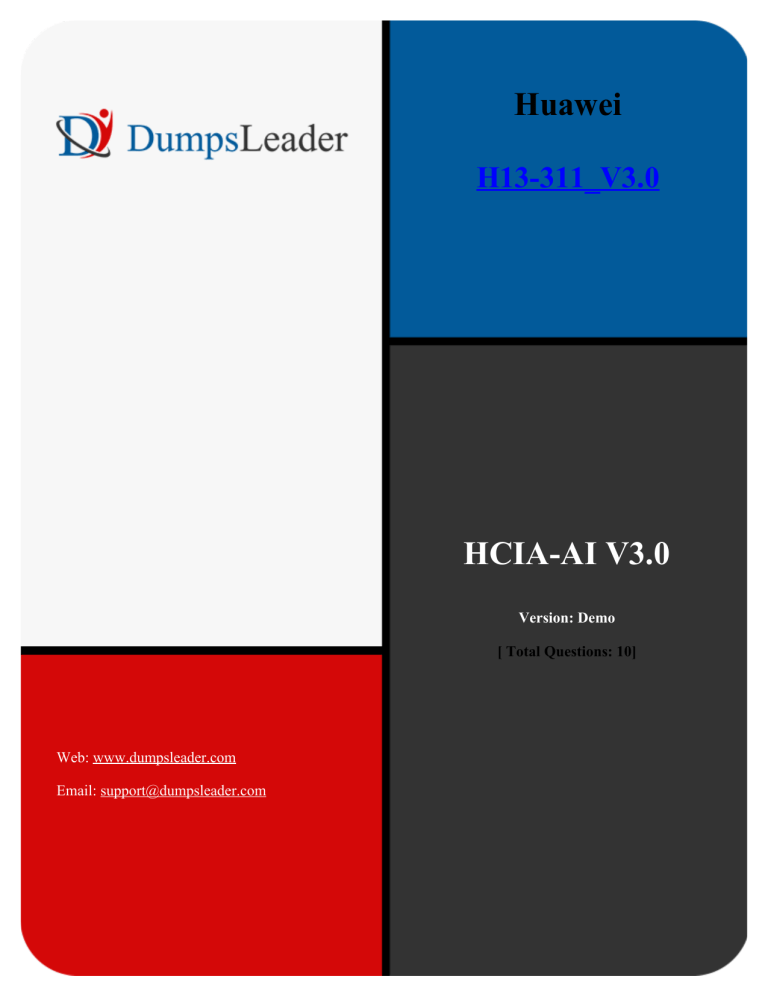 Huawei
H13-311_V3.0
HCIA-AI V3.0
Version: Demo
[ Total Questions: 10]
Web: www.dumpsleader.com
Email: support@dumpsleader.com
IMPORTANT NOTICE
Feedback
We have developed quality product and state-of-art service to ensure our customers interest. If you have any
suggestions, please feel free to contact us at feedback@dumpsleader.com
Support
If you have any questions about our product, please provide the following items:
exam code
screenshot of the question
login id/email
please contact us at support@dumpsleader.com and our technical experts will provide support within 24 hours.
Copyright
The product of each order has its own encryption code, so you should use it independently. Any unauthorized
changes will inflict legal punishment. We reserve the right of final explanation for this statement.
Valid Questions and Answers
Huawei - H13-311_V3.0
Question #:1
Jobs that are repetitive and require weak social skills are the easiest to be AI Replaced work.
A. TRUE
B. FALSE
Answer: A
Question #:2
View Atlas300 (3000) Which command should be used if the accelerator card driver is installed successfully?
A. npu-sim info
B. npu info
C. atlas-driver info
D. atlas info
Answer: A
Question #:3
Which of the following statements about supervised learning is correct?
A. Decision tree is a supervised learning
B. Supervised learning cannot use cross-validation for training
C. Supervised learning is a rule-based algorithm
D. Supervised learning can be trained without labels
Answer: A
Question #:4
Which of the following are AI Subfield?
A. Machine learning
B. Computer vision
C. Speech Recognition
100% Valid Questions - Guaranteed Success
1 of 3
Valid Questions and Answers
Huawei - H13-311_V3.0
D. Natural language processing
Answer: A B C D
Question #:5
MSIR It is a simple, efficient and flexible graph-based function IR, A functional semantic type that can be
represented Have?
A. Free variable
B. Higher order function
C. Interrupt
D. Recursion
Answer: A B D
Question #:6
TensorFlow2.0 of keras.preprocessing The role is?
A. keras Data processing tools
B. keras Built-in optimizer
C. keras Model deployment tool
D. Keras Generative model tool
Answer: A
Question #:7
HUAWEI CLOUD ModelArts Is for AI Which of the following functions are in the developed one-stop
development platform Mode1Arts Can have?
A. Data governance
B. AI market
C. Visual workflow
D. Automatic learning
Answer: A B C D
100% Valid Questions - Guaranteed Success
2 of 3
Valid Questions and Answers
Huawei - H13-311_V3.0
Question #:8
Which of the following items are included in the results returned when the face search service is successfully
called?
A. Searched face similarity
B. Searched faces id
C. Searched face position
D. Searched face number
Answer: A B C
Question #:9
Bagging In integrated learning, the relationship between each base learner is?
A. Additive relationship
B. relationship
C. The latter model must be built on top of the previous model
D. Independent
Answer: B
Question #:10
When training the network of God, we often encounter many problems. For the problem of vanishing gradient,
we can choose to make. Which of the following functions to alleviate the problem?
A. Relu function
B. Sigmoid function
C. tanh function
D. Softsign function
Answer: A
100% Valid Questions - Guaranteed Success
3 of 3
About dumpsleader.com
dumpsleader.com was founded in 2007. We provide latest & high quality IT / Business Certification Training Exam
Questions, Study Guides, Practice Tests.
We help you pass any IT / Business Certification Exams with 100% Pass Guaranteed or Full Refund. Especially
Cisco, CompTIA, Citrix, EMC, HP, Oracle, VMware, Juniper, Check Point, LPI, Nortel, EXIN and so on.
View list of all certification exams: All vendors
We prepare state-of-the art practice tests for certification exams. You can reach us at any of the email addresses listed
below.
Sales: sales@dumpsleader.com
Feedback: feedback@dumpsleader.com
Support: support@dumpsleader.com
Any problems about IT certification or our products, You can write us back and we will get back to you within 24
hours.