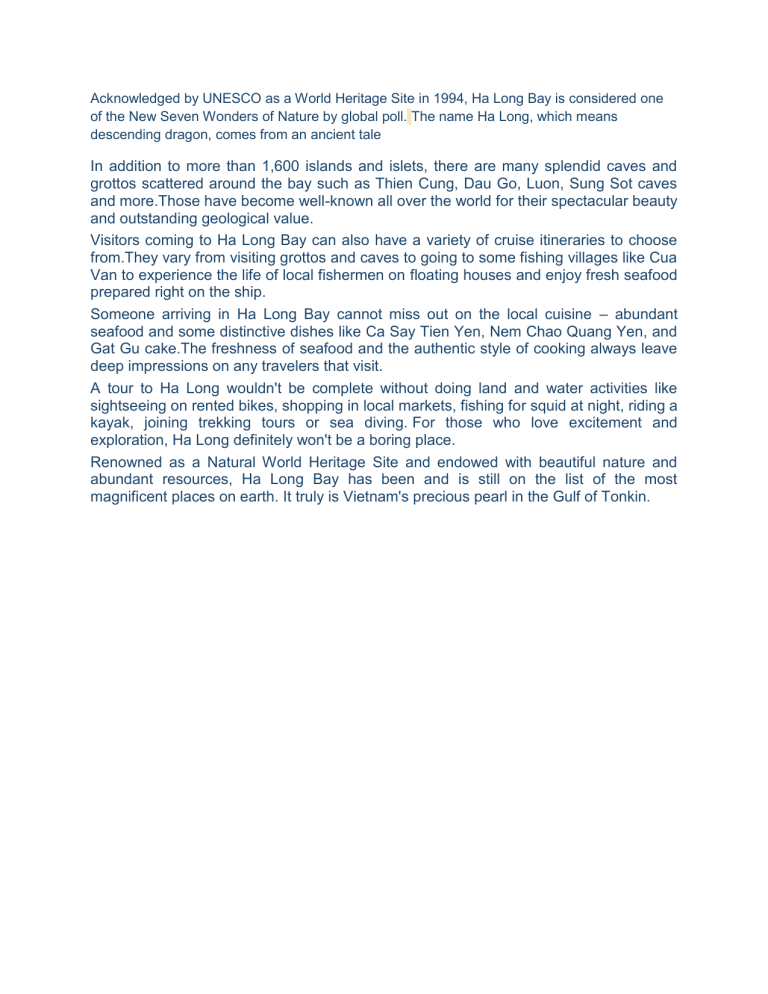 Acknowledged by UNESCO as a World Heritage Site in 1994, Ha Long Bay is considered one
of the New Seven Wonders of Nature by global poll. The name Ha Long, which means
descending dragon, comes from an ancient tale
In addition to more than 1,600 islands and islets, there are many splendid caves and
grottos scattered around the bay such as Thien Cung, Dau Go, Luon, Sung Sot caves
and more.Those have become well-known all over the world for their spectacular beauty
and outstanding geological value.
Visitors coming to Ha Long Bay can also have a variety of cruise itineraries to choose
from.They vary from visiting grottos and caves to going to some fishing villages like Cua
Van to experience the life of local fishermen on floating houses and enjoy fresh seafood
prepared right on the ship.
Someone arriving in Ha Long Bay cannot miss out on the local cuisine – abundant
seafood and some distinctive dishes like Ca Say Tien Yen, Nem Chao Quang Yen, and
Gat Gu cake.The freshness of seafood and the authentic style of cooking always leave
deep impressions on any travelers that visit.
A tour to Ha Long wouldn't be complete without doing land and water activities like
sightseeing on rented bikes, shopping in local markets, fishing for squid at night, riding a
kayak, joining trekking tours or sea diving. For those who love excitement and
exploration, Ha Long definitely won't be a boring place.
Renowned as a Natural World Heritage Site and endowed with beautiful nature and
abundant resources, Ha Long Bay has been and is still on the list of the most
magnificent places on earth. It truly is Vietnam's precious pearl in the Gulf of Tonkin.